UPDATE: Royal Mail have now resumed shipments on their TRACKED & SIGNED and SIGNED services but delays should be expected, please choose these services if available to you or FEDEX if your order is urgent.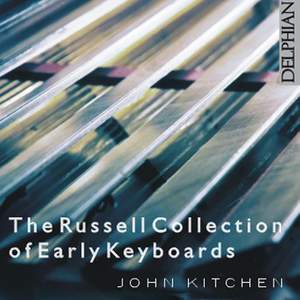 Offer

,

 The Russell Collection of Early Keyboards
John Kitchen (harpsichords and fortepiano)
a recital that is both entertaining and instructive

—
CD
Original price
($18.00)
Reduced price
$9.00
Contents
anon.: Gailliarda la Reyne d'Écosse
anon.: Queen of Scots Galliard
Merula: Capriccio cromatico
Byrd: Pavan & 2 Galliards in A Minor, No. 2 "Earl of Salisbury"
John Kitchen (harpsichord)
Sweelinck: Ballo del Granduca
John Kitchen (harpsichord)
Scarlatti, D: Keyboard Sonata in F Minor, Kk. 481
Scarlatti, D: Keyboard Sonata in G Major, Kk. 471
Greene, M: A Collection of Lessons, Suite No. 9 in F Major
John Kitchen (harpsichord)
Bach, J S: Prelude & Fugue in E-Flat Major, BWV 852
John Kitchen (clavichord)
Stanley, J: Organ Voluntary in G Major, Op. 7 No. 9
Handel: Fugue in A minor, HWV609
Forqueray, A: Pièces de viole, Suite No. 3 in D Major (Version for Haprsichord)
John Kitchen (harpsichord)
VII. La Morangis ou la Plissay
Couperin, A-L: Pièces de clavecin
John Kitchen (harpsichord)
Handel: Overture to Rodelinda, HWV 456 No. 4
John Kitchen (harpsichord)
Clementi: Sonatina in D, Op. 36 no. 6
II. Rondo. Allegretto spiritoso