US deliveries: Unfortunately we are receiving reports that some US orders are taking longer than usual to arrive. Find out more >>
Latest update: Changes to international postage charges. Find out more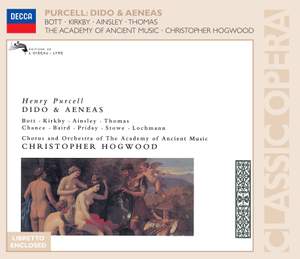 Offer

,

 Purcell: Dido and Aeneas
Catherine Bott (Dido), Emma Kirkby (Belinda), John Mark Ainsley (Aeneas), David Thomas (Sorceress), Elisabeth Priday (First Witch), Sara Stowe (Second Witch), Julianne Baird (Second Woman), Daniel Lochmann (First Sailor) & Michael Chance (Spirit)
Chorus and Orchestra of The Academy of Ancient...
…Catherine Bott's Dido is perfectly rendered as part of an integrated recorded sound in a performance that's breathtakingly well nuanced. Emma Kirkby's Belinda is similarly finely turned In...

— More…
Contents
Catherine Bott (soprano), David Thomas (bass), Michael Chance (alto), Daniel Lochmann (treble), Emma Kirkby (soprano), Julianne Baird (soprano), Elisabeth Priday (soprano), Sara Stowe (soprano), John Mark Ainsley (tenor)
Academy of Ancient Music, The Academy Of Ancient Music Chorus
Christopher Hogwood
"Shake the cloud from off your brow"
1:02
"Ah! Belinda. I am prest with torment"
4:13
"Whence could so much virtue spring?"
1:31
"See, see, your royal guest appears"
0:46
"Cupid only throws the dart"
0:34
"Pursue thy conquest, love"
0:50
"To the hills and the vales"
1:10
Prelude for the Witches - "Wayward Sisters"
1:26
"The Queen of Carthage, whom we hate"
2:41
"In our deep vaulted cell"
1:11
Ritornelle - "Thanks to these lonesome vales"
3:12
"Oft she visits" - Ritornelle
1:35
"Behold upon my bending spear"
0:31
Prelude - "Come Away, Fellow Sailors"
1:36
"See the flags and streamers curling"
1:26
"Destruction's our delight"
0:34
"Your councel all is urg'd in vain"
3:41
"Great minds against themselves conspire"
0:58
"Thy Hand Belinda - When I Am Laid In Earth"
4:06