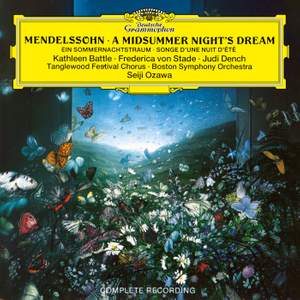 Mendelssohn: A Midsummer Night's Dream - incidental music, Op. 61
Kathleen Battle, Frederica von Stade, Judi Dench, Tanglewood Festival Chorus
Boston Symphony Orchestra, Seiji Ozawa
Contents
Mendelssohn: A Midsummer Night's Dream Overture, Op. 21
Boston Symphony Orchestra
Seiji Ozawa
Recorded: 1992-10
Recording Venue: Symphony Hall, Boston
 Excerpt,  Mendelssohn: A Midsummer Night's Dream - incidental music, Op. 61
Dame Judi Dench (narrator)
Boston Symphony Orchestra
Seiji Ozawa
Recorded: 1992-10
Recording Venue: Symphony Hall, Boston
 Excerpt,  Mendelssohn: A Midsummer Night's Dream - incidental music, Op. 61
Kathleen Battle (soprano), Frederica von Stade (mezzo-soprano), Dame Judi Dench (narrator), John Oliver (chorus master)
Boston Symphony Orchestra, Tanglewood Festival Chorus
Seiji Ozawa
Recorded: 1992-10
Recording Venue: Symphony Hall, Boston
No. 3. Song with Chorus "You spotted snakes"
Mendelssohn: A Midsummer Night's Dream - incidental music, Op. 61
Kathleen Battle (soprano), Dame Judi Dench (narrator), John Oliver (chorus master)
Boston Symphony Orchestra, Tanglewood Festival Chorus
Seiji Ozawa
Recorded: 1992-10
Recording Venue: Symphony Hall, Boston
No.11 Dance of the Clowns
12. Allegro vivace come 1
Finale: "Bei des Feuers mattem Flimmern"