29th December 2008
 Recording of the Week

,

  Jerusalem - in search of peace
Commissioned by the Cité de la Musique in Paris to come up with a series of concerts based on the theme of the three major monotheistic religions (Christianity, Judaism and Islam), Jordi Savall had the ingenious idea of creating a homage to the city of Jerusalem through an evocation of its rich history of more than 3000 years, in its continual search for peace. I planned this editorial before the dreadful events in that part of the world over the last few days but push on regardless in the firm belief that, however distant it may seem just now, ultimately the only possible path towards a lasting peace in the region is through a dialogue based on empathy and mutual respect. Jordi Savall's project shows how the people of Jerusalem have always had great difficulty living together, but also how they can and have come together to create great things.
Jordi Savall
In order to give shape to such a complex musical and historical programme it is divided into seven chapters, each one containing key moments in the city's history. Three central chapters comprise a selection of the most representative music of the three main periods relevant to the three monotheistic religions.
Everything about the project is epic. In addition to his own ensembles (Hespèrion XXI and La Capella Reial de Catalunya) the cast is notable in that it includes Jewish and Palestinian singers and instrumentalists from Israel, as well as from Iraq, Armenia, Turkey, Morocco and Syria. A clear message here how different religions and cultures can come together.
The beautifully balanced programme fills two 78-minute hybrid SACDs and is supported by the most lavish colour hardback book you can imagine. It is over 400 pages long, translated into eight languages and weighs nearly a kilo. A beautiful and fascinating document which - as with so many of Jordi Savall's releases - you feel enrich your life as well as providing enjoyment.
It is released in two weeks time on Monday 12th January and you can pre-order your copy now.
Also, to coincide with this important release, we're currently offering 30% off the Alia Vox back catalogue which totals nearly 70 releases.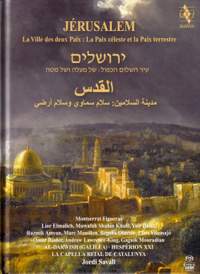 City of the two peaces: Heavenly peace and Earthly peace
Capella Reial de Catalunya, Hespèrion XXI (Andrew wrence-King, Pedro Estevan, Arianna Savall, Pierre Hamon, Montserrat Figueras...) Jordi Savall
Available Formats: MP3, FLAC