19th May 2008
 Recording of the Week

,

  Fiesta! - Dudamel and the Venezuelans
For the past year Gustavo Dudamel and his Simón Bolívar Youth Orchestra of Venezuela have been stunning audiences with their explosive Latin-American showpieces. We had dozens of requests after their televised Proms performance last year, and now (finally) they're releasing a disc of this repertoire.
Venezuelan Youth Orchestra
Founded about 30 years ago, the Venezuelan music education programme (called El Sistema) is the envy of the world. In addition to transforming the musical scene in the country - there are now over 200 youth orchestras and thirty professional ones – it has also transformed the lives of many underprivileged and at-risk youths in the process.
The repertoire on the disc is nearly all South American, and it is full of excitement and variety with showpieces such as the Stravinsky-like rhythmic drive of Revueltas's Sensemaya contrasting with the expansive lusciousness of Danzón No. 2 by Marquez and the vibrant ballet suite Estancia by Ginastera.
What makes this disc particularly special is the passion and love for the music that the players bring to it. As Dudamel says "This music is our identity." You can hear that throughout and the results are quite simply spectacular.
Below, there's a link to a short video and a musical excerpt to listen to. The video shows the encore from their concert in Bonn last summer, where (as they did in their 2007 Proms concert) they have taken off their black concert jackets to reveal the bright vivid colours of the Venezuelan flag. The sound sample is the opening to the enchanting Marquez Danzón No. 2.
I expect this to become one of our best selling discs of the year. Enjoy!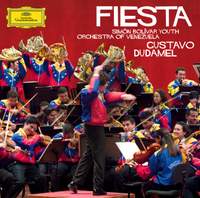 Simon Bolivar Youth Orchestra of Venezuela, Gustavo Dudamel
Available Formats: MP3, FLAC