UPDATE: Royal Mail have now resumed shipments on their TRACKED, TRACKED & SIGNED and SIGNED services but delays should be expected, please choose these services if available to you or FEDEX if your order is urgent.
5th May 2008
 Recording of the Week

,

  A La Bohème for all
Puccini's La Bohème must be one of the most popular operas ever written. I know we have over fifty different versions currently listed, and amongst those are some real classics including arguably the first truly great recording with Victoria de los Angeles and Jussi Björling under Sir Thomas Beecham from 1956 and perhaps the finest 'modern' recording in the catalogue with Mirella Freni and Luciano Pavarotti under Karajan from 1972 (when the great tenor - then aged 37 - was really at his peak). So for a new recording to enter such a crowded and distinguished field it really has to be something special.
With the release next week of DG's latest version with Anna Netrebko as Mimi and Rolando Villazon as Rudolfo (as well as a top notch support cast including Boaz Daniel and Nicole Cabelle), the competition is about to increase and this new one has so much going for it that I expect it to rapidly achieve classic status.
If you are new to opera (or maybe always been slightly wary of it), then Puccini's La Bohème is an excellent place to start. From the first note to the last the music is fantastic. There are lots of really classic arias and you can't help but feel emotionally affected by what you hear. What this new recording does so well is to communicate these emotions through the singing. If you are seeing an opera on stage it is very easy to see that a character is angry, or happy or scared by the way they act and the body language they use. To communicate those same feelings in the voice alone takes a very special skill but the cast here, in particular the golden voiced Rolando Villazón, do that throughout.
In fact, all in all, it is hard to find fault with this release – even the price is fantastic! We've put a video on the website as well as a link to an E-Player where you can listen to some extended excerpts. Enjoy!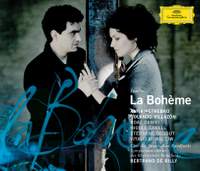 Anna Netrebko, Rolando Villazón, Nicole Cabell, Mariusz Kwiecien, Boaz Daniel, Vitalij Kowaljow, Kevin Connors, Tiziano Bracci & Gerald HaeusslerSymphonieorchester des Bayerischen Rundfunks, Bertrand de Billy
Available Formats: MP3, FLAC