UPDATE: Royal Mail have now resumed shipments on their TRACKED & SIGNED and SIGNED services but delays should be expected, please choose these services if available to you or FEDEX if your order is urgent.
20th January 2023
 Recording of the Week

,

  Elgar's 'Viola Concerto' from Timothy Ridout
In a practice-room up north in the mid-1990s, teenage me felt a huge rush of gratitude to Lionel Tertis one afternoon. As a recent convert to the viola, I'd just fallen head-over-heels in love with Elgar's Cello Concerto after playing it in a local orchestra with the Brodsky Quartet's Jacqueline Thomas (a local girl done good) as soloist, and I was hungry to know how those wonderful lines would feel under my fingers. Hearing my ham-fisted attempts to translate that arresting opening recitative onto my own instrument, my teacher popped his head around the door: did I know there was a legitimate, published transcription by the great British viola-player (who'd mentored his own teacher Sidney Griller), and that it came with the composer's blessing?
Digging deeper (a more arduous task in that pre-internet era than it is today), I learned that Tertis had tentatively approached Elgar for permission to adapt the piece for viola in 1928, and worked on it after being discombobulated by the concerto which William Walton had composed for him due to the 'far-fetched innovations' of some of the writing. (Paul Hindemith ended up giving the Walton its premiere, though Tertis would later come to appreciate the work on its own terms and eventually took it into his repertoire). Elgar not only sanctioned Tertis's project but also conducted him in the first performance the following year, observing that Tertis's transcription was 'admirably done, and fully effective on his instrument'.
Listening to this terrific new recording from Timothy Ridout (who won the Lionel Tertis Competition in 2016), it's hard to disagree with the composer's assessment. Like Tertis himself, Ridout plays a larger-than-average viola – a Peregrino di Zanetto instrument which tops 17 inches – and its unusually resonant quality makes it ideally suited to cutting through even the thickest orchestral textures, which Tertis leaves unchanged throughout. (Martyn Brabbins's sensitive weighing of balance undoubtedly helps here, only letting the brass fully off the leash in the passages when the soloist is silent and bringing out slightly different instruments and colours in those moments where the viola briefly steps into the role of accompanist).
Much of the solo part, too, remains unaltered by Tertis, who leaves many passages in the original register. The entire slow movement is given as-is, without any upward transposition, and Ridout's viola sings with such ease and presence in the lower reaches that you may well find yourself forgetting that you aren't listening to 'the real thing'; my ears may be deceiving me here, but I'm pretty sure he follows Tertis's own best practice (not actually stipulated in the score) in retuning the C-string to B flat for this movement, so that the final long descending phrase can flow down to the tonic unimpeded.
And in the stretches where Tertis does shift things up the octave to sidestep the viola's tricky middle register (which inevitably projects less readily than the cello's), Ridout's brilliant A string really comes into its own – as he explained in an interview with BBC Music Magazine last month, this particular instrument has a marvellously open quality up top, so that the many high-lying phrases here never fall ungratefully on the ear. The Scherzo, especially, translates very naturally onto the viola, with Ridout audibly rejoicing in the nifty passagework and excursions into the stratosphere.
This is only the third commercial recording of Tertis's transcription, and the companion-piece (composed in the same year as the Elgar concerto) is another work which deserves to be better-represented on disc than it is – Bloch's early Suite for Viola and Orchestra, the piece which controversially pipped Rebecca Clarke's Viola Sonata to the post at the Elizabeth Sprague Coolidge Composition Competition in 1919.
The work's slightly jejune 'exoticism' (inspired by second-hand accounts of travels to Java, Sumatra and Borneo) may fall a little awkwardly on modern ears, but Ridout and Brabbins have great fun with it – and again Ridout's big-boned tone has no trouble cutting through the welter of bells and whistles which the young composer deploys to evoke images of far-off lands and peoples.
A shoo-in for viola-philes, then – but also a compelling addition to the Elgar concerto's distinguished discography on its own terms. Do try it.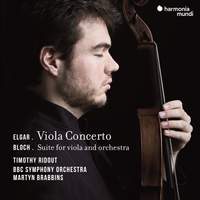 Timothy Ridout (viola), BBC Symphony Orchestra, Martyn Brabbins
Available Formats: CD, MP3, FLAC, Hi-Res FLAC, Hi-Res+ FLAC