UPDATE: Royal Mail have now resumed shipments on their TRACKED, TRACKED & SIGNED and SIGNED services but delays should be expected, please choose these services if available to you or FEDEX if your order is urgent.
2nd December 2022
 Recording of the Week

,

  Christmas with Diana Damrau
Christmas wouldn't be Christmas without a new festive album from a star opera-singer, though degrees of success vary – Renée Fleming's charming Christmas in New York in 2014 sat squarely on the Nice List, whilst Jonas Kaufmann's awkward take on Mariah Carey two years ago quickly established itself as a Naughty List entry to rival the operatic 'Last Christmas' video from Vienna which does the rounds on social media every year…
This year it's the turn of Diana Damrau, whose double-disc My Christmas was released on Erato in early November, and I'm pleased to report that the German coloratura soprano has produced a cracker rather than a turkey – largely because she's stayed within her comfort-zone in terms of repertoire rather than crossing over into the jazz or pop covers where so many classical singers before her have come a little unstuck.
The first half of her generously-filled programme is made up of carols, medleys and German Christmas songs in new orchestrations by Richard Whilds, with the NDR Radiophilharmonie and the Knabenchor Hannover on appropriately sparkling form, whilst the second disc consists of seasonally-appropriate Baroque and Classical arias from works including Bach's Christmas Oratorio, Handel's Messiah (via Mozart), and Mozart's Mass in C minor.
That second disc is frankly worth the price of the album on its own, and likely to bring a great deal of pleasure all the year round – not least because this music seems to be unusual territory for Damrau, and it really is a match made in heaven. It seems little short of extraordinary that one of the finest coloratura voices of her generation hasn't ventured into Baroque repertoire before on disc or in the opera-house: Damrau's breakthrough role was the Queen of the Night in Mozart's Die Zauberflöte, and since then she's recorded virtually nothing which significantly predates that work, instead moving forwards into bel canto and stratospheric Strauss.
Listening to her immaculately even, pinpoint-accurate passagework in 'Erwach, frohlocke' (aka 'Rejoice, greatly') from Messiah, I found myself rather regretting that Warner didn't secure her for their recording of the complete work which took place last week, as well as itching to hear her as Handel's Alcina, Cleopatra or Agrippina – fingers crossed that an album of his opera arias might be on the cards further down the line…The three Mozart arias also come off beautifully, especially the florid 'Laudate Dominum' from Vesperae solennes de Dominica K321 which has been somewhat eclipsed by its less showy counterpart from the setting composed a year later (though that's here too, showcasing the new warmth that's crept into Damrau's middle voice over the past few years).
Another great pleasure of this part of the programme is the spectacular trumpet-playing of Matthias Höfs, who spars delightfully with Damrau in Bach's Jauchzet Gott, Handel's 'Let the bright seraphim' and Zelenka's gorgeous Laudate Pueri, pinging out high Ds and Es with abandon and matching her glittering but tasteful decorations with aplomb.
So what of the lighter fare which makes up the first disc? Barring a touch too much glockenspiel and one or two slightly naff modulations, there's much to enjoy about Whilds's full-fat orchestrations of the carol sequences, which include plenty of imaginative touches: I rather liked the oddly Lohengrin-esque introduction to the first, polyglot version of 'Stille Nacht' (which also crops up later on in German only), and tambourines and low brass lend some fittingly rustic oomph to the French and Spanish carols which feature in the 'international medley' early on in the programme.
There are a couple of welcome rarities here too, notably Max Reger's radiant lullaby 'Schlaf wohl, du Himmelsknabe du' (which really deserves to be as well-known as his 'Mariä-Wiegenlied'), Humperdinck's lovely 'Weihnachten', and René Kollo's 'Weihnachtsfriede' – I hadn't realised that the great German Heldentenor also moonlighted as a composer of operetta and songs, and this one makes a refreshing alternative to the ubiquitous 'White Christmas' and 'Chestnuts Roasting' whilst sitting in a similar, slightly crooner-ish soundworld.
With a running-time of almost two-and-a-half hours, this album should see even the most generous gift-giver comfortably through the present-wrapping process – but that second disc has a shelf-life lasting well beyond the festive period, and I can only hope that Damrau continues her Baroque explorations in 2023…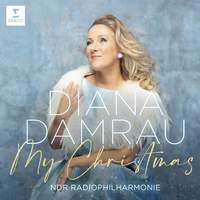 Diana Damrau (soprano), Matthias Höfs (trumpet), NDR Radiophilharmonie, Knabenchor Hanover, Richard Whilds, Riccardo Minasi
Available Formats: 2 CDs, MP3, FLAC, Hi-Res FLAC