UPDATE: Royal Mail have now resumed shipments on their TRACKED & SIGNED and SIGNED services but delays should be expected, please choose these services if available to you or FEDEX if your order is urgent.
23rd November 2022
 Interview

,

  Clare Hammond on the piano études of Hélène de Montgeroult
The long-overlooked music of Romantic pioneer Hélène de Montgeroult has been enjoying something of a revival in recent years, in particular following an all-Montgeroult album from Edna Stern a few years ago.
Clare Hammond has likewise devoted her latest album to Montgeroult, focusing on her études - works in which her inventiveness and forward-thinking nature are clearly shown, and that in many ways place her ahead of some of the later composers who have come to be regarded as the giants of the Romantic piano.
I spoke to Clare about Montgeroult's music - the influences that shaped her style, and her own impact in turn on later generations of composer.
It's often remarked that John Field "invented" the nocturne, only to have it taken up and popularised by other composers, to whom history then awarded most of the credit. Do you think there's something similar to be said about Montgeroult's role in driving the transition to full-fledged pianistic Romanticism?
Montgeroult's is a fascinating case. Stylistically, she was decades ahead of her time and pioneered developments in harmony, texture and technique that we associate more closely with the Romantic age. So many of her études foreshadow the music of Schubert, Felix Mendelssohn, Robert Schumann and even Brahms. Yet, we have very little evidence to show that her works were known by these composers. Her études were not widely disseminated and none of these composers mention them in their correspondence, even when, as in Felix Mendelssohn's case, they had met her in person.
It is also intriguing that you mention John Field. Montgeroult's étude No. 110 is clearly a Nocturne in all but name, and could not have been written later than 1812, the year that John Field's Nocturnes were published. We know of other composers at that time writing pieces in a similar style, so the idea that just one person 'invented' the genre is untenable. The musical landscape was so much more diverse and complex than the established historical record implies. Montgeroult's études really do throw new light on where the lines between the classical and romantic styles in music lie.
How did études move from being technical, dry teaching exercises to being virtuosic audience-pleasing music? Was Montgeroult's music powering that change as well, or was it already happening?
Montgeroult is the first composer I know of who wrote études that both fulfil their pedagogic function and are such expressive, vibrant pieces of concert music. She really paves the way for later generations of Romantic composers. The range, not just of style but also of emotion in her études, is astonishing.
The connections with Bach's music, at a time when it was surprisingly hard to get hold of, are fascinating – do we know anything about how Montgeroult came into contact with works like the Well-Tempered Clavier?
In études Nos. 19, 25 or 103, we find a spirited and nuanced response to the music of J. S. Bach. At that time, Handel's music was well known but it was much more difficult to obtain scores of Bach's works. Montgeroult was, at one point, taught by Nicolas-Joseph Hüllmandel, himself a pupil of C. P. E Bach, so it is possible that he introduced her to the music of his father.
Of the 114 études, you've recorded a selection of 29. They come from Montgeroult's "complete course for the teaching of the piano" – does that title imply a gradation from simpler studies to more demanding ones?
There is not a clear progression of difficulty as the études progress. We do not even know when each étude written though, as there is a gradual stylistic evolution, one could argue that they are ordered chronologically. The first twenty or so études are little more than extended exercises, but then we sense Montgeroult really beginning to assert her creativity. For me, No. 74 is a watershed moment. It signals an increase of ambition, has true stylistic conviction, and a sense of authority. From that point onwards, she really gets into her stride.
Do you anticipate further volumes to complete the set of études?
At the moment, I have no plans to record more Montgeroult, but I shall certainly keep exploring her work and hope to perform more in concert. There is so much wonderful music to discover. I would urge other musicians to take the plunge!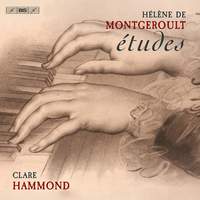 Clare Hammond (piano)
Available Formats: SACD, MP3, FLAC, Hi-Res FLAC