9th September 2022
 Recording of the Week

,

  John Wilson conducts music from Hollywood's Golden Age
Given John Wilson's obvious love for the Golden Age of Hollywood music and musicals (as evidenced by his many recordings from the glory days of the John Wilson Orchestra), it seemed inevitable that eventually he would return to the era with his new ensemble, Sinfonia of London, and their latest album offers precisely that, with a selection of suites and excerpts from eight classic movies.
Alas, space does not permit me to wax lyrical about all eight films, and so I shall have to restrict myself here: for me the undoubted highlights are the three extended suites that are peppered throughout the album, one of which is a selection from Franz Waxman's score from 1940 for Alfred Hitchcock's Rebecca. Wilson's dedication to accuracy, both in terms of the playing style that he requests from the orchestra and also with the incredibly meticulous quality control when it comes to which edition to use, is just as much in evidence here as in his previous recordings. Every single piece is given the respect it deserves, and Wilson is never content just to go along with any performing traditions that might have accrued over the years. Case in point: this Rebecca suite is billed as a premiere recording, and that is because, instead of using the standard version in which a lot of the orchestration has been altered and simplified for use in concert programmes, Wilson has gone back to the manuscripts and restored the original instrumentation that Waxman's orchestrator, Leonid Raab, had prepared for the film. A lot of the differences are arguably subtle, but there's a real thrill from hearing the "authentic" orchestration in such glorious sound.
Wilson's commitment to scholarship is again on display in Max Steiner's music for the 1942 film, Now, Voyager: for this he has actually compiled his own fifteen-minute suite of highlights. Wilson has said that this is one of his favourite scores, and you can feel the love that has been poured into every single moment. He and the orchestra perfectly capture the sweep and spirit of the music, and the string sound is quite magnificent, particularly during the film's final scene, where one of Steiner's many gorgeous themes accompanies Bette Davis's character as she utters the immortal line, "Oh, Jerry, don't let's ask for the moon. We have the stars".
When I initially read the tracklisting, my fervent hope was that the suite from Herbert Stothart's music for The Wizard of Oz would include a lush string arrangement of Harold Arlen's song, Over the Rainbow, and I'm happy to say that I was not disappointed! After the safe return to Kansas of Dorothy (and her little dog, too…), the concluding portion of the suite focuses on this iconic melody. I have already referred to the breathtaking opulence of the string sound, and this is true here also: somehow they manage to imbue their playing with an old-fashioned, slightly hazy sheen that makes it sound as if it were coming directly from the original 1939 soundtrack. Call me a soppy old fellow, but I don't mind admitting that, in the final moments, as the horn, in gentle counterpoint to Over the Rainbow, tenderly reminds us that "there's no place like home", my eyes may have moistened slightly at how impeccably exquisite this performance is.
I can only begin to extol the virtues of this recording given the space constraints here, but if you are interested in finding out more then do keep an eye out for next week's Presto Podcast, where I will be joined by John Wilson himself for an extended, in-depth chat about several of the pieces and composers performed here, as well as a look back at some of his favourite recordings with Sinfonia of London so far (plus a special sneak preview of their forthcoming Rachmaninoff recording). I can't really recall any other album recently that has been so full of such joyous, exuberant, and infectiously emotional playing. I'll have to stop now as I think I may have finally run out of superlatives.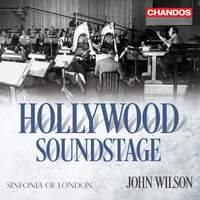 Sinfonia of London, John Wilson
Available Formats: SACD, MP3, FLAC, Hi-Res FLAC