12th September 2022
 Interview

,

  Jenny Q Chai on Songs of Love
In April 2022, Chinese-American pianist Jenny Q Chai released Songs of Love, a heartfelt musical tribute to her musical mentor, the late Seymour Lipkin, who died in 2015. Lipkin's influence acts as the starting-point for a varied programme taking in Bach, Schumann and Ives.
I caught up with Jenny from her quarantine in Shenzhen for what ended up being a wide-ranging conversation – about Seymour's legacy, Jenny's childhood experiences of studying music and her own subsequent music-educational work, the incorporation of AI into classical performance and the continuing obstacles thrown up by the ongoing COVID-19 pandemic.
You've put this album together as a tribute to the late Seymour Lipkin, who you studied with at Philadelphia's Curtis Institute. How do the pieces you've chosen each represent the connection between the two of you?
They refer to different connections with him. The Schumann, the main piece, is a piece I've lived with for almost twenty years now. He gave that to me, and it was the whole second half of my graduation recital which he attended. There are a lot of fond memories.
He always encouraged me to learn contemporary music. I was particularly fascinated by Henry Cowell's Banshee, which is all inside the piano playing directly on the strings, and I wanted to play it for my graduation recital. Mr Lipkin admitted he wasn't sure if he could help me with the extended techniques, but he was happy that I wanted to try something new. I had to work the techniques out for myself. I was using too much force gliding on the strings, and I'd end up ripping the skin off my fingertips. And when I showed him he was very shocked and I found his reaction very sweet and funny: "Oh, Jenny, you're a mess!"
He was also a great Beethoven specialist. For me he was like a walking Beethoven; he taught me a lot about the sonatas. And yet I didn't want to just do a Beethoven sonata recording. The Ives piece is basically Ives's arrangement of Beethoven's Fifth Symphony, so that ties into how Mr Lipkin encouraged me towards newer music.
The Goldberg Variations I didn't play myself until more recently. When I first went to the Curtis Institute I had just turned thirteen so I was the little baby among his students, and the others felt like older brothers and sisters. I grew up hearing them play the piece a lot and it was part of my impression of being at Curtis.
Seymour Lipkin (1927-2015)
Each year, thousands of musicians study at Curtis and the world's other music schools – but very few go on to establish their own music school, as you have with the FaceArt Institute of Music in Shanghai. How did this come about, and what do you hope to achieve with the Institute?
Strangely, it links back to Ives. Not only did he love Beethoven and the classical period, but he was also a great entrepreneur – he owned the second-largest insurance company in the US. When Ives's father was on his deathbed, reportedly he said "son, don't let your wife and child starve on your dissonances".
I was into dissonant music too, and I was worried about not being able to make a living from that, but equally I didn't want to just play Rachmaninoff and Tchaikovsky in concerts; I had to make a living some other way. First I thought about starting a music school in New York, but I realised that wasn't where I was really needed. Then I thought about my own upbringing and my childhood in Shanghai; I hated it there. I hated the teachers, I hated the conservatories. Everyone was so mean and so tough.
I still remember my first lesson; I think I'm traumatised by it. I was about three and a half. For my first piano lesson, my mum got me this great professor from the Shanghai Conservatory who rarely took private students. During the lesson she hit the back of my hand with her fingers to demonstrate how I should strike the keys, and I was so small and delicate that it broke the skin and I started bleeding. And naturally I wanted to cry, but my mum was afraid that if I did, the teacher would refuse to take me on, so she said "DON'T CRY!" in a really intimidating, disciplining kind of voice. And I felt terrible, like she hadn't protected me.
Initially I thought my experiences in Shanghai were just the way things were, but when I went to Sweden for a competition, and then to Curtis, I was amazed at how warm people could be towards each other. I wanted to offer a place in China for students and parents to get that sense of difference. Somewhere they know they can be safe, cherished and encouraged. That's the mission, really.
More generally, what's the landscape like in China in terms of music schools and conservatoires offering advanced study in Western art music?
I'm mostly familiar with the piano side of things. It's huge. The number of students is something like fifty million - the population of a medium-sized European country, all learning the piano. On Chinese talent shows, you see people who are celebrities, or actors or hosts, and whenever they need to show some talent, they can all play the piano. Foreigners are always amazed that this or that actress can play the piano, or these two actors can play a duet, but to me it's obvious: Everyone can play the piano in China.
One key difference between the Western and Chinese approaches is the way students are evaluated. In China it's almost like a competitive sport, not an art. You'll find people who are technically great, because they're judged by how fast and accurately they can play, but they really lack artistic imagination and variety, even understanding of the music itself.
It's interesting to hear you say that – there's a racist stereotype in Western countries that Chinese pianists are an army of identical robots.
But it's true! My friends who are faculty teachers say "our Chinese piano pupils come from the Shanghai and Beijing conservatories or from FaceArt, but we know the ones from FaceArt are going to be good, artistic, sensitive and have their own ideas". We try to educate pupils about how important musical understanding and self-expression are. The other Chinese conservatories don't allow any room for that. The student doesn't even need to understand, they just need to copy. That's the biggest problem of all.
Another initiative you've been involved in is the development of the Antescofo software package, helping musicians to combine electronic elements with live performance. What's your vision for this software and what it can do?
It's an AI-powered live music processor. We put two microphones into the piano, and it takes the sound from there into my computer. The computer then runs the Antescofo software, which is using AI to predict the music I'm playing.
So that enables the software to create and play a second part that fits with what you're doing?
Pretty much, yes. The prediction is incredibly fast, tiny fractions of a second, but it's also fault-tolerant. The programme can adapt if I play a wrong note or pedal something differently - it can catch those things and follow me, and it can also generate visuals if I want.
Does it feel like you're playing with another musician when you use this software?
It feels like I'm playing with something else. Not exactly a person, but an intelligence. Maybe it's because I know it so well through having tested it so much. We did a lot of testing at IRCAM [the Institute for Research and Coordination in Acoustics and Music, in Paris] where it was invented.
Paris's IRCAM, next to the Centre Pompidou
Does it learn over time - if you play with this AI for a long time does it start responding differently to you?
It's not that smart yet, unfortunately, but it's good at prediction. It's like a missile-tracking system - calculating lots of possibilities to come up with a good spread of likely trajectories. And it does that based on a fluid time-frame, not just note-by-note.
So we're not training the AI in that sense, but with my team at FaceArt and my partner who is an AI specialist at the University of California San Francisco, we're currently training an AI drummer, which you can watch in a way that you can't with Antescofo. We're visualising it, so you can see this cute little robot drummer drumming. The next step (though it's all very slow and time-consuming) will be to try and train it to play with me.
The description sounds so simple - "train it to play with me" - but in practice it must be incredibly difficult from the computer point of view!
You need the kinds of supercomputers that we have access to, and you need to feed them a lot of data. Even just me practising isn't enough; we need to find other data sources and libraries that already have a lot of data. The next thing we'd like to do is connect my EEG [electro-encephalogram, recording brain activity by monitoring the scalp] up with it.
It's through my work on Antescofo that I got really into music technology, and the good thing about being an entrepreneur is that I can incorporate this into the FaceArt school. We've just started our own music technology lab, called ErMu Lab ("Ear and Eyes" Lab in Chinese), and this summer we're running the first music technology summer camp in China.
Because of the strictness of the Covid lockdowns here, we haven't had real performances or in-person lessons for almost half a year. So we have set up a virtual reality concert hall instead, and the grand opening is going to be on November 27th. Students will be able to come into the concert hall as their own little avatars, they'll be able to dress themselves up, change their hair and glasses and so on, and there will be a big screen where they can watch recorded or streamed performances while talking to each other.
Teaser video for FaceArt ErMu Lab's virtual concert in memory of John Cage
Prior to the Covid-19 pandemic you were based in both San Francisco and Shanghai. How have the restrictions you mentioned, and the radically different Covid policies of the USA and PRC, affected this?
It's been so hard. I had not left China for a year and a half, but recently I have been in California. That was OK, though it took a lot of preparation and several attempts to get tickets, which wasted a lot of money. The best route ended up being to go via South Korea. And of course I was intending to come back that way too - but all of a sudden China cut off almost all the international flights for several weeks because they'd found more Covid cases. Suddenly a flight that would normally cost US$1000 or so economy class was costing ten times that.
I spent a lot but I still ended up just having to take whatever I could find. That's why I'm currently in Shenzhen, not Shanghai; I still have that final leg to complete. Everything takes more money and also a lot more time; I had to spend two extra days in Seoul because of China's PCR testing policy.
A lot of people in China have just given up travelling, and a lot of people outside China have stopped coming altogether. The idea of everything being unexpected and never knowing what's going to happen is already becoming a new norm.
It must make it impossible to plan any performances.
It does. We have one British member of the piano faculty at FaceArt, James Brawn, and he's currently in London teaching his Chinese pupils online. But he has all his pianos still sitting in his apartment in Shanghai and we don't know when or if he'll be able to come back. He's been with us for years and it would be sad to lose him, but I completely understand his position; he has concerts and recording projects, and for musicians not to be able to travel is a huge problem.
On the other hand we have another faculty member who's scared to leave China - he wanted to go home and see his mum in the Philippines because her health is deteriorating, but he needs to be able to come back to China for work. I know a lot of people in the same situation. It's a really, really inconvenient and painful time for people.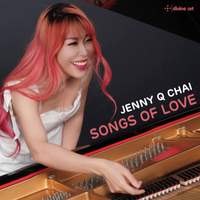 Jenny Q Chai (piano)
Available Formats: CD, MP3, FLAC, Hi-Res FLAC