7th September 2022
 Coming Soon

,

  Handel's Theodora from Maxim Emelyanychev and other autumn highlights
Lisette Oropesa heads a starry cast on Il Pomo d'Oro's upcoming recording of Handel's 1750 dramatic oratorio about religious persecution in ancient Rome, with other stand-out releases for the autumn including Dvořák's neglected Poetic Tone Pictures from Leif Ove Andsnes, Schubert's Schwanengesang from Ian Bostridge and the late Lars Vogt, orchestral works by Wiliam Grant Still, William Levi Dawson and George Walker from the Royal Scottish National Orchestra, and Ruth Gipps's Oboe Concerto & Symphony No. 3 from the BBC Philharmonic and Rumon Gamba.
Lisette Oropesa (Theodora), Joyce DiDonato (Irene), Paul-Antoine Bénos-Djian (Didymus), Michael Spyres (Septimius), John Chest (Valens); Il Pomo d'Oro, Maxim Emelyanychev
Following their Gramophone Award-winning account of Agrippina two years ago (with DiDonato in the title-role), Emelyanychev and Il Pomo d'Oro turn to Handel's dramatic oratorio from four decades later, recorded after a European tour last summer; the live performances were praised by BachTrack for Oropesa's 'straightforward sincerity and innocence' as the heroine and by Res Musica for the 'absolute mastery of [DiDonato's] singing' as her friend and mentor Irene.
Released 28th October.
Available Formats: 3 CDs, MP3, FLAC, Hi-Res FLAC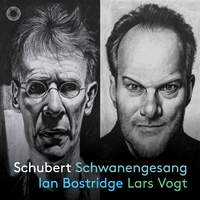 Ian Bostridge (tenor), Lars Vogt (piano)
Following Winterreise with Thomas Adès and Die schöne Müllerin with Saskia Giorgini, Bostridge's partner for the final instalment of his Schubert trilogy is the late Lars Vogt, with whom he frequently performed this work in recital (including at Wigmore Hall and at The Sage during Vogt's time as Music Director of the Royal Northern Sinfonia). In an affecting tribute for The Guardian yesterday, Bostridge described his friend as 'one of the kings of German pianism'.
Released 21st October.
Available Formats: CD, MP3, FLAC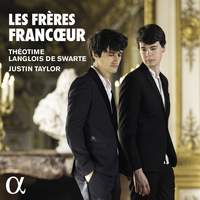 Théotime Langlois de Swarte (violin), Justin Taylor (harpsichord)
The French harpischordist and violinist (both founder-members of Le Consort) explore the legacy of the Francœur family, focusing primarily on sonatas by the brothers Louis (c.1692-1745) and François (1698-1787) and also including a piece by Louis's son, Louis-Joseph. The programme also features music by Jean-Baptiste Anet and Jean Durocher, plus works which the younger Francœur brother composed in collaboration with François Rebel.
Released 7th October.
Available Formats: CD, MP3, FLAC, Hi-Res FLAC, Hi-Res+ FLAC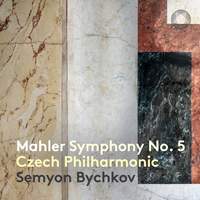 Czech Philharmonic Orchestra, Semyon Bychkov
The Fifth Symphony was the first work by Mahler which Bychkov conducted, making his professional US debut with the piece in 1979: in an interview with Presto earlier this year, he confided that the Scherzo 'remains a tremendous challenge to this day'. This is the second release in his Mahler series with the Czech Philharmonic, following a recording of No. 4 which received five stars in BBC Music Magazine.
Released 14th October.
Available Formats: CD, MP3, FLAC, Hi-Res FLAC
Barring a superb recording of the Piano Quintet with Sarah Chang and friends twenty years ago, Dvořák hasn't figured in the Norwegian pianist's discography to date, but this work has a special place in his heart: Andsnes describes it as 'the great forgotten cycle of nineteenth-century piano music', noting that 'Dvořák creates unique colours at the piano, and uses the full range of the piano convincingly, even if he was not a pianist-composer'.
Released 28th October.
Available Format: CD
Steven Isserlis (cello), Connie Shih (piano), Olivia Jageurs (harp)
The two major works on Isserlis's exploration of 'the plethora of music [for cello and piano] that emerged between 1878 and 1888' are Richard Strauss's Cello Sonata of 1883 and Luise Adolpha Le Beau's sonata from 1878; the programme also includes Isserlis's own arrangement of Dvořák's Four Romantic Pieces, plus Bruch's Kol Nidrei and Ernst David Wagner's Schir Zijon, and Isaac Nathan's Oh! weep for those that wept by Babel's stream (which inspired Bruch's composition).
Released 4th November.
Available Formats: CD, MP3, FLAC, Hi-Res FLAC, Hi-Res+ FLAC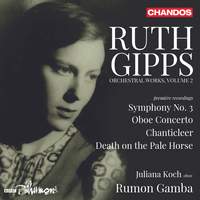 Juliana Koch (oboe), BBC Philharmonic, Rumon Gamba
Three years on from his recording of Gipps's Symphonies Nos. 2 & 4 (plus Knight in Armour and the Song for Orchestra) with the BBC National Orchestra of Wales, Gamba conducts the BBC Philharmonic in the Chanticleer Overture (derived from an opera which was never completed), the Oboe Concerto, the tone poem Death on the Pale Horse and the Third Symphony, which received its first professional performance under Gipps's direction in 1969.
Available Formats: CD, MP3, FLAC, Hi-Res FLAC
Royal Scottish National Orchestra, Kellen Gray
Released to coincide with Black History Month, this triptych of works by African-American composers also celebrates the centenary of George Walker's birth, with his Lyric for Strings (1946) closing the programme. It's preceded by William Levi Dawson's Negro Folk Symphony (premiered by Leopold Stokowski at Carnegie Hall in 1934) and William Grant Still's Symphony No. 1 from 1930, which draws on poems by Paul Laurence Dunbar and incorporates elements of jazz and blues.
Released 28th October.
Available Formats: CD, MP3, FLAC, Hi-Res FLAC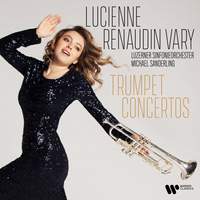 Lucienne Renaudin Vary (trumpet), Luzerner Sinfonieorchester, Michael Sanderling
A year after winning Opus Klassik's Newcomer of the Year Award for Piazzolla Stories, the French trumpeter presents her first concerto recording, featuring works by Hummel, Haydn, Neruda, Arutiunian and Harry James; the programme is rounded off by Renaudin Vary's own Post-scriptum on Haydn.
Released 18th November.
Available Format: CD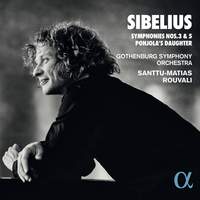 Gothenburg Symphony Orchestra, Santtu-Matias Rouvali
This third instalment of Rouvali's Sibelius cycle from Gothenburg couples two symphonies composed on the shores of Lake Tuusula: the Third Symphony from 1907, and the Fifth from 1915, inspired in part by the cry of a flock of sixteen swans flying over the lake. The previous releases in the series have been described as 'startlingly defined' (Gramophone) and 'strikingly individual' (BBC Music Magazine).
Released 28th October.
Available Formats: CD, MP3, FLAC, Hi-Res FLAC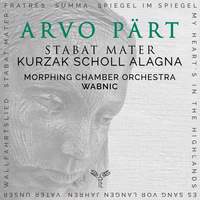 Aleksandra Kurzak (soprano), Andreas Scholl (countertenor), Roberto Alagna (tenor), Morphing Chamber Orchestra
As well as the Stabat Mater (adapted by the Morphing Chamber Orchestra's founder Tomasz Wabnic), this all-Pärt programme includes Spiegel im Spiegel, Es Sang vor langen Jahren for alto, violin & viola, Vater Unser, Ein Wallfahrtslied, Summa, Fratres, and My Heart's in the Highlands.
Released 28th October.
Available Formats: CD, MP3, FLAC, Hi-Res FLAC