19th August 2022
 Recording of the Week

,

  Anna Prohaska and Isabelle Faust perform  György Kurtág's Kafka-Fragmente
Of all the great twentieth-century song cycles, one of the most fascinating must be György Kurtág's Kafka-Fragmente for soprano and violin. Written between 1985 and 1987, it sets (as its name suggests) fragments of texts by Kafka, not from the novels but from various diary entries, letters, and so forth. Lasting just under an hour, its forty songs range in length from seven minutes down to a mere sixteen seconds.
It can be a somewhat daunting proposition for listener and performer alike. Its technical demands are, to say the least, extreme: one violinist has described it as "borderline unplayable, some of the nastiest stuff I've ever seen in terms of technique". Nor does the soprano get an easy ride: as the booklet notes for this extraordinary new recording from soprano Anna Prohaska and violinist Isabelle Faust observe, the soprano "must master the full gamut of lyrical and expressive singing, whispering, breathing, gurgling, groaning, speaking, giggling and screaming across several registers in a way that is also directly expressed in her physicality".
If all that sounds a bit much, then fear not: this performance is so committed that it makes for an utterly compelling, if exhausting, hour, full of tiny details that are brought out superbly. Some of the word-painting is exquisitely realised, such as the glassy, dead-tone ponticello playing from Faust at the mention of "those in deepest Hell" in the song entitled "Schmutzig bin ich, Milena..." ("I am dirty, Milena"), or the unexpected stillness and harmonic clarity of the A major chord at the end of "Der begrenzte Kreis" ("The Closed Circle") on the word "pure". To be sure, there are many uncomfortable moments of anger and fury, including the frustrated grinding into the strings in "Wenn er mich immer fragt" ("But he just won't stop asking me"), or the most distressing song of the cycle ,"Nichts dergleichen" ("Nothing like that"), which largely consists of an increasingly frenzied (and indeed high-pitched!) series of repetitions of the word "Nein". Prohaska in particular is magnificent here: the control that she achieves is quite staggering.
Yet there are also passages of great beauty, whether it be the Schumann-inspired "Traumend hing die Blume" ("The flower hung dreamily"), or the simplicity of the opening song, "Die Guten gehn im gleichen Schritt" ("The good march in step"), in which the performers initially sound together in perfect fifths, almost as if the soprano has become complicit in the violinist's tuning process, binding them together from the start. It is an ideal metaphor for the unified approach that comes across so convincingly from both Prohaska and Faust throughout.
Speaking of tuning, one of the many challenges that Faust has to pull off comes in the aforementioned "Schmutzig bin ich, Milena...", where, making use of a second instrument required specifically for this purpose, during the final forty seconds she has to continue playing whilst retuning the lower two strings. This second instrument is then set aside until "Szene in der Elektrischen" ("Scene on the Tram"), where the colours obtained by the harmonics on differently-tuned strings open up a fascinating sound world. It is perhaps this latter song that inspired Kurtág to use a violin rather than piano as accompaniment, as the text mentions a dancer "in the company of two violinists whom she frequently calls upon to play". You might think that to represent this, a pair of violinists would be essential, but no: by combining long, bowed phrases with multiple pizzicato chords, Kurtág creates the effect of a duet from just the one instrument, and Faust yet again demonstrates her total mastery by making everything seem effortless.
It is a phenomenal feat from both performers, and a roller-coaster of an hour both emotionally and in terms of the awe I consistently felt as the pair made apparent ease of the panoply of technical demands placed upon both of them. In conclusion, I can do no better than to quote Kafka himself, commenting upon the performance of the two violinists referred to above: "It is initially somewhat surprising and for a little while everyone considers it unseemly. But at full-speed, with a powerful current of air, and in a quiet street, it sounds nice."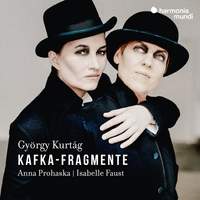 Anna Prohaska (soprano), Isabelle Faust (violin)
Available Formats: CD, MP3, FLAC, Hi-Res FLAC