12th August 2022
 Recording of the Week

,

  American tenor Jonathan Tetelman's debut recording
It's shaping up to be a fine summer on the recording front for those of us who love big-boned tenor voices – I'd barely set aside Freddie De Tommaso's glorious recital of Puccini and Bizet on Decca when this debut album from Deutsche Grammophon's new signing Jonathan Tetelman landed in my inbox last month, grabbing my undivided attention from the opening phrase and generating the same sort of frisson I experienced on first hearing a certain new kid on the operatic block from Bavaria almost twenty years ago…
Physically and vocally, Tetelman's resemblance to Jonas Kaufmann circa 2005 is so strong as to be positively uncanny. As the many suited-and-booted publicity photos on the label's website amply demonstrate, he's endowed with the same sort of chiselled, Byronic glamour that his older German counterpart harnessed to such powerful effect as the brooding anti-heroes of Massenet's Werther and Bizet's Don José (both of which feature on this new album), but the similarities don't stop there.
The dark, almost baritonal quality of the lower and middle registers and the clarion power on display when it opens up above the stave will likely generate a certain sense of déjà vu for many listeners, especially in the verismo arias on the programme: on first hearing Tetelman's account of 'La dolcissima effigie' from Cilea's Adriana Lecouvreur, a colleague genuinely assumed I was taking a wander down memory-lane and dipping back into Kaufmann's 2010 Verismo album…
Dig only slightly deeper, though, and it quickly becomes apparent that Tetelman is very much his own man. One of the appealing things about this recital is his disarming lack of mannerism and willingness to go against interpretative expectations: try his clear-eyed account of Don José's much-recorded 'Flower Song', candid and conversational in the opening stretches and with the climactic phrase paced and coloured very differently from what one usually hears. Like De Tommaso, he did his undergraduate training as a baritone, and although his transition into tenor territory sounds absolutely bedded-in from a technical standpoint there's a lovely sense that even the best-known repertoire here still feels fresh and exciting to him.
In an engaging video-introduction to the album, Tetelman explains that he sees this project as a snapshot of his transition from full lyric repertoire into more dramatic waters, and his programme is cannily planned to reflect that. The muscle and blade which he summons for Verdi's 'Di quella pira' (complete with a fourteen-second top C!) hasn't come at the expense of the flexibility on display in the opening 'Cielo e mar!' from Ponchielli's La Gioconda or the ability to spin long lines in Werther's 'Pourquoi me réveiller?' and Pinkerton's self-pitying farewell to the home he once shared with Butterfly – this latter infused with more genuine remorse than De Tommaso suggested on that recent album, though of course both takes work.
The relative rarities on the menu are equally compelling, and speak of an artist willing to think outside the box in terms of programming as well as interpretation. Whereas De Tommaso opted for a selection of tried-and-tested favourites, Tetelman casts his net rather more widely, including excerpts from Verdi's I due Foscari and Zandonai's Francesca da Rimini alongside the more mainstream arias. The long act three duet from the latter opera – in which Tetelman had enormous success in Berlin last year – is handsomely done, with a striking contribution from Lithuanian-born soprano Vida Miknevičiūtė, and the feverish prison-scene from Foscari really sounds like top-drawer Verdi when delivered with this level of dramatic commitment.
Support from the Orquesta Filarmónica de Gran Canaria is sensitive and characterful throughout (with some particularly gorgeous woodwind solos in the extracts from Carmen and La forza del destino), and my only reservation is that Tetelman sometimes sounds unnecessarily closely-mic'ed – I've not yet had the pleasure of hearing him live, but the DVD of that Francesca from Berlin suggests that he's capable of generating plenty of firepower on his own terms. On the whole, though, this is an exciting calling-card from a versatile singer who could develop in any number of directions in the years to come…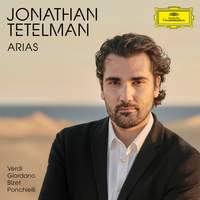 Jonathan Tetelman (tenor), Orquesta Filarmónica de Gran Canaria, Karel Mark Chichon
Available Formats: CD, MP3, FLAC, Hi-Res FLAC