13th May 2022
Recording of the Week

,

Brahms Quintets from the Pavel Haas Quartet and friends
They say that all good things come to those who wait. Testing this theory to its limits must surely be the members of the Pavel Haas Quartet, who tend to release an album only once every two years or so, and indeed who have not appeared on disc since their recording of three Shostakovich string quartets way back in 2019. Well, the wait is now over, and I'm extremely pleased to say that, with this latest account of two works by Brahms, the aphorism still holds true. As in their earlier offering of quintets by Dvořák, the regular members of the quartet are joined by special guests Boris Giltburg for the Piano Quintet in F minor, Op. 34, and violist (and former quartet member) Pavel Nikl for the String Quintet in G, Op. 111.
I try hard not to repeat myself too much in these reviews, and yet looking back at my previous musings on their albums of Smetana and Dvořák, I notice several common themes, all of which apply equally to these Brahms performances. Firstly, I always find it extraordinary that a small group can produce such a huge sound, full of raw power and magnificent enormity. Of course, I'm not suggesting they are the only string quartet in existence capable of making a loud noise, but there's something about the Pavel Haas Quartet that makes them stand out in this regard, not just in terms of actual volume but also the presence and vitality of their tone. A notable example of this is in Op. 34, where, aided by Giltburg's lavishly sonorous contribution, they provide a sumptuous conclusion to the first movement that conjures the resonance of a much larger ensemble.
Another constant thread running through all their recordings is the range and variety of timbres that they deliver, and the ease with which they switch between them, such as in the last movement of Op. 111 with its multiple sudden shifts of dynamics from one extreme to the other, or the first movement of the same piece, where after a gloriously radiant opening (including a delightfully exuberant solo from cellist Peter Jarůšek in the first few bars), the players bring about a complete change of mood for the pianissimo start of the development section that is breathtakingly done, with the entire team altering their colour in the twinkling of an eye. As before, additional violist Pavel Nikl blends in seamlessly, reinforcing greatly the richness of texture that Brahms creates by his use of two violas.
The second movement of Op. 34 demonstrates this even further, with the somewhat hesitant, delicate string motif in the first few bars yielding to a glowing central E major section which allows second violin and viola to bloom with their unison theme. When the hesitant motif reappears first in the piano and then in the viola it's an enchanting moment, setting the stage perfectly for the subsequent steady crescendo: as the melody for first violin and cello gradually adds a third and eventually a fourth string voice, the interplay between the parts makes this a truly sublime performance, with each player being permitted to assert their own material without ever standing in the way of the greater good.
So, as I mentioned at the outset, it has been a long wait to be able to listen to the Pavel Haas Quartet on disc once more, but with these splendid accounts of both quintets they have most certainly not disappointed.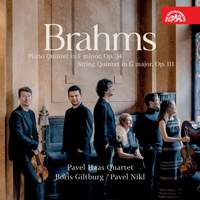 Pavel Haas Quartet, Boris Giltburg (piano), Pavel Nikl (viola)
Available Formats: CD, MP3, FLAC, Hi-Res FLAC, Hi-Res+ FLAC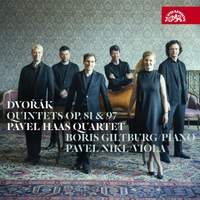 Pavel Haas Quartet, Boris Giltburg (piano), Pavel Nikl (viola)
Available Formats: CD, MP3, FLAC, Hi-Res FLAC, Hi-Res+ FLAC