26th May 2022
Interview

,

Golda Schultz on This Be Her Verse
Featuring songs by Clara Schumann, Emilie Mayer, Rebecca Clarke and Nadia Boulanger, plus a new commission by composer Kathleen Tagg and librettist Lila Palmer, South African soprano Golda Schultz's debut recording on Alpha has to be one of the most ravishingly-sung and thoughtfully-programmed vocal recitals to come my way this year.
It was a huge pleasure to meet Golda via video-call last month and to hear about how a simple Facebook post opened up a wealth of new repertoire for her and for many friends and colleagues, her awareness that female singers are so frequently 'the only woman in the conversation' in recitals, the joy of collaborating with two friends during lockdown, and her hopes that the results will inspire young artists to 'take ownership' of the new piece for themselves...
Did you have a particular 'lightbulb moment' in terms of feeling that we don't hear women telling their own stories enough in classical music, or has it been something that's been with you throughout your career?
I think it's been a process of gradual recognition rather than a big epiphany: let's call it a series of little flashes as opposed to a big bright spark! I love opera and I love the composers that I sing on stage – Mozart, Puccini, and even Donizetti recently! - but it's always been quite clear to me you're often the only woman in the conversation between the librettist (or poet) and the composer. I'm not saying that's a terrible thing, but I do find it interesting that women make up half the population of the entire globe and a lot of the time we aren't half (or even a third or a quarter!) of the conversation – works by female composers and poets are still so often seen as rarities or hidden gems.
It plays out in other areas of the music industry, too. I might be slightly off with my percentages here, but a friend who is a female producer told me that only around 15% of the producers working on high-level recording-projects are women: as someone who works in a different area of the business, that was very eye-opening for me. And you find the same sort of thing across all sorts of different industries – I've had so many conversations with women in science and politics as well as women in the arts, and they are all so aware of the fact that they are always in the minority of a conversation.
That must be so lonely at times, and of course it's something that so many women have experienced and responded to artistically across the centuries: even earlier than people like Clara Schumann and Emilie Mayer, there were women composers who were basically alone in a sea of men. They wanted to be recognised for their talent and their ability and their voice, even in full awareness that their voice might disappear with them, which is why it's nice to go and dig them up and remind myself and every woman that we're not alone!
How did the programme eventually come together?
When Jonathan and I began talking about the project, our starting-point was a conversation about Gretchen am Spinnrade: pretty much everybody considers Schubert's version to be perfection, but when we started looking into the other composers who'd told this woman's story I realised just how few female composers I actually knew…maybe Clara Schumann, Alma Mahler, Nadia Boulanger and Amy Beach, and that was it!
So we did what so many people do these days and threw it open to the Facebook hivemind! And there was an onslaught of so many people giving me ideas – we came up with a list that was three or four pages long. From there we started the long and arduous process of tracking down the music, and then narrowing things down to repertoire that not only suited my voice but also showed Jonathan as the great pianist that he is.
Did you deliberately select texts that were well known in other settings (such as Erlkönig and Liebst du um Schönheit)?
Erlkönig was a deliberate choice, because the Schubert setting is so well known - but honestly, a lot of it just came down to how much I liked the songs. I wish I could give a smarter answer, but it comes from the heart: I don't think there's a single song on the album that I don't love to infinity! My poor husband had to sit at home during lockdown with me singing them on repeat as I was getting them into the voice, and even after all that he still plays the finished CD in the car! I feel it says a great deal about the quality of these songs that someone's lived through me trying to learn the music and then had to listen to me doing all the editing process and still wants to hear them after all of that.
There were a couple iterations of the programme, but the final one that's on the album is really just a love-letter to women in music. And the cool thing is that this little love-note of ours has gained such momentum: so many new composers, poets and librettists are writing to us and saying 'If you're interested in these kinds of stories, I've got some stuff that might be up your alley!'.
Have you had feedback from other curious singers, too?
Absolutely: numerous colleagues have reached out asking for copies of the songs by Emilie Mayer in particular, and a friend of mine who teaches voice told me that she's now got so many young singers bringing Rebecca Clarke songs to their lessons.
I love that young women in conservatoires are realising that they don't just have to sing Brahms or Wolf - not that there's anything wrong with Brahms or Wolf, of course, but it's so exciting to see them discover that there are other women in the room. It's all part of getting the music out there: what started out as me and Jonathan having a jam session has become something really special.
What's the story behind the new cycle which you commissioned from Kathleen Tagg and Lila Palmer?
Lila and Kathy and I all met when we were studying in America, and I think it all grew out of a random conversation we'd been having about how new music is produced. I've always been fascinated by their side of the business, because I'm used to being the person who just receives the finished manuscript and goes 'OK, it's my job to make something out of it!'.
Then the idea of this song recital came along, and I suggested the idea of commissioning something to Jonathan, who was super-excited about it. Instead of going the usual route where you would ask an organisation to be the commissioner (so that they would pay for the piece and we'd just perform it), we decided to be old-school and just leaving the creators in the room unfolding the work together. And there was the added bonus of being able to work with your friends, which I think is never a bad thing!
Being a fly on the wall of that process and hearing Kathy's and Lila's thoughts about what they wanted to say was so exciting: their perspectives were either commenting on each other, or completely aligned with each other, or even in friendly opposition. Being a part of that conversation was really educational for me, because it made me very aware that as a performer I also bring something to the composition – rather than being some sort of musical vessel, I realised that I needed to be unashamed about bringing my whole self and my life-experience to the work, because that's what makes the piece come alive.
And hopefully the piece will attract new performers as well...
Right from our initial conversations, I was always adamant that I didn't want the piece to just be for me and Jonathan: I wanted any young musicians who felt that the work spoke to them to be able to perform it. That was what became so clear to me when I was looking at people like Emilie Mayer – her work's not difficult to perform, but because she was a lone woman in composition when she died her music died with her. You've got to entice others to want to take ownership of the piece, and it was really cool and also quite daunting to think in those terms when we were working on the new cycle.
Whenever I'm struggling with roadblocks in my singing, my teacher always says 'Listen, if you're asking this question then I can promise you that someone else out there is asking it too, and you might just help them find the answer for themselves - so go for it!'. And I applied that same mindset to the new cycle: if it speaks so powerfully to me, then chances are it speaks to other people too.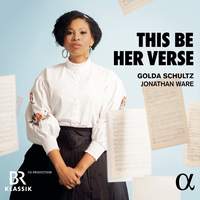 Clara Schumann - Emilie Mayer - Rebecca Clarke - Nadia Boulanger - Kathleen Tagg/Lila Palmer
Golda Schultz (soprano), Jonathan Ware (piano)
Available Formats: CD, MP3, FLAC, Hi-Res FLAC