18th February 2022
 Recording of the Week

,

  Weinberg solo violin sonatas from Gidon Kremer
Hot on the heels of last week's Latvian on the podium, today's Recording of the Week sees Andris Nelsons's compatriot Gidon Kremer present gripping accounts of the three solo violin sonatas of Mieczysław Weinberg. Long a relatively forgotten composer, since the early 2010s Weinberg has been receiving increased attention and his works are becoming more widely performed, thanks in no small part to Kremer's own tireless efforts. This powerful recording further reinforces the view of him as a significant voice in post-war composition.
Weinberg's own life was one of enormous tragedy and hardship, constantly dogged by antisemitism. Born into a family who had moved to Warsaw to escape the Kishinev Pogroms, he fled Nazi Germany at the outbreak of World War II (his parents and sister, who remained behind, all ended up among the victims of the Holocaust) and settled in the Soviet Union. Here, too, racism pursued him, and the "Doctors' Plot" of 1953 saw further members of his family killed and Weinberg himself interned in the Gulag for "Jewish bourgeois nationalism". Dmitri Shostakovich, with whom he had become firm friends shortly after arriving in the USSR, personally petitioned the authorities for his release.
Against this horrifying backdrop, one might expect Weinberg's music to be dominated by misery and grief, yet the picture that emerges from these three sonatas – a uniquely vulnerable idiom, well suited to self-expression and self-reflection – is not so simple. Kremer performs them in reverse chronological order, beginning with the third, to which he assigns a "hidden programme" of autobiographical subtext. Kremer considers the single twenty-two-minute movement as seven sections delineated by marked changes of mood, of which the first three are musical portraits of Weinberg's father, mother, and himself as a child. Though little is known about Weinberg's childhood life, a psychologist might make much of these; the melodious "mother" section, lying high in the instrument's range, is strikingly lyrical compared to the choppy "father" material of the opening.
Throughout, the harmonic language shows Weinberg's debt to Shostakovich – acerbic and discordant, yet always fundamentally tonal. At times, the music seems to draw its power and energy not so much from the notes themselves as from Kremer's audibly impassioned engagement with his instrument – heavy, dug-in bowing (including some forceful double-stopping), and a generally vibrato-free sound with nothing of the refined or comfortable about it.
On the face of it, the second sonata seems the least challenging, both to the performer and to the listener; its opening Monody has an almost disarming simplicity that sets the tone for the whole sonata. With its relatively accessible harmonic language and playful toying with straightforward motivic scraps, it's reminiscent of the lighter side of Shostakovich, who Weinberg was quite open about acknowledging as not just a great friend but also a huge influence on his own music. When Weinberg advocate Linus Roth recorded these sonatas in 2016 he supplemented them with transcriptions of Shostakovich's Three Fantastic Dances and, in this sonata above all, it's easy to see why.
The first sonata, like the third, is harmonically challenging and often angular. It's also a technical tour de force of comparable magnitude to the Hammerklavier for pianists. The sheer physicality that Kremer puts into the music is almost exhausting to listen to – the striding double-stopping of the opening movement, for instance, conjures up a vivid image of a performer determinedly wrestling with their instrument. The central Allegretto again hints at a Shostakovichian sense of humour – interrupting and subverting the melody with pizzicato interjections that reminded me of Shostakovich's Ninth Symphony.
None of these sonatas – even the relatively approachable second – is what one might call easy listening, but in Gidon Kremer's hands they show another fascinating side of this overlooked composer. Recent recordings of Weinberg's symphonies by Mirga Gražinytė-Tyla and the CBSO (with Kremer as violin soloist in No. 21), and of his chamber music by Kremer with pianist Yulianna Avdeeva and cellist Giedrė Dirvanauskaitė, are perfectly complemented by these emotionally unflinching performances. It might seem an unconventional way for Kremer to mark his 75th birthday – very far from the musical equivalent of a huge box of chocolates – but it's a fitting summation of his work to date in advocating for Weinberg's music.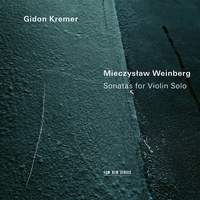 Gidon Kremer (violin)
Available Formats: CD, MP3, FLAC, Hi-Res FLAC