UPDATE: Royal Mail have now resumed shipments on ALL International services but delays should be expected, please choose FEDEX if your order is urgent.
14th January 2022
Recording of the Week

,

Locke consort works from Fretwork
Today's Recording of the Week sees the early music ensemble Fretwork – who celebrated their 35th birthday last year – explore the intricate yet refined music of one of the last great English composers of consort music: Matthew Locke, the 400th anniversary of whose birth falls in 2022. Locke was many things – a youthful vandal, carving his name deeply into a wooden panel as a chorister; a brash yet touchy bearer of personal grudges; and a recusant Catholic during the English Commonwealth. First and foremost, though, he was a consummate musician, with a command of both the keyboard and the viol, and the consort works recorded on this album are thought to have been written for performance at the Hereford house where Locke spent much of his adult life.
Fretwork attract critical acclaim wherever they go, and for good reason; their programmes are characterised by profound scholarship, worn lightly and always placed at the service of the music. This album maintains that trend. The uniquely delicate sound of the viol consort – wispy, almost spidery at times – is on display in the faster-moving pieces, with the performers seemingly leaning into how drastically different it is to the more familiar sound of the string quartet. The opening chord of the Suite No. 3 in D minor ensnares some unintended harmonics that if anything enhance the sense of intimacy, like the subtle squeaks sometimes produced by the strings of an acoustic guitar. Yet elsewhere – in the opening Fantazie of the Suite No. 2 in B flat, for instance – they capture a mood combining tenderness and polyphonic grandeur. Touches of rubato, especially at cadences, always feel natural and never come across as mannered.
That sense of grandeur might seem counterintuitive, given the context of these works; in Locke we are looking at the tail-end of English supremacy in viol playing and of large-scale music for the viol consort; France was gradually taking the lead in the race for viol superpower status. Locke himself openly held a low opinion of the French style, with the exception of the catchy Courante – these he was quite happy to borrow and incorporate into his own compositions, as he does in most of the suites recorded here.
As well as the growing influence of French idioms, it was a time characterised by a shift towards smaller-scale consorts – Locke limits himself to quartets, trios and duos where his predecessors Lawes and Jenkins were happy to indulge themselves with quintets and sextets. Purcell too, influenced by Locke, would go on to write trios and quartets of his own – his sets of Fantasias in three and four parts – but followed his example in largely declining to compose anything more expansive. His own patriotic protestations that he "never yet saw any Foreign Instrumental Composition (a few French Corants excepted) worthy an English mans transcribing" aside, it's possible to hear a little of that characteristic French elegance and poise enlivening these pieces; Locke's contemporary the violist Christopher Simpson, whose thoughts on ornamentation Fretwork draw on here, was clearly influenced by the same ideas that would later shape Marais and his contemporaries as the French Baroque took form, and the rhythmic lilt of many a dancing movement has a distinct air of Rameau about it.
Perhaps the most unusual elements of this recording are the two "duet suites" – written for two bass viols and displaying not just a mastery of counterpoint at its most austere, but also a clear gift for endowing even this pared-back style with palpable melody and drama. That drama is at its clearest in the multiple Fantasias contained within the suites – each suite including not one but four, alongside a Courante and a Sarabande. Characterised by rapid changes of mood, and serving as vehicles for the viol virtuosos of Locke's time to show off their dexterity, they are every bit as engaging as the "tutti" four-part suites.
Violist Richard Boothby concludes his erudite sleeve-notes by expressing the hope that this album can "begin the rehabilitation of Mr. Matthew Locke's magnifick consorts." I can't think of any safer hands for that project than Fretwork's; they have taken a deep dive into the history of English chamber music and come back clutching fistfuls of pearls.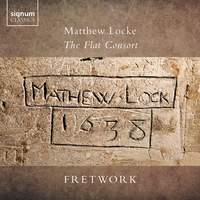 Fretwork, Silas Wollston, David Miller
Available Formats: CD, MP3, FLAC, Hi-Res FLAC