24th December 2021
 Recording of the Week

,

  Presto Personal Favourites from 2021
Since announcing our top Ten Recordings of the Year (decided by committee and revealed a fortnight ago), the editorial team have spent a lot of time discussing and revisiting some of our own personal favourites which made the Top 100 but haven't yet featured as Recording of the Week. Instead of a full-length review of a single recording, five of us have decided to share the honours today and each sing the praises of an album that we've particularly enjoyed over the past year.
Chris O'Reilly
Hope Amid Tears - Beethoven Cello Sonatas (Yo-Yo Ma (cello), Emanuel Ax (piano); Sony)
I'm not clear exactly why Yo-Yo Ma and Emanuel Ax decided to re-record the five Beethoven Cello Sonatas, as they already have a very fine recording together from the early 1980s, but I'm very glad they did, as nearly forty years on, these two incredible musicians, with lifetimes of music-making and experience behind them bring a warmer, more spontaneous and more nuanced recording than anything I've heard previously.
Neatly spanning all periods of Beethoven's life, the cello sonatas (accompanied here by the three sets of variations) represent a real journey of discovery for the listener, and perhaps it was that same sense of discovery (or re-discovery) which drew Ma and Ax back into the studio last year to make this new recording.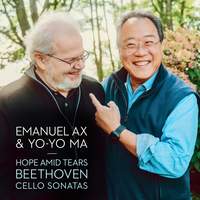 Yo-Yo Ma (cello), Emanuel Ax (piano)
Available Formats: 3 CDs, MP3, FLAC, Hi-Res FLAC
James Longstaffe
Sofia Gubaidulina: Dialog: Ich und Du, The Wrath of God & The Light of the End (Gewandhausorchester Leipzig, Andris Nelsons; Deutsche Grammophon)
A trio of world premiere recordings of pieces by Russian composer Sofia Gubaidulina kicks off with what is essentially her third Violin Concerto, Dialog: Ich und du from 2018, mesmerisingly performed here by its dedicatee, Vadim Repin. His virtuosity is matched every step of the way by Andris Nelsons and the players of the Gewandhausorchester, not least in an extraordinary passage for all four trombones in unison spanning more than four octaves.
This is followed by two orchestral works which both receive equally compelling treatments: The Wrath of God and The Light of the End. The latter especially is a fascinating piece that, with its use of natural horns, explores the conflict arising from the incompatibility of the overtone series against conventional, tempered tuning. Its closing bars, fading away in a shimmer of high strings, glockenspiel, mark tree, and antique cymbals, bring both the work and the album itself to a hauntingly beautiful conclusion.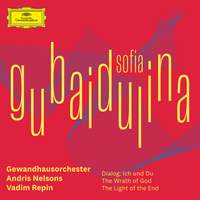 Gewandhausorchester Leipzig, Andris Nelsons
Available Formats: CD, MP3, FLAC, Hi-Res FLAC
Paul Thomas
On DSCH (Igor Levit; Sony)
Never someone to do things by halves, the Russian-German pianist Igor Levit decided to pair on disc Shostakovich's introvert reinvention of Bach's Preludes & Fugues with the Scottish composer Ronald Stevenson's more extrovert and political Passacaglia on a Theme of DSCH from 1963 (both pieces which feature Shostakovich's and Bach's musical cryptograms).
If the performance of the Stevenson is remarkable for just the sheer level of virtuosity and endurance required, then what stands out about the Shostakovich is Levit's ability to get inside the varying characters of each Prelude & Fugue, each revealing a different facet of the composer's complex personality. Levit stands out therefore, not only as a staggering virtuoso, but as one of the most thoughtful and intelligent pianists of our time.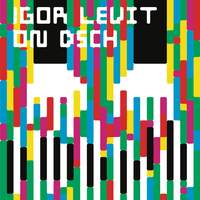 Shostakovich: 24 Preludes & Fugues and Stevenson: Passacaglia on DSCH
Igor Levit (piano)
Available Formats: 3 CDs, MP3, FLAC, Hi-Res FLAC
David Smith
The Beginnings of the Violin Concerto in France (Johannes Pramsohler, Ensemble Diderot; Audax)
Johannes Pramsohler and Ensemble Diderot delve into the conception of the now-ubiquitous violin concerto form, with experimental works from the French Baroque era exploring the expressive potential of what was then an exciting new instrument. Jacques Aubert's concerto that opens the album exemplifies the hybrid nature of this era of musical history; its initial allegro could have come straight from one of Vivaldi's concertos, while its second and third movements evoke the spirit of the French court.
The highlight of the album, though, is a pair of world premieres by Jean-Marie Leclair and Andre-Joseph Exaudet; the former again leaning very much towards the lively Vivaldian style while the latter strikes a tone of stately, regal pomposity. Unearthing and enlivening this kind of repertoire is, and has been for some time, a speciality of Pramsohler and his musicians; it comes as no surprise that their enjoyment of these little-heard but graceful works is, again, delightfully audible.
Aubert - Leclair - Quentin - Exaudet - Corrette
Johannes Pramsohler (violin), Ensemble Diderot
Available Formats: CD, MP3, FLAC, Hi-Res FLAC
Katherine Cooper
Dreams of a New Day: Songs by Black Composers (Will Liverman, Paul Sánchez; Cedille)
This magnificently sung and played programme of songs by composers including Margaret Bonds, Robert Owens, Leslie Adams and Harry Burleigh has to be one of the most powerful and moving albums of the year; every individual song here is a gem, though it's Shawn E. Okpebholo's Two Black Churches (paying tribute to the victims of the 16th Street Baptist Church bombing in Birmingham Alabama and the 2015 shootings in Charleston) which will sear itself into the memory above all.
Liverman (who recently starred in the Metropolitan Opera premiere of Terence Blanchard's Fire Shut Up In My Bones) is in imposing, eloquent voice throughout, capturing the conflicted sensuality of Burleigh's Five Songs of Laurence Hope and the rollicking exuberance of Thomas Kerr's Riding To Town (written in the same year as Rodgers & Hammerstein's Oklahoma! and sharing the spirit of 'Surrey With The Fringe On Top') to perfection. Sánchez is every bit as impressive, particularly in the Rachmaninov-esque writing in the Burleigh songs, and the synergy between the two artists is writ large in every phrase. Timely, often uncomfortable, and absolutely unmissable.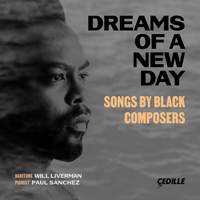 Will Liverman (baritone), Paul Sánchez (piano)
Available Formats: CD, MP3, FLAC, Hi-Res FLAC