11th June 2021
 Recording of the Week

,

  Debussy from Daniel Barenboim, Martha Argerich and friends
To call today's Recording of the Week an "all-star cast" would be an understatement; Daniel Barenboim and Martha Argerich need no introduction, but when they're joined by the leader and sometime principal cellist of the West-Eastern Divan Orchestra (Michael Barenboim and Kian Soltani respectively) it's safe to assume that something special is in store, and so it proves for this quadruple-bill of Debussy.
The first work on the album is perhaps the least well-known – the Fantaisie that represents Debussy's nearest approach to writing a piano concerto. It's roughly contemporary with Rachmaninov's first completed piano concerto (1891-2), and in many ways Argerich seems to be leaning into this commonality, with Debussy audibly still in the shadow of the nineteenth-century piano concerto. Right from the outset she embraces the tension between that more heroic idiom and his tendencies towards ambiguous sonorities and tone-colours. Relatively bold, impassioned material is interspersed with harmonically blurry flourishes that seem to prefigure La mer – and indeed the string tuttis later in the movement have more than a touch of Mallarmé's drowsy faun. Argerich alternates seamlessly between truly soloistic playing and a more self-effacing approach to quasi-accompaniment filigree material, though at times she combines both, multi-tasking a foreground melody and dazzling decorative passagework.
The ensuing movements carry further hints of the composer that Debussy was becoming – a motif appearing halfway through the second bears a strong resemblance to the opening of Pelléas et Mélisande which he was writing at about the same time. Still, the process is certainly not over by the piece's end, with the third movement again featuring passages of Rachmaninovian forthrightness intermixed with more recognisably Debussian material. The conclusion is a blaze of glory at odds with the refined subtlety that we associate with him; it's testament to the enormous experience and insight that Argerich, who turned 80 earlier this month, has accumulated over the years that she responds to early Debussy in a way that precisely matches the nature of his writing at this stage in his career.
The two sonatas take us right to that career's end, with the Cello Sonata indeed Debussy's last major composition. Daniel Barenboim takes over at the piano, initially joining his violinist son Michael, and displaying a wonderfully light-touch approach to some of the louder passages that allows Michael to shine effortlessly. Argerich's fortes were tailored to an early-Debussy concertante context; Barenboim's are late-Debussy, chamber fortes, and the difference is crucial.
The way this duo captures the sonata's changing moods is remarkable; it seems clichéd to attribute this to their familial relationship but that must be a factor. Where a phrase is echoed between the instruments there's a real feeling of dialogue rather than simple imitation – the repetition always saying something new. In the second movement their partnership becomes borderline telepathic; the constant semiquavers running through this movement complicate its frequent tempo changes and rubato moments, but the Barenboims move as one.
In the Cello Sonata Soltani takes the lead in a way that Michael Barenboim did not, with a consistently big-boned sound. That's not to say that he and Barenboim are in any way at odds; both perfectly capture the eerie, grotesque pointillism of the second movement, in places evoking a nightmare version of Minstrels from the first book of Préludes. It's speculated – though on an uncertain basis – that Debussy may have initially conceived this sonata as being themed around the tragic Pierrot figure of the commedia dell'arte, and there's certainly a distinct air of neuroticism here.
Since La mer premiered in 1905 it has been performed so frequently that I can imagine conductors racking their brains for ways to make something new out of it. Barenboim's answer is to focus in on the smaller details – there are moments of unusual stillness in the first movement that many other accounts lack. Elsewhere he brings out orchestral textures, with rushing wave-like string motifs more forceful than usual and the glockenspiel pleasingly prominent in the opening of the second movement. It's a "high-resolution", detailed approach that seems mindful of Debussy's own rejection of the "Impressionist" label. Barenboim's La mer is not the endless vastness of the Pacific, but a sea in which distinct eddies, currents, and perhaps even flotsam and jetsam are discernible.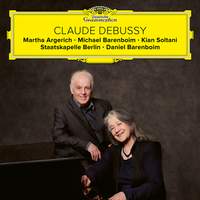 Daniel Barenboim (piano), Michael Barenboim (violin), Kian Soltani (cello), Martha Argerich (piano), Staatskapelle Berlin
Available Formats: CD, MP3, FLAC, Hi-Res FLAC