28th May 2021
 Recording of the Week

,

  American Quintets from the Kaleidoscope Chamber Collective
Formed in 2017 by pianist Tom Poster and violinist Elena Urioste (who met on the BBC New Generation Artists scheme and are now husband-and-wife), the aptly-named Kaleidoscope Chamber Collective is a shape-shifting ensemble which expands or contracts according to the demands of their programmes, and their commitment to championing diversity and underperformed repertoire is fully borne out on this arresting debut recording featuring two superb piano quintets by American pianist-composers whose careers were hamstrung by various forms of oppression.
First up is Amy Beach (1867-1944), whose professional life got off to a flying start with early concerto performances with the Boston Symphony Orchestra but was subsequently curtailed after her marriage to a Boston surgeon who wished his wife to 'function as a society matron' and imposed stringent limitations on both her public performances and musical education. Despite these restrictions the largely self-taught Beach continued to compose prolifically throughout her marriage, and the 1905 Piano Quintet performed here soon became a fixture on concert-programmes across the States (often with the composer herself at the piano) and further afield. It's easy to see why: the way the opening movement stirs into life around a unison F sharp in the strings immediately grabs the attention, and the almost Elgarian theme of the slow movement has to be one of the loveliest melodies in all twentieth-century chamber music.
The work recently received a superb outing on disc from the Takács Quartet and Garrick Ohlsson (one of our 2020 Recordings of the Year), but hearing it 'through the Kaleidoscope' made me consider it in an entirely different light. If Ohlsson and the Takács emphasise the piece's lush Romanticism (Beach composed the piece shortly after performing the Brahms Quintet, and the impact of that work on her imagination is often clear and present) the new recording highlights its latent modernity, with an attractively lean, spare string sound matched by Poster's luminous approach from the keyboard - quite a contrast with Ohlsson's more muscular playing on the rival recording, but no less effective. The group certainly live up to their name in their ability to tap into the vast palette of colours which Beach deploys (quite literally, given that she shared Scriabin and Messiaen's synaesthetic tendencies) and the sheer precision of their playing in the mercurial finale is an exhilarating delight.
The major attraction on the album, though, is the world premiere recording of a work which was discovered only twelve years ago: African-American composer Florence Price's enormously attractive Piano Quintet in A minor, unearthed in an abandoned house in Illinois in 2009 along with a host of other unpublished manuscripts including the Fourth Symphony, two violin concertos, and several major piano works. Whilst Beach was financially comfortable for most of her life and managed to secure a long-term publishing deal at a relatively early stage in her career, Price had to negotiate what she described as the double 'handicap' of racial and gender-based prejudice, and as the pianist and musicologist Dr Samantha Ege pointed out in our recent interview often struggled to find a market for some of her more expansive and innovative compositions.
This remarkable piece (thought to have been written in the mid-1930s, around the same time as her other piano quintet in E minor) is certainly both of those things: like much of Price's work it fuses elements of Black popular music and spirituals with European compositional techniques, and in the long opening movement she develops an instantly memorable folk theme to near-symphonic proportions, complete with some Sarasate-esque flourishes for the first violin (bags of flair from Urioste here!) and plenty of opportunities to flex her own virtuoso credentials (like Beach, Price was a superb pianist who frequently performed her own works). The ebullient scherzo is based on the juba, an African-American dance which Price also deployed in her symphonies, and the Kaleidoscope swing and pitch-bend with glee here before relishing the helter-skelter chases of the small-but-perfectly formed finale.
In between the two quintets, Samuel Barber's Dover Beach acts as a sombre palate-cleanser, with bass Matthew Rose delivering Arnold's text with immaculate clarity and a brooding intensity that's matched by the strings. But it's Beach and Price who steal the show: do investigate.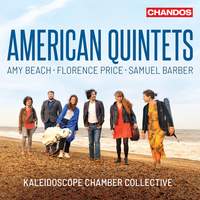 Amy Beach - Florence Price - Samuel Barber
Matthew Rose (bass), Kaleidoscope Chamber Collective
Available Formats: CD, MP3, FLAC, Hi-Res FLAC