10th May 2021
 Interview

,

  Esther Yoo and Narek Hakhnazaryan on Shostakovich and Babadjanian
Following on from their acclaimed debut with piano trios by Brahms and Dvořák, the Z.E.N. Trio (named for the first initials of its three members) now looks east to Russia and Armenia, pairing Shostakovich's second trio with the sole trio by his rough contemporary, the Armenian Arno Babadjanian. Each is, in its own way, in part an emotional response to the complex challenges facing musicians under Soviet rule.
The juxtaposition was first suggested by the trio's cellist Narek Hakhnazaryan; I asked him and violinist Esther Yoo about the inspirations behind these two works, and their similarities and differences.
The two main works on this album – the Shostakovich and Babadjanian Trios – are both similar and different. Both represent composers navigating the challenges of the Soviet political landscape, but at different stages in their lives. Where did the idea first come from to record them as a pair?
We started out with the idea of recording Shostakovich's Second Piano Trio - all three of us appreciate Shostakovich's music and we've clearly played many of his works separately but never anything together. Because we individually had a passion for his music, we thought it would be an interesting opportunity for us to dig really deep into his piano trio in preparation for this recording. Narek and I particularly studied with Russian teachers at some point in our lives and so the language of Russian and Soviet music is something we're very familiar with.
Once we had decided on Shostakovich, we started to think about what to pair it with on the album. We owe it all to Narek for introducing ZZ [pianist Zhang Zuo] and I to the Babadjanian Piano Trio and suggesting it as the album pairing. Being from Armenia, he was very familiar with it and especially passionate about Babadjanian's works and once ZZ and I listened to it, we were amazed at the qualities of this trio and agreed that it really deserves to be more well-known and shared with the world.
From Tchaikovsky to Rachmaninov to Arensky, there seems to be a tradition of Russian and Soviet piano trios written by one composer in memory of another – or of a cultural figure, as with Shostakovich with Sollertinsky. Why do you think this form held such appeal as a musical monument?
In the case of Shostakovich and his second piano trio, Shostakovich dedicated it not to a composer but to his dearest friend, Sollertinsky, who was not a musician but was highly knowledgable and deeply in love with music. One of the ways in which Shostakovich pays tribute to his friend in the second piano trio is in the opening of the first movement - the harmonics performed by cello alone are an imitation of Sollertinsky whistling.
The act of dedicating a work to someone, whether it be another composer, an admirable figure, or a friend, made the work much more personal as a musical piece and work of art, and added another layer of significance to the piece and to the composer.
The Jewish folk theme quoted extensively in the final movement of the Trio also appears in Shostakovich's intensely personal String Quartet No. 8 – what do you think this melody's significance was for him?
Considering the number of Jewish friends Shostakovich had including Sollertinsky, many actors, theater directors, and musicians, it was very important for him to symbolize the Jewish oppression during the Soviet period during the 1930s and 40s. The use of Jewish themes were in a way a coded hint and support to all his friends who were persecuted by the Soviet regime.
The Babadjanian Trio is notably conservative in its musical style – all the more striking coming from a composer who would later embrace twelve-tone styles, aleatorism and microtones. Was Babadjanian just playing it safe until the political wind changed, or is there more to it?
Every composer has their own path and their own artistic development. Similarly to painters whose style evolves and changes throughout different periods of their lives, most composers also go through similar phases. Babadjanian started with a more classical style, then went on to atonal styles, and eventually he even went on to compose popular songs, which he actually became most well-known for in the Soviet Union. He had a very curious and ambitious nature so he wished to explore and conquer as many different styles of music as he could.
For those who aren't as familiar with Babadjanian as with some other Soviet composers, or even his fellow countryman Khachaturian – who were the main musical influences on him, and who do you think he can be compared to in this Trio?
Babadjanian drew inspiration from many of the greatest Soviet composers including Shostakovich, Prokofiev, Khachaturian… As a young composer in the 1950's, it would have been hard not to be influenced by so many legendary and contemporary Soviet and Armenian composers.
The Babadjanian Trio should be described as Soviet-Armenian music, rather than just Soviet, as you definitely feel the Armenian tone, style and soul in the music.
If he had to be compared to someone in his writing of the piano trio, it could be compared to a hybrid between Khachaturian, due to the clear Armenian tone and character, and Rachmaninov, in the way it's written, the structure, and the contrast of emotions throughout the trio.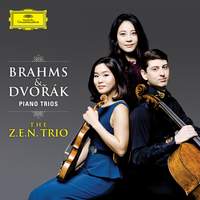 Esther Yoo (violin), Narek Hakhnazaryan (cello), Zhang Zuo (piano)
Z.E.N. Trio's debut recording, praised for its 'tender handling of the [Dumky Trio]'s introspective melancholy' (The Strad).
Available Formats: CD, MP3, FLAC, Hi-Res FLAC