2nd April 2021
 Recording of the Week

,

  Lise Davidsen in Beethoven, Wagner and Verdi
When my dear Presto colleague James and I took our seats in a packed Royal Opera House on a Sunday afternoon last March to hear Lise Davidsen make her stage debut as Leonore in Fidelio, I don't think either of us anticipated that it would be the last live performance of anything that we'd experience for over a year – but we could hardly have wished for a more satisfying operatic 'last meal' than the Norwegian soprano's unforgettable portrayal of Beethoven's stalwart heroine, sung with a combination of youthful vulnerability and core strength that stopped the show after her great Act One aria Abscheulicher! (dramaturgical curveball from director Tobias Kratzer notwithstanding) and brought the house down at the final curtain.
It's that same aria which opens Davidsen's superb second solo album on Decca (released last Friday), and the magic has certainly translated from stage to studio: if anything, her interpretation has accrued still more light and shade in the intervening months between the production and recording-sessions. Davidsen tears into the opening recitative with a ferocity that leaves us in no doubt of the horrors which Leonore has witnessed, or of the months of anxious subterfuge she's endured, and the strings of the London Philharmonic (on top form throughout the album) match her vehemence to the hilt.
It's an arresting opening, but the tenderness and amplitude of the ensuing 'Komm, Hoffnung' are no less impressive, Beethoven's notoriously unforgiving two-octave leaps and breath-sapping long phrases seemingly posing no problem at all for Davidsen's formidable lung-capacity and seamlessly-integrated instrument. And the electrifying cabaletta in which Leonore screws her courage to the sticking-place reveals a vocal flexibility that perhaps harks back to her early training as a baroque mezzo; that agility is to the fore, too, in the same composer's 'Ah, perfido!' and in the excerpt from Cherubini's Medea, so that I found myself itching to hear what Davidsen might do with Bellini's Norma should the role appeal. Stranger things have happened.
Italian repertoire of a slightly later provenance occupies the middle section of the programme, with the Ave Maria from Verdi's Otello a surprise highlight: the role's typically cast with more lyrical voices than Davidsen's embryonic Isolde, but she sings Desdemona's prayer with exquisite fragility and the appropriate undercurrent of anxiety, and the ascent to the floated high A flat at the end is beautifully done. Santuzza's abject Easter Morning confession from Mascagni's Cavalleria rusticana, delivered more in sorrow than in anger, also comes across powerfully, with Davidsen tapping into those mezzo-ish qualities once again (though perhaps with rather too much subtlety for some tastes in this music).
Here and in Wagner's Wesendonck-Lieder, Elder's tempi are often luxuriously spacious, capitalising on his soloist's rock-steady breath-control, and he clearly relishes being in a position to let the brass entirely off the leash when the opportunity presents itself – Davidsen in full cry is more than a match for Wagner's thickest scoring, and it certainly whets the appetite for the Isoldes and Brünnhildes which surely figure in her long-term future. Emotions seem far closer to the surface here than on her recording of Strauss's Vier letzte Lieder two years ago, particularly in the songs dealing with isolation: as she revealed in a disarmingly candid interview in this month's Gramophone, the past year has not been an easy one for her on several levels, and her identification with these texts comes across as something very raw and real.
Looking ahead to mid-April, Decca would appear to have found a perfect match for Davidsen in Freddie De Tommaso, a young British-Italian 'baby spinto' tenor whose upcoming debut recording reveals a voice of comparable heft and firepower, as well as bags of natural charisma – I'd have loved to hear the pair of them going head-to-head in Santuzza and Turiddu's stand-off from Cavalleria rusticana, but perhaps it was wise to keep the power dry for his album-launch in two weeks' time. There's something of Jonas Kaufmann's baritonal darkness to the voice, though without the covered quality that polarises listeners there, and with major Verdi and Puccini roles at top houses coming up this season the 27-year-old looks set for great things.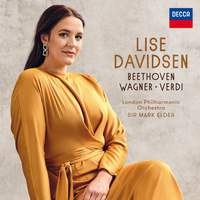 Lise Davidsen (soprano), London Philharmonic Orchestra, Sir Mark Elder
Available Formats: CD, MP3, FLAC, Hi-Res FLAC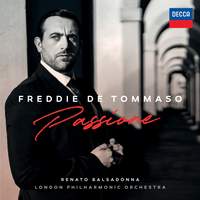 Songs by Tosti, Respighi, Bellini, Puccini, Innocenzi and others
Freddie De Tommaso (tenor), London Philharmonic Orchestra, Renato Balsadonna
Released 16th April.
Available Formats: CD, MP3, FLAC, Hi-Res FLAC