12th January 2021
 Interview

,

  Ironwood on Louise Farrenc
One of my personal favourites from our Top 100 Recordings of 2020 was Australian period-instrument ensemble Ironwood's coupling of piano quintets by Louise Farrenc and Saint-Saëns, released on ABC Classics in October. I first got to know the Farrenc thanks to my Presto colleagues, who performed it in one of the regular chamber-music concerts which take place after-hours at our Leamington shop in non-COVID times, and (without any disrespect to our excellent range of digital pianos!) it was a real treat to hear this music performed on an 1869 Paris Érard on Ironwood's excellent recording.
Shortly before Christmas I had a lovely chat with Ironwood's cellist Daniel Yeadon and fortepianist Neal Peres Da Costa about Farrenc's remarkable career, her connections with Saint-Saëns, and the story behind the extraordinary instrument which makes its recording debut on the album...
When did you first start exploring Louise Farrenc's music?
DY: She really came onto our radar in 2018: we might have both heard about her through different sources, but I think the main impetus was a college friend of ours called Nicole van Bruggen. Nicole's a period clarinettist who spent many years in Holland and has now relocated to Australia, where she's set up a group called ARCO [Australian Romantic and Classical Orchestra] with our fellow Ironwood member Rachael Beesley. Nicole alerted us to some really beautiful works by Farrenc involving the clarinet (including a quintet, sonata and trio), so we started listening to various pieces with a view to programming something with Ironwood.
NPC: Ironwood have a concert series which runs throughout the year, and this Piano Quintet was one of the things we did in the 2018 season; as soon as we started rehearsing it we were struck by the music's beauty and energy, and couldn't believe we hadn't come across her work before. Then ABC asked us what we'd like to record next, and this pairing seemed good because of the French connection.
DY: We initially wondered about doing both of the Farrenc piano quintets (and we probably will record the other one at some point), but we thought it might be good to pair it with the Saint-Saëns – obviously that's a much more famous work, and we thought that the coupling might draw attention to the Farrenc as a great piece in its own right.
How much direct contact was there between Farrenc and Saint-Saëns?
DY: They were friends, certainly, and there was definitely a mutual respect: both hosted salon concerts at home, as they were fortunate enough to have large houses that could accommodate that. Farrenc went along to some of the concerts in Saint-Saëns's home, though I'm not sure about the other way around.
NPC: And the other important thing is that Farrenc and her husband Aristide had a publishing company, which I'm sure Saint-Saëns would have known about because he was working in publishing and writing himself. They produced that huge series Le trésor des pianistes, which is a collection of compositions dating back to the sixteenth century and contains fascinating advice on performance practices across several centuries.
How much do we know about the performance-history and reception of this piece – and of Farrenc's music more generally?
DY: I'm pretty sure that the First Piano Quintet was premiered with her daughter playing the piano. Her daughter Victorine was a really prodigious pianist, so there was a stage when Farrenc was writing a lot of works for her; sadly she died pretty young, which had a huge impact on Farrenc by all accounts. It's actually quite hard to track down primary or secondary literature about details of performances of Farrenc's works, but I'm fairly sure they were performed regularly. The Paris Concerts du Conservatoire are something I'd like to investigate, but I did do a search and it seems that the records of those concerts haven't been digitised yet; I might have to go to Paris and delve into the archives, though right now is probably not quite the time to do it!
Do you feel the influence of any of Farrenc's teachers or contemporaries at work in the First Piano Quintet?
DY: The flashy piano passage-work reminds me of Mendelssohn at times.
NPC: Farrenc studied with Moscheles, so the piano writing is technically very demanding: I had to do a great deal of practice, because so often in this music you're pottering along quite happily and then you suddenly fall off a cliff! For its time it pushes technical boundaries in all sorts of ways.
DY: And in terms of string-playing it's extremely satisfying: it's very obviously influenced by Classical style, but bringing that together with this sort of proto-Romantic harmony is something that's hugely appealing for both players and listeners, I think.
The fortepiano you use on this recording sounds like an extraordinary instrument – how did you 'meet' it?
NPC: It's a 1869 Paris Érard, and it's a pretty big beast – around eight feet! The sound is very clear, particularly in the bass, and the upper octaves are beautifully light. And it's a big sound: my gosh, you could play the Liszt piano concertos with a full orchestra on this thing and it would still cut through!
There's quite a story behind it. In 2012 I had a book on nineteenth-century piano playing published; people in Australia knew about it, and one day I got a phone call out of the blue from someone just outside Melbourne who said 'I've got this 1869 Érard that might be of interest to you…'. It was originally purchased by the Ballarat Mechanics Institute: they had a beautiful Victorian hall which was built in the 1840s and they held concerts there, so they bought this instrument and then unfortunately the money ran out. The Érard ended up sitting in a town hall and getting very run down, and then in the 1960s an ABC radio producer saw it being used as a rehearsal-piano so he got his hands on it and had it stored really well. It eventually found its way to this person who got in touch with me and told me he was retiring and needed the funds for his pension! I went along and played it, and it was so well restored and working beautifully, so here we are. We've had it at the Conservatorium for a while and used it in concerts, but this is its commercial recording debut!
How and when did Ironwood come into being, and how much has your repertoire shifted over time?
DY: Neal and I had migrated here in 2002, and in 2006 we founded Ironwood with a group of string players, most of whom were Australians who'd also spent time living and working in Europe. We'd all had extensive experience of baroque repertoire there, but were keen to push into the Classical period – we had a nucleus of a string quartet, and we played lots of Haydn and Beethoven and their lesser-known contemporaries. In more recent times our interests have pushed into the Romantic repertoire, and that was really spearheaded by Neal's research into nineteenth-century piano-playing, which focused on things like arpeggiation, tempo modification and local rubato, and dislocation of the melody from the bass. we've both been looking into the practicalities of historically-aware string-playing, such as portamento and a more judicious use of vibrato.
NPC: I did my PhD at Leeds University and finished in 2001; I grew up in Australia, so we moved back here the following year, and we've all been exploring these ideas ever since. Eventually I converted my PhD into a book, which was published by Oxford University Press in 2012: it's called Off the Record, and it explores recordings made at the turn of the century by nineteenth-century artists. It's particularly interesting to look at what was happening with Franco-Belgian and Austro-German players at that time; I also cross-reference that with numerous treatises and other written material from the nineteenth century, so we know that what we're hearing on these recordings is more or less how it would have been for Farrenc and Saint-Saëns, or let's say Schumann and Brahms. So that's what we've been working on, incorporating the stylistic language of that time into our playing in a kind of experimental way: of course there's a lot we'll never know for certain, but we've got some pretty good evidence!
DY: All the references that have had a strong influence on us are listed in the liner-notes, and they're extensive - almost like an article in an academic journal!
What's next for you in terms of recordings?
NPC: One piece we did a couple of years back and all really enjoyed was the Elgar Piano Quintet, and that's a possibility…we could certainly move into that early twentieth-century English repertoire. We actually used the Érard for the Elgar, and that worked very nicely because by that stage the Érards and the Broadwoods and Collard & Collards in England have got a similar sort of sound. And the Franck Piano Quintet has come up too, which again would really suit this instrument; we'd also like to do the Trout, and there's a beautiful copy of a Viennese grand here at the Conservatoire which is perfect for it.
DY: And the string players are very keen to look at Schubert from that period-aware perspective too: it's performed and recorded so often, but we'd love to really put it under the microscope!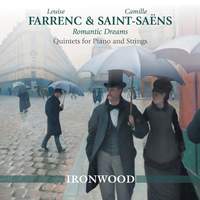 Farrenc & Saint-Saëns: Quintets for Piano and Strings
Ironwood
Available Format: CD
Neal Peres Da Costa
Available Format: Book