24th December 2020
 Recording of the Week

,

  Presto Personal Favourites from 2020
Since announcing our top Ten Recordings of the Year (decided by committee and revealed a fortnight ago), the Presto team have spent a lot of time discussing and revisiting some of our own personal favourites which haven't had a newsletter devoted to their delights! Instead of a full-length review of a single recording, five of us have decided to share the honours this week and each sing the praises of an album that we've particularly enjoyed over the past year.
Chris O'Reilly
Schumann Complete String Quartets (Emerson Quartet; Pentatone)
After a career stretching over 40 years, and acclaimed cycles of the quartets of Beethoven, Bartók, Shostakovich, Brahms, Mendelssohn and countless others it seems surprising that this is the first time the Emerson Quartet have recorded the three Schumann Quartets, composed within a single month at the beginning of a particularly fertile period for the composer in the summer of 1842.
These new recordings are direct and alive with vibrancy, capturing the composer's frequent and abrupt mood-changes and providing a great start to what will hopefully prove a fruitful collaboration on their new record label Pentatone.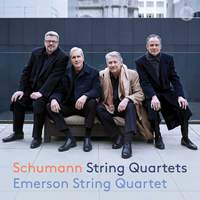 Emerson String Quartet
Available Formats: CD, MP3, FLAC, Hi-Res FLAC
James Longstaffe
Franz Schmidt Complete Symphonies (Frankfurt Radio Symphony Orchestra, Paavo Järvi; Deutsche Grammophon)
Ah, Franz Schmidt, where have you been all my life? I must admit that before I got stuck in to this set of his complete symphonies, I was unfamiliar with the output of this late-Romantic/early twentieth-century Austro-Hungarian composer. While Symphony No. 1 (written when Schmidt was 22) is fairly conservative, and clearly heavily influenced by composers such as Brahms and Weber, the latter two symphonies in particular are more adventurous, with echoes of Mahler, Strauss, Schoenberg, and others.
They are all richly orchestrated, littered with gorgeous melodies (not least the exquisite cello solo in the Fourth Symphony's slow movement), and containing several unexpected harmonic twists and turns. I have no doubt that this ravishing, sumptuously-performed set from Paavo Järvi and the Frankfurt Radio Symphony Orchestra will do much to turn many more people on to Schmidt's music, and I'm thrilled to have made this new discovery!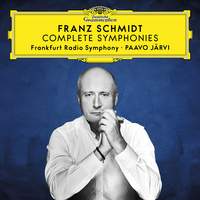 Frankfurt Radio Symphony Orchestra, Paavo Järvi
Available Formats: 3 CDs, MP3, FLAC, Hi-Res FLAC
Paul Thomas
Beethoven & Knecht: Pastoral Symphonies (Akademie für Alte Musik Berlin, Bernhard Forck; Harmonia Mundi)
A companion release to François-Xavier Roth's Presto Award-winning Beethoven 5, the pairing to this Pastoral from the conductor-less Akademie für Alte Musik Berlin is Justin Knecht's Le Portrait musical de la Nature ou Grande Symphonie, showing that Beethoven's idea wasn't completely original, even if the execution is of course, vastly inferior.
As to the main event - if your ideal Pastoral is a leisurely Sunday drive chauffered by the likes of Karl Böhm in his legendary 1971 recording, then this may not be for you. However, if like the great Romantic poets of Beethoven's day you view nature as a source of spiritual and philosophical renewal, then this intense, yet highly detailed rendition may just be in your neck of the woods...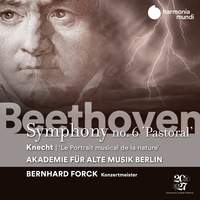 Akademie für Alte Musik Berlin, Bernhard Forck
Available Formats: CD, MP3, FLAC, Hi-Res FLAC
David Smith
Tigran Mansurian: Con anima (Kim Kashkashian, Movses Pogossian; ECM)
A seemingly familiar story: a Soviet-born composer flirting with controversial Modernism before taking a more tonal turn in later life. It's a narrative that has played out from the Baltic to the Caucasus – but the results are far from uniform. Armenia's Tigran Mansurian (who turned 80 last year) draws inspiration from his country's musical and religious heritage, and this spellbinding album of his chamber music is one that I've returned to again and again.
Its opening work, Agnus Dei for violin, clarinet, cello and piano, masterfully combines spartan bareness with a yearning lyricism. The eponymous Con anima is a self-effacing but hypnotic piece transferring the meditative spirit of liturgical chant into the form of the string sextet, while the String Quartet No. 3, written during the turbulent early 1990s, sees Mansurian musically address the tribulations of his homeland.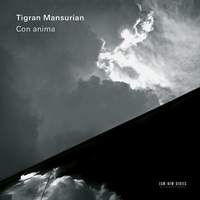 Kim Kashkashian (viola), Movses Pogossian
Available Formats: CD, MP3, FLAC, Hi-Res FLAC
Katherine Cooper
Thalberg: L'art du chant (Paul Wee; BIS)
I've been dipping into this lovely selection-box of opera and song transcriptions by the pioneering pianist-composer Sigismond Thalberg with great pleasure over the past month or two, and continue to marvel at the fact that Wee is technically an 'amateur' pianist - how he fits in sufficient practice around a highly demanding day-job in commercial law is beyond me, but these little gems sparkle with a grace and charm that would be the envy of many a front-rank professional. (I was rather put in mind of Marc-André Hamelin's mastery of 'the art of singing' on his Presto Award-winning disc of Thalberg and Liszt when I first settled in with the album).
Highlights include a mesmerising, weightless account of the 'Mask Trio' from Mozart's Don Giovanni, and a selection of Schubert lieder which seem ever-mindful of the song-texts themselves. The programme may be less overtly virtuosic than the Alkan recital with which Wee made his debut last year, but the results are every bit as impressive in their own quiet way.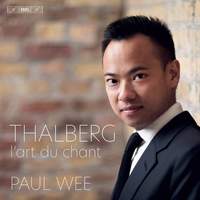 Paul Wee (piano)
Available Formats: 2 SACDs, MP3, FLAC, Hi-Res FLAC, Hi-Res+ FLAC