Latest update: COVID-19 Shipping Delays. Presto is committed to the health and well-being of our staff. Our warehouse team are currently working hard to ensure your order is despatched as quickly as possible. Unfortunately you may experience slight delays as some deliveries are taking longer than usual. Thank you
20th November 2020
 Recording of the Week

,

  Carnival of the Animals from the Kanneh-Masons
With the current restrictions on mingling between households in place, domestic music-making is very much the order of the day for those of us fortunate enough to have the necessary forces to hand, and the seven Kanneh-Mason siblings have certainly taken full advantage of the embarrassment of riches at home over the past few months. In the wake of their lovely remote-access documentary This House is Full of Music this summer, today brings an equally heart-warming recording of Carnival of the Animals, made at Abbey Road in August when a brief relaxation of lockdown allowed them to enlist the help of musicians including percussionist Adrian Spillett and clarinettist Mark Simpson to bring Saint-Saëns's menagerie to teeming life.
Though now usually heard in its full orchestral clothing, this 'zoological fantasy' was originally conceived for private performance with chamber ensemble, and the reduced forces here really do give us nature red in tooth and claw. Donkeys bray with lusty abandon and fossils clatter with glee, though there's luminous beauty aplenty too - particularly from pianist Isata and cellist Sheku, whose serene Swan has all the easy poise and grace we've come to expect from the pair's solo recordings.
The texts for this new project come courtesy of British poet, novelist and playwright Michael Morpurgo, a former Children's Laureate for whom the animal kingdom has been a constant source of inspiration: his 1982 novel War Horse was adapted into a hugely successful play in 2007 and an Oscar-nominated film directed by Steven Spielberg four years later, and for over forty years now he's been sharing his passion for the natural world with younger generations through his charity Farms for City Children. That deep-seated love and respect for nature shines through in verses which are more introspective and rather less wacky than the exuberant Ogden Nash poems which usually accompany the piece, and Morpurgo's own beautifully-paced delivery of the lion's share (literally and figuratively) has a gentle, David Attenborough-ish charm quite unlike the larger-than-life zaniness supplied by Dame Edna Everage on the Melbourne Symphony Orchestra recording with which the Kanneh-Masons grew up.
There are several equally appealing cameos from the British actress Olivia Colman, whose quiet dignity as a hard-done-by hen will no doubt remind some listeners of her portrayal of Queen Elizabeth in Netflix's The Crown, and there's a lovely dramaturgy to the whole project, the verses feeling fully integrated into the score rather than bolted on as afterthoughts: I love the background hum of the siblings tuning up and test-driving tricky passages during Morpurgo's spoken introduction, and moments like his crotchety interruption of the percussion extravaganza in Fossils made me hope that a staged version of the project might figure in our post-COVID future.
The second half of the album is given over to Morpurgo's short story Grandfather Christmas, woven into a convincing musical narrative which includes child-friendly miniatures such as the Dance of the Sugar-Plum Fairy and Grieg's Little Bird - this latter quite wonderfully played by Konya Kanneh-Mason, who's currently a student at the Royal Academy of Music and sounds set to go on to great things in her own right. If the central conceit of an old man urging his granddaughter to build on the love of nature which he's cultivated through their activities together just tips over into sententiousness in places, it's still charmingly done – with the youngest Kanneh-Mason, eleven-year-old Mariatu, sweetly bashful in her dialogue with Morpurgo – and will no doubt have an additional poignancy for listeners likely to remain at a distance from younger relatives over this peculiar Christmas.
Whilst this lovely album's appeal extends across the generations, those in the market for an adults-only sibling collaboration might like to check out a terrific new recording from another family with a star cellist: released today on Warner Classics, A Family Affair sees Edgar Moreau joining his brothers Jérémie and David and sister Raphaëlle for a programme of Korngold and Dvořák, their music-making crackling with the same sense of repartee and energy which makes the Kanneh-Masons's project such a joy. If there's room on your Christmas shopping-list, I'd snap up both.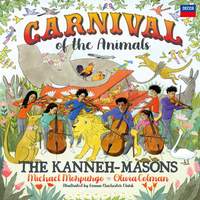 The Kanneh-Masons, with Michael Morpurgo and Olivia Colman
Available Formats: CD, MP3, FLAC, Hi-Res FLAC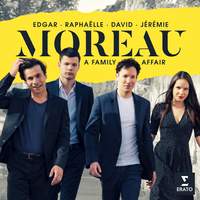 Edgar Moreau (cello), Raphaëlle Moreau, David Moreau (violins), Jérémie Moreau (piano)
Available Formats: CD, MP3, FLAC, Hi-Res FLAC