Latest update: COVID-19 Shipping Delays. Presto is committed to the health and well-being of our staff. Our warehouse team are currently working hard to ensure your order is despatched as quickly as possible. Unfortunately you may experience slight delays as some deliveries are taking longer than usual. Thank you
13th November 2020
 Recording of the Week

,

  Amici e Rivali - Michael Spyres and Lawrence Brownlee
Whilst there's no shortage of mainstream operas with more than one substantial role for soprano or low male voice, I think I could count the number of regularly performed works which feature two tenors of equal prominence on one hand – but as this joyous programme from Michael Spyres and Lawrence Brownlee illustrates in fine style, the formula was one which Rossini revisited time and again during his spell in Naples, inspired largely by two star singers who brought contrasting but complementary qualities to the table. Andrea Nozzari and Giovanni David appeared opposite one another in the premieres of works including Otello, Ricciardo e Zoraide and La donna del lago, with David's coloratura facility and brilliant upper register the ideal foil to his colleague's more dramatic voice and imposing stage-presence, and if the spark between them was anywhere near as electrifying as the frisson which the two Americans generate here it's small wonder that the composer quickly realised he was onto a good thing.
The opening track is a delightful anomaly in several respects, and perhaps the only number which will be familiar to many listeners: Count Almaviva and Figaro's sparkling duet from Il barbiere di Siviglia, in which the lovelorn nobleman enlists the help of the wily factotum in gaining access to his beloved Rosina. If you don't immediately recognise the sonorous barber here, you're not alone: when I first received the sound-files, I assumed this was a classy guest-appearance from baritone Florian Sempey, who featured on the label's recent Magic Mozart project, and it was only when the booklet-notes arrived shortly afterwards that I realised I'd actually been listening to Spyres making a brief return to the repertoire he studied at the beginning of his training. On this evidence I'd happily pay up to hear him do the entire role on stage: unlike Plácido Domingo in his recent forays into Verdi, Spyres really sounds like a true baritone rather than simply a tenor singing in his lower register, and his easy camaraderie with Brownlee's elegant, airily-sung Almaviva (complete with some stylish, stratospheric ornamentation) is an absolute joy. I must've listened to this track over a dozen times now and it's lost none of its magic, the good-humoured sparring between the two voices enhanced by some delicious wind-playing from I Virtuosi Italiani, who are on scintillating form throughout.
After this high-spirited curtain-raiser, we're largely in opera seria territory (and with Spyres reverting to his usual tessitura), but the sheer delight and inspiration which the two singers find in one another's artistry shines through even in the more sombre excerpts from works like Otello and Le Siège de Corinthe; the latter opera, adapted for Paris from Rossini's earlier Maometto II, supplies the only French-language item on the programme, and it's a different sound-world altogether, with Brownlee in particular finding new colours and muscle in his light-lyric instrument which suggest that the voice may evolve in exciting new directions in the coming years. Elsewhere, though, he has plenty of opportunity to showcase pristine high notes which sound as fresh and easy as they did when he was in his twenties, and listening to him trade top Cs with Spyres in the trio from La donna de lago is akin to watching two front-rank tennis-players engaging in a formidable rally at the climax of a big match.
That trio also features the first of three appearances from the terrific young Irish mezzo Tara Erraught, who gives both men a run for their money in terms of vocal agility and money-notes, and is especially impressive in the long trio from Otello later on where she despatches a sequence of top Cs which would be the envy of many a soprano. There are also several enticing cameos from the 25-year-old Spanish tenor Xabier Anduaga, winner of last year's Operalia Competition: though not dissimilar to Brownlee in terms of vocal colour, he's a distinctive presence in his own right, and I can't wait to see what he does next.
Today is the 152nd anniversary of Rossini's death, and I can't think of a better tribute to the composer's memory than this thrillingly-sung album from two singers at the top of their games.
Read my interview with Lawrence Brownlee about the project here.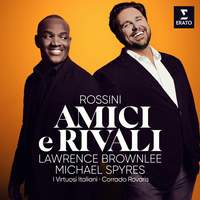 Michael Spyres (tenor), Lawrence Brownlee (tenor), with Tara Erraught (mezzo) and Xabier Anduaga (tenor)
I Virtuosi Italiani, Corrado Rovaris
Available Formats: CD, MP3, FLAC, Hi-Res FLAC