UPDATE: Royal Mail have now resumed shipments on ALL International services but delays should be expected, please choose FEDEX if your order is urgent.
23rd October 2020
Recording of the Week

,

Mahler from Christiane Karg, Malcolm Martineau - and Gustav Mahler
I've been crossing my fingers for an all-Mahler disc from the elegant German soprano Christiane Karg for quite some time – ten years, in fact, as I remember my appetite being whetted very shortly after I began working at Presto when the composer's 'Frühlingsmorgen' made an appearance on her lovely Songs of a Year album on Berlin Classics. Her vernal, coolly sensual sound worked a very particular magic in the composer's depiction of a springtime wake-up call, and a decade down the line that same vocal freshness is very much in evidence across this entrancing recital of songs from the early Lieder und Gesänge aus der Jugendzeit and Des Knaben Wunderhorn as well as the Rückert-Lieder.
Many of the songs here are more commonly recorded in their full orchestral garb, but there's a special beauty in hearing them in the versions for voice and piano, and both of her distinguished collaborators here supply colour and character in spades. For the lion's share of the programme Karg's companion is her regular recital-partner, the wonderful Scottish pianist Malcolm Martineau, but on the last two revelatory tracks she's joined by someone with whom she'd never expected to make music directly – the composer himself, via the Welte-Mignon piano rolls which he set down in late 1905.
As the soprano explains in her introductory booklet-note, the impetus for this unusual alliance came from the conductor Iván Fischer, who suggested the experiment when she was preparing to perform the Fourth Symphony with his Budapest Festival Orchestra in 2018, and it's the Wunderhorn song 'Das himmlische Leben' (which Mahler repurposed for the last movement of that work) which rounds off this album in quite extraordinary style. The premise of a living artist collaborating with a musician from beyond the grave rather put me in mind of Joseph Calleja's recent Mantovani project, but it casts an even more uncanny spell here given that several of the songs on the programme are in themselves dialogues between the quick and the dead.
In a sense, the eccentric spirit of this final track haunts the entire recital: from the beguiling opening account of 'Rheinlegendchen' onwards, I was struck by Martineau's very liberal use of rubato and pointed off-beat accents as well as some break-neck accelerandos, all of which apparently take their cue from the composer's own interpretation of the last song. In Mahler's hands, phrases which are usually reassuringly regular and lilting in this child's depiction of 'heavenly life' veer off in unexpected directions or are brought up short by a sudden 'emergency stop', and it's a strange experience indeed to hear this music sounding altogether more 'modern' on this early recording than it usually does in the hands of even the most radical current interpreters. There's a real organic coherence to the whole, though, both in the overall architecture of the song and in the chemistry between the two performers – if Karg occasionally sounds caught off-guard by Mahler's sudden and unpredictable shifts in gear, it all adds to the eerie frisson of the collaboration, and the sound-quality of the piano-roll is remarkably clear and integrated. (On first hearing I didn't even register that Mahler had already taken over for the preceding song 'Ich ging mit Lust', such is the seamlessness of the transition from one artist and instrument to another).
Karg and Martineau are both on exceptional form throughout the rest of the programme, her lightish lyric soprano bringing a genuinely folksy charm to the bucolic Wunderhorn songs which often eludes the darker, plusher voices more commonly associated with this music; timbre-wise, she has a little something in common with Elisabeth Schwarzkopf (who recorded some of them with George Szell and the London Symphony Orchestra), though she's more attuned to the wit and earthiness of songs like 'Verlor'ne Müh' than her predecessor, bringing an almost cabaret-ish sultriness to the country-girl's attempted seduction of an uninterested farm-lad. Martineau, meanwhile, works miracles with the shoals of semiquavers in St Anthony's sermon to the fishes, despatched with glittering clarity and a real sense of the river's ebb and flow, and in the nocturnal hush of 'Wo die schönen Trompeten blasen' and 'Um Mitternacht'. It's altogether a bewitching recital, and one which every Mahlerian will want to hear.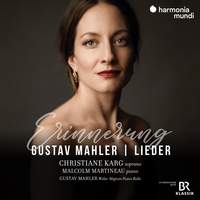 Christiane Karg (soprano), Malcolm Martineau (piano), Gustav Mahler (piano roll)
Available Formats: CD, MP3, FLAC