14th October 2020
 Interview

,

  Anna Lapwood on All Things Are Quite Silent
To call British musician Anna Lapwood multi-talented seems an understatement. Organist, harpist, composer and conductor, as well as a regular broadcaster and public speaker, her abilities seem to know no bounds.
Under her directorship, the choir of Pembroke College Cambridge have been exploring choral works extending beyond the traditional evensong favourites, and indeed beyond the bounds of classical repertoire. Their debut recording, taking its name from the folksong arrangement by Kerry Andrew that forms the first track, represents a snapshot of the choir's broad musical horizons; it also showcases the singers of the acclaimed Pembroke College Girls' Choir, founded by Lapwood in 2018.
I spoke to Anna about this album, the choirs that feature on it, and her innovative approach to repertoire choices.
A few of the pieces featured here make use of extended vocal techniques – the opening folksong setting and Caroline Shaw's setting of Psalm 84. While secular music has embraced these for some time, they've tended not to be heard within the context of a church service. Do you anticipate these techniques becoming more commonplace in sacred music too?
It's an interesting question. In the psalm-setting it's very subtle – the singers are just singing "n-n-n" on the note, so in the recording session we had to ask them to hold their music in front of their mouths to prevent it being overwhelming. So that kind of thing definitely works in a sacred context precisely because it's so subtle; it doesn't draw attention to itself, it's just an extra texture. If you were to perform a piece like the Kerry Andrew folksong arrangement in a sacred setting, it wouldn't work; the function of the music in that context is different. The role of music in worship is to enhance the text and enhance the experience of worship, rather than distracting from it. People might then walk away from the service thinking "oh, that was a funny piece, wasn't it?" as opposed to thinking about the worship itself.
The recently-established Pembroke College Girls' Choir features on just over half the tracks on this album. Can you tell us a little about how this choir first came to be and where you see it going in the future?
The girls have been singing together for two years now, they've just started their third. It started because a colleague of mine has a teenage daughter and she simply came into my office one day and told me I needed to set up a new girls' choir for Cambridge! Although I was initially a bit daunted I realised that she had a point; there are a few already, like the one they have at St Catharine's College and a couple of others, but I wanted to do something that catered for a slightly older age-group. Our girls are 11-18, and I think at that age there's something really exciting about the blend of voices. You get the transition from a young voice into a more mature one, and it's a sound I really love.
For the future, we're just carrying on with what we're doing, and trying to build a solid reputation. This is our first album, which is part of that – so I hope people enjoy it! It's a chance for people to see what we can really do. Building on that, and trying to do more concerts once live performances resume, are important. At the beginning of lockdown we'd been intending to do another recording, which would have been our second, and the girls' choir had written arrangements of carols for it. Obviously that hasn't been possible; we've only just got back to being able to sing together again.
I had been thinking about recording remotely – I've been thinking about this sort of thing a lot over the last six months – but for me, and for what these choirs do, it rather misses the point. The beauty of choral singing, in my view, is the fact that the whole is so much greater than the sum of its parts. You can have a singer who is very nervous about singing by themselves, but if you put them with the group they become a totally different person. And of course if you're doing a 'virtual choir' approach that's all reversed. The singers can only hear themselves and can potentially become very self-conscious. Particularly when you're working with children; I don't think it's fair to them. They've mostly been doing school online as well, and the difference between ourselves and some of the other college and cathedral choirs is that they're not all at a single school, and a lot of them are moving up to secondary school at the same time. It's a lot of upheaval – so we decided to carry on with weekly rehearsals during lockdown but viewing it first and foremost as providing that ongoing feeling of community.
Part of the point of the girls' choir was to have a good ratio between state and private pupils; we aim for 60/40 which is roughly what we've got at the moment. We draw girls from anywhere around Cambridgeshire, and even beyond – we have a few girls from neighbouring counties. There's a huge amount of demand for it; there are enough keen girl singers to go around, just as there are with boys for the boys' choirs.
Cambridge's collegiate choirs are nationally-renowned, with the most prominent institutions having global reputations. Within that kind of musical ecosystem, it might seem difficult for other choirs to make their mark and establish a niche; what would you say sets Pembroke apart?
I don't think there's any real point in viewing ourselves as being in competition with the big, well-known choirs. The beauty of Cambridge is that you can take it all as a package, and view all the choirs together. If you put them all together like that, that's a huge quantity (and a huge diversity) of choral music. It's totally different in each place and provides opportunities for different people.
In terms of what sets Pembroke apart – I'm trying to keep our repertoire as diverse as possible. A lot of people are trying to do this now, and it's starting to filter through – not in all the choirs, but in some of them. The thing I see as very important, both with the girls and with the adult choir, is trying to expand their idea of what choral music is. If you say to someone "we're a choir, we sing choral music", it can be quite easy for them to form a certain mental picture – ruffs and stalls, a certain posture, and that kind of thing. It's not exactly elitist, but it can definitely seem inaccessible. A lot of what I try to do is to include secular repertoire and repertoire that borrows from popular culture, like the piece on this album by Laura Mvula, and I try to show the singers from a young age that the boundaries between these genres are much more flexible than they might have been led to believe in the past – and that choral music is a really 'cool' thing to do, as well as a fun one!
The other really big thing, which isn't obvious in a recording, is outreach & partnerships; this is at the very heart of what we do as a choir. We do some of this every term, and our overseas tours are also centred around partnerships, currently mostly in Thailand and Zambia. I think it's so important that our singers recognise the privilege they have of being allowed to be a musician at that age, and have that education, and it's vital that they share that with other people.
Your O nata lux, originally for lower voices but arranged here for full choir, sets a text many will know in its incarnation as a motet by Tallis. When writing a new setting of a text where a very well-known setting already exists, how difficult is it to create a mental clean slate, stripping the words of their well-worn musical connotations?
The story of how that piece came into existence is quite amusing in itself, actually. We have a policy, introduced two years ago, of including a piece by a female composer in every service to try and progress things a little bit in that area. And that was all working fine until we came to a service where we needed some lower-voices repertoire. Our male chorus is TTBB, which is already slightly different from the ATB format that a lot of choirs use, and additionally women composers tend to write for SATB or upper voices. I found that there was really nothing out there, and so at the start of term I ambitiously said that I would write an O nata lux myself. And then I got to about the week before the service and realised I hadn't written it! So I sat down and just put my mind to the task, and I think maybe because there was that time pressure, I knew exactly how I wanted it to go – particularly the opening. I did want the middle section, which is more chorale-like, to be a slight nod to the Tallis in terms of texture and chord-spacing, but not so similar that it would be obvious. It was lovely to get the chance to do some composing again, actually.
On this album of motets, anthems and secular works, female composers are fairly well represented. Is the picture similar for the other musical elements of a standard service such as mass settings, canticles and organ voluntaries?
There are some great settings of those other elements – there's a very good of responses by Cecilia McDowall, and another by Joanna Forbes L'Estrange – but because we tend to use one set of responses for a whole term, I sort of discounted them from my planning. If I just fell back on the fact that we were using the McDowall responses each week, that would feel like cheating. So where possible, I try to make sure that either the anthem or the canticles are by a woman. There are some brilliant settings of the Magnificat and Nunc Dimittis by women – Kerensa Briggs has written a lovely Gloucester Service, and there's one again by Joanna Forbes L'Estrange, and Rachel Portman. They are around, but naturally there are far more anthems because there's so much more flexibility with an anthem.
Part of it is the fact that, at the risk of generalising, not that many female composers have come through the choral world. The same thing applies to organ voluntaries, and for similar reasons; that's where I struggle the most, actually. There is some organ music by female composers, but a lot of it is concert repertoire as distinct from a voluntary that would be appropriate for use in a service. I'm currently working with Stainer & Bell on an anthology of organ music by female composers, involving the commissioning of twelve new works based around Gregorian chant so that they'll function well within the liturgical year, and we've also stipulated that they need to be between Grade 5 and Grade 8 standard in difficulty. It should hopefully be really easy to integrate into everyday use.
To date, you've been discovering (and rediscovering) existing works and bringing them into the spotlight by including them in services in Pembroke's chapel. Do you have any plans to start commissioning contemporary composers to write brand new works for Pembroke as well?
We have commissioned in the past – we commissioned a lovely Remembrance Day setting for the girls' choir and chapel choir from Owain Park two years ago, and we're hoping to commission Ben Ponniah in the future as well. But as everyone's finding at the moment, the trouble is money. So in line with our more general goals, one of my plans for this year is to try and support young composers as much as possible.
I was talking to a woman from Cambridge recently who has just finished her undergraduate degree and loves composing, but is quite nervous about putting it out there in case it isn't seen as 'academic' enough – and she's never heard any of it sung by a proper choir. So I'm hoping to set up workshops where people can hear their music, and play around with the choir to see what works and what doesn't.
I think right now that's the main thing we can offer – being able to fork out the money to commission something isn't something we can really do, but we can provide the opportunity for young composers to have that kind of experimenting 'playground'. It's so easy to forget that most people don't, in fact, have a choir at their fingertips!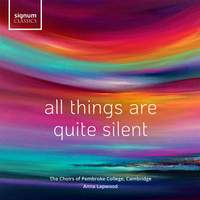 The Pembroke College Girls' Choir, The Chapel Choir of Pembroke College, Cambridge, Anna Lapwood
Available Formats: CD, MP3, FLAC, Hi-Res FLAC