UPDATE: Royal Mail have now resumed shipments on their TRACKED & SIGNED and SIGNED services but delays should be expected, please choose these services if available to you or FEDEX if your order is urgent.
9th October 2020
 Recording of the Week

,

  Giovanni Antonini conducts Haydn's Die Schöpfung
2014 saw the launch of conductor Giovanni Antonini's ambitious project to record all of Haydn's symphonies in time for the 300th anniversary in 2032 of the composer's birth. The eighth volume was released earlier this year, and now we have a slight detour in the form of a recording (sung in German) of the Creation oratorio, Die Schöpfung, taken from performances in Munich's Herkulessaal in 2019, for which Antonini's period-instrument ensemble, Il Giardino Armonico, was joined by the Chor des Bayerischen Rundfunks.
I'm aware that every time I review a recording by a period ensemble I always mention what a difference such instruments make, and I'm sorry to repeat myself but it really is true here also: the starkness of the opening Representation of Chaos is laid all the more bare by the pungent, vibrato-free timbre of the violins, clutching and clawing at every dissonance. Blaring horn entries are allowed to overpower when appropriate, whilst Antonini ensures that we register the more "chaotic" elements, such as simultaneous crescendos and diminuendos from the strings. Rarely have I so keenly registered the subtle contributions that the trombones make throughout the work, whereas the almost recorder-like timbre of the flutes adds a charming innocence to the depiction of the Garden of Eden in Part Three .
Tempos are often sprightly: 'Die Himmel erzählen' has an energy that focuses less on grandeur but instead drives us satisfactorily towards the end of the first part. Similarly, the Trio from Part Two, 'In holder Anmut steh'n', might stretch the definition of "Moderato" somewhat, but coming so soon after the longest aria in the whole work, 'Auf starkem Fittiche' (beautifully sung by soprano Anna Lucia Richter), that's no bad thing. Antonini doesn't spare the chorus from being put through their paces either: in numbers such as 'Der Herr ist gross' and 'Vollendet ist das grosse Werk', their diction and unanimity of attack is most impressive, and in the closing 'Des Herren Ruhm', they seem entirely unfazed by the demands of the intricate passagework. In fact, the majority of Part Three is performed at quite a pace, which may not please everyone but, given its series of extended duets that can easily start to drag somewhat, is I think ultimately a wise move on Antonini's part.
The tenor sound of Maximilian Schmitt is spot on: ringing in tone without ever becoming too strident, he is also able to bring it right down to a rapturous pianissimo in 'Mit leisem Gang'. However, two of my highlights involve baritone Florian Boesch. First is 'Seid fruchtbar alle' where he complements the richness of the accompaniment with a fantastically luxurious sound. Again, the period instruments and sparing use of vibrato emphasise the unusual sonority of lower strings alone that Haydn chose (I've often wondered whether the divided violas and cellos were a wry nod on Haydn's part to this exhortation to be fruitful and multiply). Again, Antonini has a hand in making this passage as mesmerising as it is: by scrupulous adherence to the articulation markings (long, smooth phrases for violas and cellos contrasting with more plodding, separated quavers for double basses) he makes it sound like some sort of mystical, otherworldly viol consort.
The other highlight is the creation of the land-based animals on the Sixth Day. As you can imagine, a composer with Haydn's wit could hardly set this to music without indulging in some illustrative touches of orchestration, and this recording revels in them all, whether it be a lion's roar from the trombones, pastoral flute and bassoon as we hear about the cattle on the meadow, or the rough groan from bassoons and contrabassoon as heavy beasts tread the ground. I can't think of a huge number of oratorios that have many laugh-out-loud moments, but Boesch's cheeky buzzing sound as he sings "Insekte" draws an audible chuckle from the live audience, and his low D as he mentions the sinuously creeping worm is an admirably guttural, earthy croak. On the basis of this delightful recording I can only hope that at some point during his Haydn journey Antonini will also tackle Haydn's other great oratorio, The Seasons. Fingers crossed, but even if not, we will certainly have many future instalments of the symphonies to look forward to. Bring on 2032!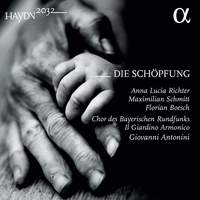 Anna Lucia Richter (soprano), Maximilian Schmitt (tenor), Florian Boesch (baritone), Il Giardino Armonico, Chor des Bayerischen Rundfunks, Giovanni Antonini
Available Formats: 2 CDs, MP3, FLAC, Hi-Res FLAC