2nd December 2013
 Recording of the Week

,

  Christmas Oratorios from Bach, Berlioz, and Britten
As it's only just December, I feel it's a little early for Christmas carols - so instead I've been easing myself into festive mode with three seasonal oratorios. First up is a fresh, vibrant account of Bach's Christmas Oratorio from Stephen Layton and the Choir of Trinity College Cambridge, whose partnership is proving to be a very fruitful one where Bach is concerned. There's a real sense of jubilation right from the opening chorus; the young mixed-voice choir sing with verve and immaculately crisp diction, and the chorales are phrased with tender loving care.
Stephen Layton and Trinity College Choir
The soloists are also top-drawer. Matthew Brook delivers an imposing account of the great bass aria 'Grosser Herr', and James Gilchrist brings his customary eloquence to the role of the Evangelist as well as despatching the fiendish coloratura of 'Frohe Hirten' with poise. Newcomer Katherine Watson (an alumna of the university) contributes some beautifully shaped solos and displays a warmth and tonal clarity which are ideal for Bach, whilst countertenor Iestyn Davies's limpid arias are simply some of the finest accounts on disc.
Like Layton's Bach, the next item on my Christmas list is also the latest in an already distinguished series: Robin Ticciati's previous recordings of Berlioz on Linn have been garlanded with awards, and this new account of the Christmas triptych L'enfance du Christ confirms him – if confirmation were needed – as perhaps the composer's finest interpreter since Sir Colin Davis. The famous 'Shepherds' Farewell' is testimony to Ticciati's ability to make Berlioz sound fresh rather than bloated: it receives a beautiful, schmaltz-free performance from the Swedish Radio Choir, who bring out every detail of a text that often gets glossed over, negotiating subtle shifts in colour for each stanza and thinning their tone down to the merest whisper in the last.
Véronique Gens is a luminous, very human Mary, heart-breaking in her anxiety and physical frailty after the Flight from Egypt, whilst Alastair Miles excels in his two contrasting roles: his tortured monologue as Herod is so vivid that I actually found myself sympathising with this monster, while his sonorous account of the benign paterfamilias who shelters the couple was so well differentiated that I had to triple-check it was the same singer.
Andrew Kennedy recording Saint Nicolas
Back to Cambridge for my third disc: if (dare I say it) you're suffering from mild Britten fatigue after this year's centennial celebrations, King's College's charming, characterful Saint Nicolas might be the thing to re-sharpen your appetite. As Nicolas, King's alumnus Andrew Kennedy is thrillingly stentorian when the drama demands, but he's particularly affecting during his near-Mahlerian dark night of the soul as he languishes in prison. The logistics for this disc were mind-boggling, given the difficulties of co-ordinating the large forces involved with the chapel's great Thomas Harrison organ: I know the phrase 'sonic spectacular' gets rather over-used these days, but trust me – it's justified here.
The extras are splendid, too. Long-term readers may recall my trip to Cambridge last summer, where I found myself talking Christmas with Stephen Cleobury on an incongruously baking July afternoon: although the choir were focusing on their latest carol disc at the time, they also tried a few preliminary takes of Hymn to the Virgin and kindly allowed me to sit in. It was inspiring and more than a little moving to see how exacting but patient both Cleobury and the recording-team were with the boys, and how responsive these very young singers were in turn: rest assured, every little detail that was picked up when the red light went off is spot-on in the finished article!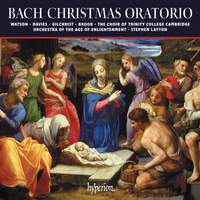 Katherine Watson (soprano), Iestyn Davies (countertenor), James Gilchrist (tenor) & Matthew Brook (bass), Orchestra of the Age of Enlightenment & Trinity College Choir Cambridge, Stephen Layton
Available Formats: 2 CDs, MP3, FLAC, Hi-Res FLAC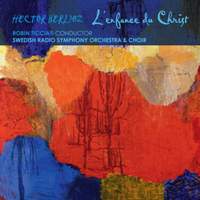 Véronique Gens (Marie), Alastair Miles (Herod/Ishmaelite Father), Yann Beuron (Narrator), Stephan Loges (Joseph), Swedish Radio Symphony Orchestra & Chorus, Robin Ticciati
Available Formats: 2 SACDs, MP3, FLAC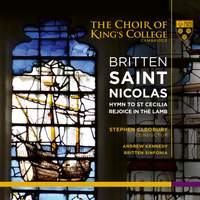 Andrew Kennedy (tenor), Britten Sinfonia, Sawston Village College Choir & Cambridge University Musical Society, Stephen Cleobury
Available Formats: CD, MP3, FLAC, Hi-Res FLAC