14th October 2013
 Recording of the Week

,

  Brahms Symphonies from Chailly and Gergiev
It's definitely been Brahms Week here at Presto, with several new releases coming our way, including a new set of the symphonies and assorted orchestral works from Riccardo Chailly and the Leipzig Gewandhaus.
Riccardo Chailly
Some time ago I wrote about Chailly's set of the Beethoven symphonies, where I enjoyed his fresh approach to such cornerstones of the orchestral repertoire, and I felt very much the same here: the overriding impression I got from these performances was of Chailly wanting to blow away the cobwebs, to set aside tradition and to come up with something that sounded different. Often this involves pretty brisk tempos and a refusal to wallow: for example, Chailly talks about the dangers of thinking of the first movement of the Second Symphony as being "in 3" rather than "in 1", and this desire to keep things moving is very much in evidence.
Similarly, the final coda of the First Symphony is taken at a breakneck speed, and the opening of the Fourth Symphony has a drive and a determination that really worked for me. It helps that the performances are so good as well, with, for example, the incisive trumpets adding a satisfyingly propulsive drive to the end of the Second Symphony.
The set also comes with a few other bits and bobs, including my favourite piece of Brahms, the Academic Festival Overture, given a very exciting reading by Chailly, with some pleasingly chirpy bassoons and some great brass playing. Perhaps most interesting is the inclusion of the original version of the second movement of the First Symphony, as heard at the premiere. There aren't huge differences, but it is still fascinating to hear how Brahms revised the work even down to the smallest details after evidently being dissatisfied with it.
So even if you already have a few recordings, I'd suggest this is well worth a listen. I shall refrain from using clichés such as Chailly breathing new life into these symphonies, but he definitely has something new to say, and it helps that they're all really good performances!
Valery Gergiev
As something of a contrast to Chailly's approach, you'll hopefully be fascinated, as I was, to hear also the latest release from the London Symphony Orchestra, with Valery Gergiev conducting the first two symphonies. This is repertoire not particularly associated with Gergiev, and I think it's fairly safe to say that the concerts from which these recordings were taken by no means drew unanimous praise from critics. He offers us a beefy, big-boned, muscular account, Brahms as perhaps viewed through a Russian prism. To my ears it's Gergiev's experience in the opera house that really comes across, as he turns the symphonies into highly theatrical works, including occasionally unexpected phrasing and rubato that make the music sound like the accompaniment to some great dramatic scene on stage.
Such eccentricities would surely not work if the playing were not completely committed, but happily the LSO is on fine form, especially in the First Symphony, where the warmth of string tone and the beauty of the oboe playing in particular really have to be heard, and (most pleasing to me as a low brass player!), there's plenty of bass trombone in the closing moments of the same symphony. The horn calls in the fourth movement are perhaps slightly more cuivré and brassy in tone than usual, and the overall approach will certainly not be to everyone's taste, but I must say I really enjoy it more every time I listen to it. I think it's great to be presented with an alternative approach to what one may consider "traditional" repertoire, and actually I can't wait for the next instalment to hear what Gergiev has done with the Third and Fourth symphonies!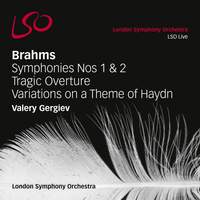 London Symphony Orchestra, Valery Gergiev
Available Formats: 2 SACDs, MP3, FLAC, Hi-Res FLAC