2nd September 2013
 Recording of the Week

,

  Piers Lane Goes To Town: Piano encores and lollipops
A pot pourri of pianistic palate-cleansers and party pieces for you this week, as Piers Lane goes to town and presents his personal selection of favourite twentieth-century recital encores.
Piers Lane
It's a fairly eclectic mix, including arrangements of familiar works (such as Dame Myra Hess's transcription of Bach's Jesu, Joy of Man's Desiring) as well as original pieces, some of which were written especially for Lane. I had wondered in advance whether an entire disc of piano encores would become slightly tiring to listen to in one sitting, but in fact I was pleasantly surprised, as there was just the right balance between the flashy pieces and the slower, more contemplative numbers to keep me entertained all the way through.
There's certainly no shortage of impressive virtuosity, including perhaps the best-known item on the disc, Arthur Benjamin's Jamaican Rumba, which is despatched with great aplomb and panache by Lane. Amongst the more obscure pieces on offer is Zez Confrey's aptly-named Dizzy Fingers, which is an extremely jolly two-minute composition showing off Lane's dazzling fingerwork. Speaking of jolly music, there were two pieces that had me beaming with delight: an arrangement by Ernö Dohnányi of Delibes's Naila Waltz, and possibly the most jovial of them all, Billy Mayerl's Marigold. Both are effortlessly and delicately performed by Lane, and he makes them sound so easy that I kept forgetting how difficult they actually are to bring off successfully.
By far the most substantial work on the disc is the set of Variations on a well-known theme, written in 1976 for a BBC television programme by the English composer and author, Antony Hopkins. Intended to demonstrate the styles of various composers, it does exactly what its name suggests: it presents several variations on a theme written in the style of, amongst others, Mozart, Beethoven, Brahms, Chopin, and Liszt. It's great fun, and quite enjoyable to play "Spot the Composer". I won't spoil the surprise by revealing the identity of the well-known theme in question, but it becomes fairly obvious pretty early on, and I'm sure it will bring a smile of recognition to your face when the penny drops!
One of the highlights for me has to be the piece by Dudley Moore entitled Beethoven Parody 'And the same to you'. Moore was one of the quartet (along with Peter Cook, Alan Bennett, and Jonathan Miller) behind the satirical revue, Beyond the Fringe, for which he wrote a series of musical parodies, including spoofs of Schubert, Kurt Weill, and Britten. One of the parodies was that of a Beethoven piano sonata, using Colonel Bogey as its main theme, and if you know your Beethoven sonatas then you'll be amused by the clever nods to, amongst others, the Appassionata, Pathétique, and even the fugal section of the op. 110 sonata, and it takes to a humorous extreme Beethoven's occasional indulgence in false endings and seemingly endless perfect cadences. Its inclusion on the disc is very welcome, and is a fantastic reminder of Moore's skills as a musician and comedian as well as another perfect demonstration of Lane's virtuosity.
This is followed by a moving performance of Percy Grainger's arrangement of an Irish Tune from County Derry (otherwise known as the Londonderry Air, or Danny Boy). It's very affectingly played, and is a testament to the thought and care that Lane has clearly taken in choosing the music for this disc that he ends with this piece rather than one of the flashier numbers; it's a lovely coda after the high jinks of Dudley Moore, and is a beautiful way to end this delightful recital.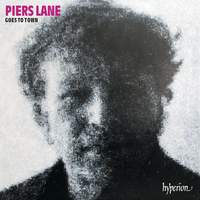 Piers Lane (piano)
Available Formats: CD, MP3, FLAC, Hi-Res FLAC