12th August 2013
 Recording of the Week

,

  Verdi arias from Anna Netrebko
It's been five years since we had a disc of opera arias from Anna Netrebko, and it's been well worth the wait: it may sound odd to speak of a 'coming of age' disc from a singer in her early forties who's been performing at the highest international level for almost twenty years, but this collection of Verdi arias reveals a voice reaching glorious full bloom. The charismatic Russian soprano made her name in coloratura roles such as Lucia and Manon, and her previous excursions into Verdi have been limited to the lighter, more florid repertoire (Gilda, Nannetta and most famously Violetta), but this disc includes excerpts from five new 'big girl' roles – Lady Macbeth, which she's already sung at the Mariinsky Theatre, Giovanna d'Arco, Elisabetta from Don Carlo, Elena from I vespri siciliani and the Leonora Trovatore (which she's scheduled to sing in full next year).
Anna Netrebko
As she emphasises in the accompanying video-trailer, her voice isn't a powerhouse, steely dramatic soprano, but it's certainly far bigger, darker and heavier than ever before: it's blossomed into a nigh-perfect 'spinto' instrument, opulent and full-bodied rather than metallic, but with plenty of bite when needed. The lower middle register is absolutely thrilling, especially in the excerpts from Lady Macbeth (a role frequently taken by dramatic mezzos) which open the disc. We hear Netrebko speak before we hear her sing, as she reads her husband's letter from the battlefield, and it's instantly apparent that we're in the presence of a compelling actress. La luce langue (as Lady M. steels herself for the murder of Duncan) is properly macabre and marvellously paced, as she moves from tremulousness to almost erotic intoxication at the prospect of power – and I haven't heard anyone but Callas sound more genuinely unhinged in the great Sleepwalking Scene.
It isn't flawless. In one of her amusingly candid interviews Netrebko has stated that she 'doesn't like to be too perfect', and indeed she isn't here: the coloratura is smudged here and there, and a couple of the extreme high notes go a bit off-piste (the Bolero from Vespri exposes both, though it has bags of brio, and the notorious soft high D flat in the Sleepwalking Scene takes a moment to settle). But with such a magnificent sound and such dramatic commitment it barely matters. I'm hard pressed to cherry-pick a favourite track, but Elisabetta's desolate scene from Don Carlo was still bringing tears to my eyes on a fifth hearing: the long, wide-ranging phrases show the entire voice at its most even, and the top at its most lustrous. What a pity that Netrebko feels that the complete role would be too heavy for her – in the right house I'm sure she'd be spectacular.
Netrebko has spoken of her plan to 'start winding down' in around five years: selfish though it sounds, I do hope there's a stay of execution, as this disc left me with a wish-list a mile long of roles I'd love her to sing! (The disc is available in standard and deluxe versions – the latter coming with an insightful and very entertaining documentary charting Netrebko's career on stage to date).
The Verdi bicentenary tributes are really pouring in over the next month or two, with two more big stars releasing aria collections: like Netrebko, Jonas Kaufmann will be offering glimpses of his forthcoming stage repertoire, including a long-awaited Otello, on his new album (due out on Sony in early September), and next week sees Plácido Domingo continuing his evolution into not just new roles but an entirely new voice-type, with his first full disc of baritone repertoire (also on Sony).
To coincide with these anniversary celebrations, until 18th September we're offering discounted prices on not only this new disc but a range of Anna Netrebko's other albums as well – full details available here.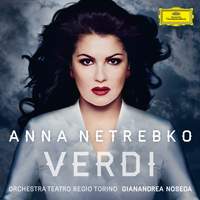 Anna Netrebko (soprano), Orchestra Teatro Regio Torino, Gianandrea Noseda
Available Formats: CD, MP3, FLAC, Hi-Res FLAC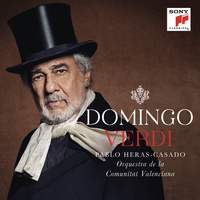 ácido Domingo (baritone), Orquestra de la Comunítat Valencíana, Pablo Heras-Casado
Available Formats: MP3, FLAC