26th June 2020
Recording of the Week

,

Byrd and more from the Magdalena Consort and friends
In the spotlight this week is the second instalment in the Magdalena Consort's exploration of a uniquely English musical form, the verse-anthem. Ably assisted by Fretwork's viols and His Majestys Sagbutts and Cornetts, they build on their acclaimed first volume of Gibbons works with a Byrd-dominated sequel.
Many of the settings on this album are psalm texts, and the political shadow of the Reformation is ever-present – metrical settings in English are in, impenetrable Latin very much out. Indeed, the opening number might seem to indicate a very austere Puritan aesthetic indeed, with a relatively subdued setting of the supplicating text of Psalm 143. Happily, it soon becomes clear that religious reforming zeal is no obstacle at all to a wide range of musical expression, and indeed some decidedly lively galliard-rhythms make their presence felt from time to time (above all in I will give laud).
For many people, verse-anthems are a phenomenon encountered exclusively in Anglican evensong services, accompanied by the organ. If you somehow missed the original Chains of Gold and are expecting that 'churchy' sound here – delightful, but perhaps a little tame – then prepare for a pleasant surprise. The Magdalena Consort and their instrumental collaborators are showcasing the other side of the coin: the instrumental religious musicmaking that seems to have been common in domestic settings during the Tudor period, but which is far less-known today. Despite the best efforts of subsequent iconoclasts to purge instruments from church use, enough material survives that consort versions can be assembled or reconstructed, and the result is strikingly expressive and in places charmingly intimate.
As a church musician myself, I was initially a little sceptical about the use of vibrato in this music, particularly from some of the female soloists; my instincts insisted that something about it was sonically inappropriate. But of course, there's no reason to cling to the sound of trebles here; quite the reverse. The use of adult female voices, often frowned on in parts of the church music-making scene even today, could not be more suited to an album whose ethos is the bridging of the gap between the sacred space (even more male-dominated then than it is today) and the domestic, where no barriers to participation existed.
While I dearly love the viol consort, another hat I wear from time to time is that of a brass player, and I hope my string-playing friends will forgive me for singling out the tracks featuring the sackbuts and cornetts as particular highlights. They have to sit patiently until track 8 (Look and bow down) to make their first entrance, but it's more than worth the wait. The combination of their solemn sonority and a commanding mezzo solo entry genuinely made the hairs on the back of my neck stand up. In a strange sense I can almost understand why subsequent promoters of austerity in worship were so keen to banish them from the church – far from drawing the listener 'in chains of gold by the ears to the consideration of holy things', as the quote from Thomas Morley has it, the majestic richness of the sound is itself almost a distraction. I, for one, was so taken with it that I entirely failed to pay attention to the words. Mea culpa indeed.
Towards the end of the album come two of those quaintly specific works that tie themselves to particular historical events – these two praying for the prosperity and protection of King James VI (or James I, for our Scottish readers). Clearly, by their very nature, these works have a very limited shelf-life – but they are marvellously-crafted pieces. The second, Edmund Hooper's O God of gods, rounds off the album in an almost ostentatiously instrumental way, ending as it does with a paraphrase of Psalm 150, with that list of instruments that has proved so inspiring to composers down the ages. Hooper makes no attempt to hide his relish in responding to this text, and to the ceremony for which the work was commissioned, and the result is a perfect conclusion to a magnificent sequel. A third volume is planned, and I for one can't wait.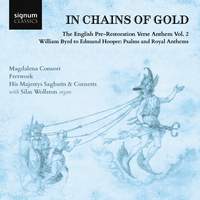 William Byrd to Edmund Hooper: Psalms and Royal Anthems
Magdalena Consort, Fretwork, His Majestys Sagbutts & Cornetts, with Silas Wollston (organ)
Available Formats: CD, MP3, FLAC, Hi-Res FLAC, Hi-Res+ FLAC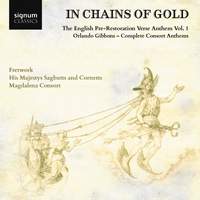 Orlando Gibbons – Complete Consort Anthems
Fretwork, His Majesty's Sagbutts and Cornetts, Magdalena Consort, Peter Harvey
Available Formats: CD, MP3, FLAC, Hi-Res FLAC