19th June 2020
 Recording of the Week

,

  Massenet's Cendrillon from Glyndebourne
A colleague ruefully remarked to me last week that a photograph of our trip to Glyndebourne's Rinaldo last year seemed 'like something from the days of the Ancien Régime' now, and to compensate for the cancellation of this year's festival I set aside an evening this week to catch up on the one show I missed from the 2019 season - Massenet's 1895 opera Cendrillon in a thought-provoking and suitably magical production by Fiona Shaw, with Glyndebourne chatelaine Danielle de Niese as Cinderella and the wonderful American mezzo Kate Lindsey as her Prince Charming…
Or should I say 'Princess'? Shaw's production takes Massenet's decision to write the character as a breeches role and runs with it, introducing us to Lindsey early in Act One as a browbeaten maid assisting Cendrillon with the proliferation of bags generated by her step-family's prodigious pre-ball shopping-spree, and later on we see her exchange a tender moment (and a plush velvet heart, less tacky than it sounds) with the heroine as the household go about their manically over-the-top preparations to secure their single man of good fortune in want of a wife.
When Lindsey first appears as the Prince in Act Two, an angry young man in pyjamas who wants nothing less than to press the flesh at a celebrity party, she's a revelation; her dusky mezzo is the perfect foil to de Niese's brighter sound, particularly crucial in the glorious love-duets which follow given the very similar tessitura of both roles. Lindsey would surely make a delectable Cinderella herself, though no-one could possibly feel short-changed by de Niese's lovely performance; her soprano has acquired new colours and depth since her landmark Glyndebourne debut as Cleopatra fifteen years ago, and she carries over some of the lithe physicality which made that performance so iconic here, most notably in the heroine's transformation-scene where she's required to dance and tumble whilst completely encased in a suit-carrier before emerging – hair, make-up and new evening-gown miraculously pristine – in all her glory for the ball.
The other knock-out performance comes from Armenian soprano Nina Minasyan, whose ravishingly sung, unusually sassy Fairy Godmother all but steals the show. Shaw's decision to depict the character as Cendrillon's glamorous late mother ensures that there's real emotional complexity underpinning all the fairy-dust, and Minasyan rises to the occasion magnificently – 'rises' being the operative word, as Massenet's vertiginous writing sends her on regular excursions to the stratosphere. With her strong features, bottle-blonde vintage coiffure and troop of hench dancers, Minasyan's striking resemblance to LGBT icon Lady Gaga seems especially appropriate given that this Cendrillon is in many respects a coming-out story, and the imperious insouciance with which she floats those endless high-lying phrases is every bit as magical as her nifty wand-work.
As her now-downtrodden widower, Belgian baritone Lionel Lhote casts a less flashy spell of his own, bringing genuine pathos to the soliloquys in which he reflects on his poor life-choices and to his great Act Three heart-to-heart with his daughter; I'd love to see and hear him as another estranged and remorseful father, Verdi's Simon Boccanegra, at some point in this uncertain future. Polish mezzo Agnes Zwierko has a whale of a time camping things up as the brash thorn in his side Madame de la Haltière, her liberal deployment of chest-voice as vulgar as her dizzying array of age-inappropriate outfits - though there's real savagery as she drunkenly berates her husband on her return from the ball, and Shaw doesn't allow the broad comedy of earlier scenes to eclipse the darkness which lies at the heart of this dysfunctional family. Her smartphone-obsessed, Botox-addicted daughters are given equally over-the-top performances by Eduarda Melo and Julie Pasturaud, and each and every one of the Fairy's attendants and the Prince's household lackeys are beautifully characterised by the Glyndebourne young artists and chorus-members.
In the pit, John Wilson works miracles too, keeping a score which can easily seem stodgy and overblown light on its feet without ever short-changing or apologising for the music's heart-on-sleeve sentimentality. At a time when many of us will empathise with Cinderella's isolation and cabin-fever, this lovely and psychologically-astute production could be exactly what you need.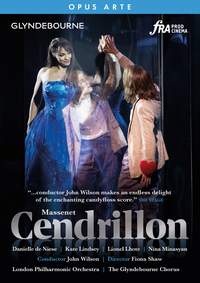 Danielle de Niese (Cendrillon), Kate Lindsey (Le Prince Charmant), Agnes Zwierko (Madame de la Haltière), Nina Minasyan (La Fée)
London Philharmonic Orchestra, Glyndebourne Chorus, John Wilson, Fiona Shaw
Available Format: DVD Video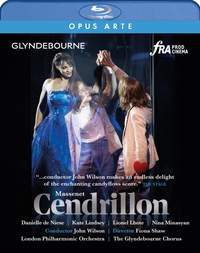 Danielle de Niese (Cendrillon), Kate Lindsey (Le Prince Charmant), Agnes Zwierko (Madame de la Haltière), Nina Minasyan (La Fée)
London Philharmonic Orchestra, Glyndebourne Chorus, John Wilson, Fiona Shaw
Available Format: Blu-ray