8th May 2020
 Recording of the Week

,

  Grigory Sokolov performs music by Beethoven, Brahms, & Mozart
Ah, Grigory Sokolov, how I have missed you. It has been three years since his last Deutsche Grammophon album, but this drought has today been rectified with a collection of recordings from recitals given across Europe in 2019, plus a DVD of a 2017 Turin recital.
There are, I would say, four things that can be expected of any Sokolov recording. The first is that he insists on only ever issuing live, unedited performances, and so, yes, there are a few coughs and other moments of audience noise (including, much more positively, plenty of applause at the end!). So, if that's the sort of thing that you really can't stand, then there won't be much I can do to tempt you into making a purchase, other than to suggest (most gently and humbly, of course) that I think you will really be missing out if you don't!
I say that because the second thing you can always be assured of is a panoply of exquisite sounds. The early Beethoven sonata on offer here (Op. 2/3) possesses true grace and elegance, with the slow movement engendering the tenderest of timbres from Sokolov. His way of shaping a phrase is remarkable, not least in the eighth of the Bagatelles, Op. 119, which, with a free tempo and liberal use of rubato, takes on a pleasingly rhapsodic quality. This freedom brings me to what I consider to be the highlight of the album, namely the Brahms Klavierstücke, Opp. 118 & 119. Of all of these, the jewel in the crown must surely be the Intermezzo, Op. 118/2, which is almost painfully beautiful, unfolding so unpredictably and yet so inevitably that I now don't want to hear it any other way! It's not all refined sensitivity, though: there's a stormy account of the Ballade, Op. 118/3, and Sokolov produces such a monumentally enormous weight to the Rhapsody, Op. 119/4 that I'm surprised the instrument survived the onslaught!
Three composers are mentioned on the cover, and so if you're looking forward to hearing some Mozart then I hope you have a DVD player. The two-hour filmed recital is full of treasures, including a simple yet moving performance of the K545 Sonata. Here, as well as in the Fantasia & Sonata K475/457 that follows it, we come to the third thing you can expect from Sokolov: he is extremely happy to take his time, never choosing an insanely fast tempo just to try and be flashy, and often with the courage to be daringly slow. Take the outer movements of K457, for example, which are very far from amongst the speediest accounts out there, and yet there's such drive and passion, not to mention a clarity in the passagework that in swifter performances can often be something of a blur.
The same is true of the Beethoven Op. 90 sonata that follows: never a hint of showy superficiality, just a constant, quiet virtuosity where every bar is voiced in the most thoughtful way. The slow movement of the Op. 111 sonata that concludes this Turin recital must be the slowest I can recall hearing, and yet rarely have I felt such a sense of line and direction. Even with seemingly infinite acres of space between each note, the piece never loses its purpose. Finally (no, I hadn't forgotten), the fourth thing that can pretty much be guaranteed at a Sokolov recital is an extremely generous cornucopia of encores, and that's very much the case here: between the CDs and the DVD they alone total well over an hour, with pieces by Schubert, Rameau, Chopin, Debussy, Rachmaninov and others.
So, has it been worth the wait? Well, overall you get more then four hours of unfailingly riveting, stunningly eloquent, and powerfully moving piano playing. Just to be clear, then, that's a yes from me...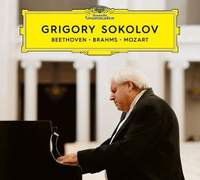 Grigory Sokolov (piano)
Available Format: 2 CDs + DVD Video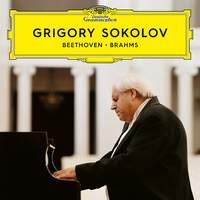 Grigory Sokolov (piano)
Available Formats: MP3, FLAC, Hi-Res FLAC