3rd April 2020
 Recording of the Week

,

  Korngold's Violin Concerto from John Wilson, Andrew Haveron and the RTE Concert Orchestra
No-one could accuse John Wilson of letting the grass grow: as his debut album of Korngold with Sinfonia of London and its recent successor Escales continue to sell in droves, last week brought a tremendous new recording of Korngold's most popular work with the RTÉ Concert Orchestra. Formed in the mid-1940s (not long after Korngold's Violin Concerto received its premiere), the Irish orchestra seems an obvious fit for Wilson, sharing his commitment to big band and light music as well as championing neglected scores from the first half of the twentieth century, and here they sound every bit as idiomatic as his hand-picked ensembles.
I was all set to wallow in a sumptuous account of a work infamously derided as 'more corn than gold' when I settled in with this album, but my expectations were soon confounded: from the surprisingly astringent opening bars, I was strongly reminded of Isabelle Faust's recording of the Mendelssohn concerto a few years ago, which did a similarly wonderful job of presenting a period-aware, decluttered account of a work that's often overly romanticised. The cover-image, perhaps, should have tipped me off: no gilt-edged decadence or Klimt reproductions here, but a stark portrait of a man determined to be viewed as a 'serious' composer rather than the darling of Hollywood, following a slew of smash-hit film scores in the 1930s. Wilson firmly believes that music from the 1940s can benefit from historically-informed performance and scholarship just as much as baroque or classical repertoire, and here he's ever-mindful of the fact that though the concerto shares some of its material with Korngold's writing for the movies, it's emphatically a work for the concert-hall: both soloist and orchestra resist the temptation to over-egg an already rich pudding, and as on that Faust Mendelssohn recording much of the expressivity and colour comes from portamento rather than lashings of vibrato.
Wilson's soloist is his long-standing friend and colleague Andrew Haveron, who leads both the John Wilson Orchestra and Sinfonia of London, and the easy rapport between the two is evident everywhere – indeed there are moments where you'd swear the performance is being directed from the violin, particularly in the grand-gesture handovers from soloist to orchestra in the outer movements. Haveron supplied a wonderfully introspective solo in the Méditation from Massenet's Thaïs on Escales, and the same virtues play out on a grand scale here: plenty of heart but no cheap sentimentality, sweet but lean tone, and immense care for detail that often gets swamped on rival recordings.
On the second half of the album Haveron joins forces with five colleagues from Sinfonia of London for an exuberant account of the youthful Sextet, composed when Korngold was only 17 and drawing heavily on Brahms's great achievements in the genre as well as looking forward to the opening of Richard Strauss's Capriccio a quarter of a century later. The work was new to me, and it's been an absolute joy to make its acquaintance: it brims over with the same precocious energy and imagination as Mendelssohn's Octet (written at a similar age), and it's small wonder that the teenage Korngold was already attracting the attention of the likes of Zemlinsky, Mahler and Strauss.
The piece receives attractively big-boned, at times quasi-orchestral treatment here (several passages had me checking the booklet to make sure that this was the original version for six players rather than a string orchestra arrangement in the tradition of Verklärte Nacht), but again there's a wealth of detail at every turn. The unexpectedly rigorous fugal passages in the first movement are despatched with gritty precision, whilst the deliciously echt-Viennese scherzo (which wouldn't sound out of place in a Mahler symphony) springs beautifully to life through teasing rubato and portamento. Haveron, formerly first violinist of the Brodsky Quartet, knows exactly when to lead and when to recede from the spotlight, and the whole performance radiates the joy of musicians accustomed to collaborating with one another as part of a larger group relishing the opportunity for more intimate music-making.
Another triumph for Wilson and Co., then – and further proof, if proof were still needed, that both composer and conductor's gifts extend well beyond the Hollywood film-scores with which they are primarily associated.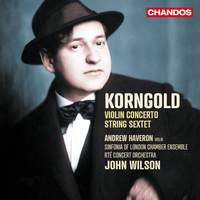 Andrew Haveron (violin), RTÉ Concert Orchestra, John Wilson, Sinfonia of London Chamber Ensemble
Available Formats: CD, MP3, FLAC, Hi-Res FLAC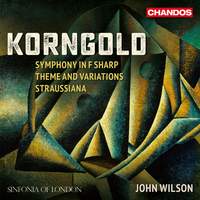 Sinfonia of London, John Wilson
Available Formats: SACD, MP3, FLAC, Hi-Res FLAC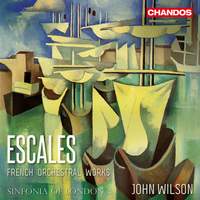 Sinfonia of London, John Wilson
Available Formats: SACD, MP3, FLAC, Hi-Res FLAC