UPDATE: Royal Mail have now resumed shipments on ALL International services but delays should be expected, please choose FEDEX if your order is urgent.
8th April 2013
Recording of the Week

,

Bach Cantatas from Sir John Eliot Gardiner
One of the more ambitious recording projects of recent times has been Sir John Eliot Gardiner's monumental Bach Cantata Pilgrimage series, conceived as a tribute to mark the 250th anniversary of the composer's death. Beginning on Christmas Day in 1999, this year-long journey involved Gardiner, the Monteverdi Choir and the English Baroque Soloists travelling from church to church around the world, performing and recording all 198 of Bach's cantatas on the feast-days for which they were written.
Sir John Eliot Gardiner
Although the final volume was issued last year, there was still a piece of the jigsaw missing: the recording of the Ascension cantatas, which took place in Salisbury Cathedral during the original Pilgrimage, had to be abandoned because of external noise issues, and there was no funding in place for a re-take. After a successful appeal for financial support to tidy up these "loose ends", two live concerts were performed at St Giles' Cripplegate last spring, and have now been released on disc. Gardiner has been much in the news of late, as he celebrates his seventieth birthday this month, and marked the occasion with a Bach 'marathon' at the Royal Albert Hall, so it seems appropriate that this final instalment should appear this week.
The first cantata on the disc, Gott fähret auf mit Jauchzen (God is gone up with a merry noise), impressed me with the sense of quiet confidence that permeates the performance. The "merry noise" is evident in the first movement, but there are no overwrought heroics, merely refreshingly relaxed singing. The closing chorale, too, is untroubled in mood, its questioning about the hereafter ("when shall I stand before Thee?") suffused with an assured hope rather than anguished yearning.
Wer da gläubet is less obviously focused on Ascension as a topic, being more concerned with the subject of faith itself. This cantata contains what were for me two real highlights of the album – a beautifully limpid, unhurried aria for tenor Andrew Tortise (whose effortless tone in the upper register is simply exquisite), followed immediately by a delightful duet between soprano and alto (Lenneke Ruiten and Meg Bragle, whose voices complement each other perfectly), incorporating the chorale melody Wie schön leuchtet der Morgenstern. I have a soft spot for music that weaves a chorale into its texture like this, and this number certainly brought a smile to my face.
With Auf Christi Himmelfahrt allein (On Christ's Ascension alone) we return to the subject at hand. The nimble trumpet solo that announces the baritone's aria (here sung by Dietrich Henschel, an alumnus of the original Pilgrimage) is every bit as effective as the iconic melody from Handel's Messiah. A closely-woven duet for alto and tenor introduces a chastened mood – with Leo Duarte's plaintive obbligato on the oboe da caccia almost stealing the show.
Finally we have the oratorio Lobet Gott in seinen Reichen (Praise God in His realms). Despite an upbeat opening, much of the core of the work focuses on mourning the absent Jesus; against this subdued backdrop the jolly duet for the two men in white robes ("ye men of Galilee, why stand ye gazing up into Heaven?") is a strikingly effective contrast. The finale, again rousing and martial, drives their point home, and the idea of Ascension being a tearful parting is blown away with a decisive flourish.
Four very different responses to the same festival, then – all benefitting from soloists of clear artistic sense, for whom personal limelight is never allowed to supersede the appropriate presentation of the music. Not only a fitting end to Gardiner's marathon project, then, but also a splendid way to mark his seventieth year!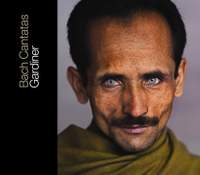 The Monteverdi Choir & The English Baroque Soloists, John Eliot Gardiner
Available Formats: CD, MP3, FLAC