20th March 2020
 Recording of the Week

,

  Beethoven from Chen Reiss and Matthias Goerne
It is a truth almost universally acknowledged that Beethoven never really got the hang of writing idiomatically for singers, and today brings two contrasting albums which throw that statement into relief in very different ways.
First up is Immortal Beloved from the Academy of Ancient Music and Israeli soprano Chen Reiss, who tackles some of the composer's murderously difficult early vocal writing with a consummate technique and musicality that field every curve-ball thrown her way. She opens with a poised account of an aria from the Cantata on the Accession of Emperor Leopold II from 1790, a coloratura showpiece which takes the singer from low B to top D (sometimes in close proximity!), and it's followed by the equally taxing No, non turbati which was composed under the guidance of Antonio Salieri a decade later. The technical hurdles here are of quite a different order from the stentorian challenges of the Ninth Symphony or Fidelio, and Reiss takes the florid passagework and long, floated high notes entirely in her stride, shaping and colouring text and music expressively so that things never degenerate into mere note-spinning. Her dramatic sensibility gets even more space to shine in the excerpts from stage-works: Marzelline in Fidelio (one of Reiss's signature-roles) emerges as a sincere, sensual young woman grasping at hope in an oppressive environment rather than a deluded flibbertigibbet, and she brings fierce conviction to Klärchen's martial aria from Egmont, aided by superbly raucous fanfares from the AAM brass. (Read about Reiss's thoughts on Beethoven's trailblazing women here).
Other, more obscure delights abound, including a curious, innuendo-laden little song about a young woman being fitted for new shoes from the singspiel Die schöne Schusterin (where Reiss treads the fine line between suggestiveness and coyness most nimbly), and the ravishing 'Es blüht eine Blume im Garten mein' for voice and harp from the incidental music for Leonore Prohaska.
Also recommended (with caveats) is an altogether darker recital from Matthias Goerne and Jan Lisiecki on Deutsche Grammophon; though only a decade separates the two singers in age, Reiss's star is very much in the ascendant whereas Goerne recently announced his decision to begin winding up a career which has spanned a quarter of a century. If the soprano's album is largely characterised by youthful exuberance on the part of both composer and singer, Goerne's now audibly careworn voice is equally suited in its way to this bleak, brooding programme of songs about isolation and resignation, which resonate with particular power in the current unsettling climate. The programme opens with the sombre Sechs Lieder von Gellert, a sequence of prayers shot through with an almost Lutheran starkness, and Goerne imbues them with a sense of baleful introspection which prefigures Brahms's Vier ernste Gesänge, despite some awkward gear-changes between registers and noisy in-breaths captured by the close recording.
One of the disc's great virtues is the deft, imaginative pianism of Lisiecki, who astonishes at every turn: whilst the repertoire on Reiss's disc makes fiendish technical demands on the singer, here that burden falls squarely on the pianist and the young Canadian shoulders it with almost insouciant ease, particularly in the bravura toccata-style writing of the sixth Gellert song and the intricate filigree of Lied aus der Ferne and Die Liebende, which wouldn't sound out of place in one of the piano concertos. Some of the most moving moments on the album are those where his animation seems to rub off on Goerne almost against his own better judgement: when the baritone sings 'You give me youth and joy and courage' in the vernal Maigesang, his words could easily be an address to his sprightly recital-partner.
Goerne sounds most comfortable in the final work, the song-cycle An die ferne Geliebte ('To the distant beloved'), which has been in his repertoire for many years – he recorded it with Alfred Brendel in the early 2000s, and both voice and interpretation have darkened in the interim, but his final declaration that 'Dann vor diesen Liedern weichet; Was geschieden uns so weit' ('Through these songs, the distance which separates us shall recede') still exudes a hopeful sincerity that could be exactly what you need to hear in these strange and distracted times.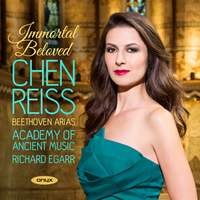 Chen Reiss (soprano), Academy of Ancient Music, Richard Egarr
Available Formats: CD, MP3, FLAC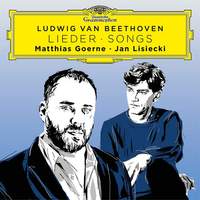 Matthias Goerne (baritone), Jan Lisiecki (piano)
Available Formats: CD, MP3, FLAC, Hi-Res FLAC