US Airmail Charges: As a knock-on effect of COVID-19 airfreight prices around the world have soared. Reluctantly, we have had to pass on some of this increase in our standard airmail prices. We'll bring them down again as soon as we can!
6th March 2020
 Recording of the Week

,

  Two world premiere recordings of music by Thomas Adès
Two premiere recordings this week of music by Thomas Adès, kicking off with his Piano Concerto, commissioned and first performed by Kirill Gerstein with the Boston Symphony Orchestra in March 2019. Adès often comes up with beautifully descriptive titles, and so it might seem odd for this to be called simply "Concerto for Piano and Orchestra", but there's a knowing cheekiness to the old-fashioned nomenclature, as the piece seems to both sincerely acknowledge and yet also slyly toy with the conventions of the genre.
Gerstein's prowess in the music of Gershwin comes to the fore here, with the opening sounding like a warped version of I Got Rhythm. Adès's extended use of so-called "irrational" time signatures (such as 1/6, 4/12, and so on) has an uncanny effect, like a familiar tune being played backwards or on a gramophone at the wrong speed. This favourite device of his makes everything much more fiendish to play, and yet both soloist and orchestra fare extraordinarily well, sounding almost effortless. Elsewhere there are moments of astonishing beauty, not least the touching slow movement, which begins with a series of gritty orchestral chords leading into a pained lament for piano. The finale involves even more diabolical requirements, but Gerstein slips between tender introspection and ferocious virtuosity with breathtaking ease. It's a testament to the quality of the piece that since its premiere over fifty performances have been scheduled around the world over the next few years, and I would thoroughly recommend trying to catch it live if you can.
Coupled with this is Totentanz, a 2013 setting of a text accompanying a fifteenth-century frieze by Bernt Notke, depicting the figure of Death dancing with a series of individuals from pope, king, monk, and knight to peasant, maiden, and child. Death is voiced by a solo baritone (sung here by a magnificently full-voiced Mark Stone), while the characters that Death encounters are taken by mezzo Christianne Stotijn; both give tour-de-force performances, fearlessly executing the many demands placed upon them.
Adès is known for being fantastically inventive with his percussion section, and here is no exception: after the cardinal's demise a grisly mood is conjured by the use of plastic maracas, bamboo canes struck together, and, most unsettlingly of all, what he describes in the score as "animal bones or wood, ideally oak, one bone laid flat and hit with two other bones". It's an incredibly ghoulish moment that lives up to the macabre nature of the piece! The mightiest eruption of all comes with the demise of the merchant, who complains that although he has clothes for rain, wind, and snow, he has nothing for this particular journey. At this reference to the elements, Adès unleashes the most ferocious outburst, the entire orchestra screaming out an evermore complex pattern which ultimately leads to every instrument playing the same rhythm but at independent tempos. It's a deafeningly brutal moment that fully demonstrates the skill of the Boston players.
After this onslaught come moments of respite, particularly for the final two personages, the maiden and the child. Resigned to her fate, the maiden's music is eerily placid, whilst the closing passage involving the child must be some of the most poignant music Adès has written. As Death sings "Tender babe, behold the scythe's untimely blow, and sleep now until the Last Day, consoled", I'm convinced that Adès invokes Mahler, not only the use of violin harmonics on an A natural (like the opening of the First Symphony), but also the key of D major and a mood highly reminiscent of the closing pages of Kindertotenlieder (surely not coincidental for Adès's own song on the death of a child). The work ends quietly but chillingly: as the soloists insistently repeat the word "Tanzen", fading to a merest whisper, all of the deepest instruments (including not only contrabassoon but also its rare cousin, an instrument called the contraforte) gradually fizzle out, ending on an almost inaudible, deathly murmur from double basses.
It's a stunningly descriptive work that is given an equally sensational performance here. Coupled with the Piano Concerto it makes for one of the most striking discs of contemporary music that I have come across for some time.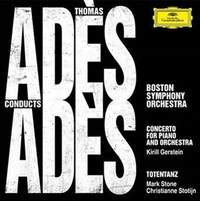 Kirill Gerstein (piano), Mark Stone (baritone), Christianne Stotijn (mezzo-soprano), Boston Symphony Orchestra, Thomas Adès
Available Formats: CD, MP3, FLAC, Hi-Res FLAC