27th February 2020
 Hi-Res Highlights

,

  Hi-Res Highlights - February 2020
This month's Hi-Res highlights include the Juilliard Quartet's Beethoven cycle from the late 1960s, further instalments of several distinguished series (Edward Gardner's Schubert from Birmingham, Jean-Efflam Bavouzet's Mozart piano concertos on Chandos, and Hannu Lintu's Lutosławski symphonies), and reappraisals of the Bach Passions from Masaaki Suzuki & Bach Collegium Japan and Philippe Herreweghe & Collegium Vocale Gent.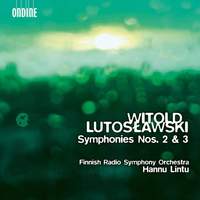 Finnish Radio Symphony Orchestra, Hannu Lintu
The first volume of Lintu's Lutosławski series with his Finnish orchestra is on the shortlist for this year's BBC Music Magazine Awards, thanks to the 'searing energy and brilliant sound' on display; this second volume features the middle two symphonies, composed in the mid-1960s and early 1980s respectively.
Available Formats: SACD, MP3, FLAC, Hi-Res FLAC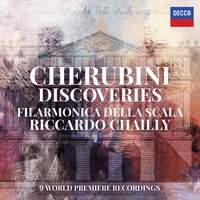 Orchestra Filarmonica della Scala, Riccardo Chailly
One of our February Recordings of the Week, this collection of previously-unrecorded occasional marches (the 'discoveries' of the title) and the more familiar Overture in G minor and Symphony prompted my colleague Katherine to observe that 'Chailly and the Filarmonica della Scala fight Cherubini's corner with a fervour which rivals Beethoven's own' – you can read our full review of the album here.
Available Formats: CD, MP3, FLAC, Hi-Res FLAC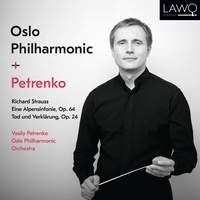 Oslo Philharmonic Orchestra, Vasily Petrenko
This is the third and final release in the Norwegian orchestra's superb series of Strauss tone-poems with their Chief Conductor (who departs at the end of next season to become Music Director of the Royal Philharmonic Orchestra); previous instalments have been praised for their 'patient musicality and sense of coherence' (Gramophone) and 'standards of orchestral virtuosity' (The Sunday Times).
Available Formats: CD, MP3, FLAC, Hi-Res FLAC, Hi-Res+ FLAC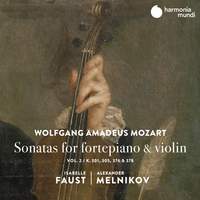 Isabelle Faust (violin), Alexander Melnikov (fortepiano)
The first instalment of Faust and Melnikov's Mozart cycle (released in November 2018 and recorded on period instruments) garnered five stars from BBC Music Magazine thanks to the 'subtlety and flexibility' of both musicians and the 'astonishing variety of timbres' which Faust draws from her 'Sleeping Beauty' Stradivarius, and was a Presto Editor's Choice; this second volume features Sonatas K376, 305, 301 and 378.
Available Formats: CD, MP3, FLAC, Hi-Res FLAC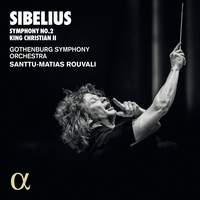 Gothenburg Symphony Orchestra, Santtu-Matias Rouvali
The first instalment of the Gothenburg orchestra's Sibelius cycle with their young Finnish Chief Conductor (pairing En Saga and Symphony No. 1) was hailed as 'one terrific disc' by Gramophone and went on to win a Diapason d'Or and Preis der Deutschen Schallplattenkritik; this second volume couples Symphony No. 2 with the incidental music for Adolf Paul's play King Christian II, written three years earlier.
Available Formats: CD, MP3, FLAC, Hi-Res FLAC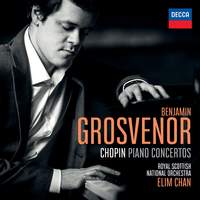 Benjamin Grosvenor (piano), Royal Scottish National Orchestra, Elim Chan
Gramophone's Recording of the Month, Grosvenor's fifth album on Decca was described by Harriet Smith as 'the kind of disc that makes you rethink these works and appreciate them all over again', whilst The Times awarded it four stars last week and observed that 'Grosvenor's playing is thoughtful and fresh, with flecks of rubato, quizzical pauses and tumbling, fast-fingered runs'.
Available Formats: CD, MP3, FLAC, Hi-Res FLAC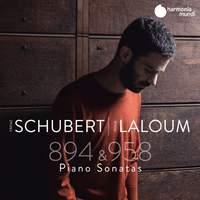 The insightful French pianist makes his debut on Harmonia Mundi with two late masterpieces by Schubert, whose music has played a pivotal role in his career to date – he's previously recorded the Arpeggione Sonata twice (with violist Lise Berthoud and cellist Victor Julien-Laferrière respectively) and included the final sonata on his first solo album for Mirare in 2016.
Available Formats: CD, MP3, FLAC, Hi-Res FLAC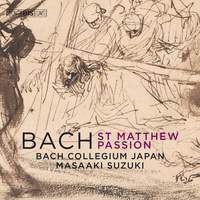 Benjamin Bruns (Evangelist), Bach Collegium Japan, Masaaki Suzuki
Twenty years on from their first recording of the St Matthew Passion (made a few years into their landmark survey of the complete sacred cantatas, completed in 2013), Suzuki and BCJ return to the work with fresh eyes; the line-up of soloists includes Japanese tenor Makato Sakurada (who also appeared on the earlier account), soprano Carolyn Sampson, and countertenor Damien Guillon. The recording was made last April at the Saitama Arts Theater.
Available Formats: 2 SACDs, MP3, FLAC, Hi-Res FLAC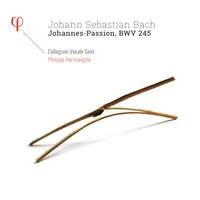 Maximilian Schmitt (Evangelist), Collegium Vocale Gent, Philippe Herreweghe
Herreweghe and CVG mark their fiftieth birthday with their third recording of the St John Passion, a work which they've performed together countless times since their inception in 1970. Soloists include Dorothee Mields, Damien Guillon, Robin Tritschler, and Peter Kooij (a veteran of Herreweghe's first recording of the piece in the late 1980s).
Available Formats: MP3, FLAC, Hi-Res FLAC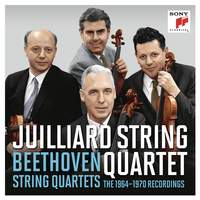 Recorded between 1964 and 1970, this set has been newly remastered from original analogues for its first complete digital appearance.
Available Formats: 9 CDs, MP3, FLAC, Hi-Res FLAC, Hi-Res+ FLAC