21st February 2020
Recording of the Week

,

Charles Hubert Parry's Judith from William Vann and the London Mozart Players
Though Parry's oratorio Judith was a palpable hit at its Birmingham premiere in 1888, it fell almost entirely by the wayside in the twentieth century, with the exception of one aria which gained immortality as the hymn-tune 'Dear Lord and Father of Mankind' (aka 'Repton'). Following some intrepid reconstruction by Toronto's Pax Christi Chorale in 2015, the piece received its first London performance in over a century last April, and this fine premiere recording from several weeks later looks set to put it back on the radar.
The Jewish widow who delivers her people by honey-trapping and beheading the Assyrian general Holofernes was famously depicted as a fin de siècle vamp by Gustav Klimt just thirteen years after the work's premiere, but there's barely a whiff of Expressionist decadence in Parry's score, which follows firmly in the footsteps of Mendelssohn's Elijah (also composed for Birmingham) and presents the heroine as chaste avenging angel rather than exotic seductress: presumably out of respect for Victorian sensibilities, Parry delicately side-steps the salacious specifics of Holofernes's murder, and barring a rather marvellous moment at the end of Act One where we get a fleeting souvenir of his trip to Bayreuth for the premiere of Parsifal the music sits squarely in the English oratorio tradition.
At its best, it's stirring stuff indeed, and the choral writing in places anticipates the grandeur of Elgar's Gerontius (indeed both Elgar and the music publisher August 'Nimrod' Jaeger took part in early performances): the Crouch End Festival Chorus have a whale of a time baying for blood to appease their pagan god Moloch in Act One (shades of Mendelssohn's worshippers of Baal), and are equally impassioned in the wonderful lament for the dispossessed Jews of Jerusalem which opens Act Two and in their brief costume-change as invading Assyrians. (Parry's own rather clunky libretto hits a particular low here with couplets like 'Smite them with hip and thigh/Hurl them from on high'). There's also a hugely effective passage for children's chorus in the second scene, as the King's offspring beg their mother for story-time in blissful ignorance of the fact that they've been selected for sacrifice, and the twelve young singers acquit themselves with honours – diction and intonation are pin-point accurate, and young soprano Lydia South supplies some of the most touching singing on the recording in her brief solo.
The adult soloists, all of whom are called upon to supply near-Wagnerian fire-power in places, are no less impressive, particularly soprano Sarah Fox in the tricky role of Judith: as befits Parry's characterisation, the voice is clean and rock-steady, and absolutely hair-raising as she appears brandishing Holofernes's severed head in a blaze of glory (and on a top B flat) at the work's climax. Toby Spence is on ringing, heroic form as the conflicted king Manasseh – the role requires the heft (if not quite the stamina) of a Gerontius as well as the agility for an eleventh-hour cod-Handelian aria 'God breaketh the battle'. Opera North have just announced that he'll be singing Parsifal for them in 2021, and on this evidence it's an enticing prospect. Liverpudlian mezzo Kathryn Rudge as his wife Meshullemeth gets the best tunes, including 'Repton' ('Long since in Egypt's plenteous land' here); some of the music sits low for her, but there's a lovely old-school quality to the voice which put me in mind of Norma Procter, and I'm looking forward to hearing her Elgar recording with Vasily Petrenko and the Liverpool Philharmonic in April.
The London Mozart Players play out of their boots for William Vann (better known as a superb song-pianist), who directs with terrific drive and impetus, and the low brass-winds and percussion literally have a blast in the numerous death-or-glory outbursts. Reviews of the live performance suggested that the small string-section were occasionally overwhelmed in the Festival Hall, but Chandos's fine engineering ensures that even the most intricate passages register loud and clear.
Here's hoping this enterprising new recording inspires more live performances over the coming years: it sounds like tremendous fun to sing, and would be a gift to ambitious choral societies who have a bit of cash to splash on soloists and fancy a change from Elijah or Gerontius.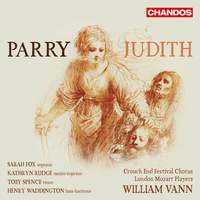 Sarah Fox (soprano), Kathryn Rudge (mezzo-soprano), Toby Spence (tenor), Henry Waddington (bass-baritone)
Crouch End Festival Chorus, London Mozart Players, William Vann
Available Formats: 2 SACDs, MP3, FLAC, Hi-Res FLAC