31st December 2019
 Hi-Res Highlights

,

  Hi-Res Highlights - December 2019
This month's highlights include a new remastering of Kathleen Ferrier's 1948 recording of Das Lied von der Erde from Carnegie Hall with Set Svanholm and Bruno Walter, a recital of Spanish songs and Gluck arias from Teresa Berganza, and two hugely appealing curios from the Czech Chamber Philharmonic Orchestra Pardubice – the first instalment of what promises to be an utterly delightful series of Auber overtures, and the third volume of symphonies by the Czech Classical composer Leopold Koželuch.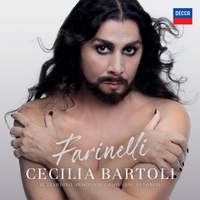 Cecilia Bartoli (mezzo), Il Giardino Armonico, Giovanni Antonini
Featuring arias by Giacomelli, Caldara, Porpora, Hasse, and Farinelli's brother Riccardo Broschi, the Roman mezzo's tribute to the greatest castrato of them all was praised in this month's Gramophone for her 'perfect marriage of febrile energy, sound and verbal sense', and in Opera Now for her 'outstanding emotional range' and 'crisp and authoritative singing'.
Available Formats: CD, MP3, FLAC, Hi-Res FLAC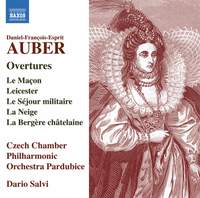 Czech Chamber Philharmonic Orchestra Pardubice, Dario Salvi
This first volume of a projected series of the prolific French composer's opera overtures is a joy; pitched somewhere between Offenbach and Rossini, it features orchestral excerpts from Le Maçon, Leicester, ou Le château de Kenilworth, La neige, ou Le nouvel Eginhard, La bergère chatelaine, Le séjour militaire, Emma, ou La promesse imprudente, and Le testament et les billets doux.
Available Formats: CD, MP3, FLAC, Hi-Res FLAC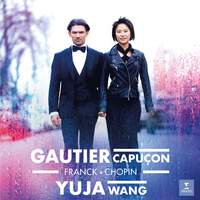 Gautier Capuçon (cello), Yuja Wang (piano)
One of our December Recordings of the Month (and my own personal highlights from the autumn/winter releases), this pairing of two very different Romantic cello sonatas won me over with the sense of give and take between these two strong musical personalities and the contrasts which they draw between Franck's wedding gift for his friend Ysaÿe and the more volatile emotional landscape of the Chopin, composed during a dark night of the soul.
Available Formats: CD, MP3, FLAC, Hi-Res FLAC, Hi-Res+ FLAC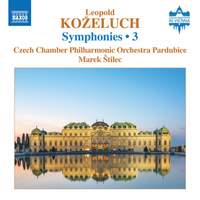 Czech Chamber Philharmonic Orchestra Pardubice, Marek Štilec
The Czech orchestra continue their survey of their countryman's symphonies, which were described as 'vivid, well-argued and colourful' by Gramophone shortly after the release of Volume One back in 2017; this third instalment features two named works, the Symphony in A 'à la française', and the Symphony in B flat 'L'irresoluto'.
Available Formats: CD, MP3, FLAC, Hi-Res FLAC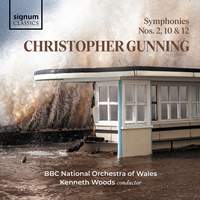 BBC National Orchestra of Wales & Kenneth Woods
A pupil of Edmund Rubbra and Richard Rodney Bennett, Gunning's film and TV credits include Agatha Christie's Poirot, Porterhouse Blue and the 1994 BBC adaptation of Middlemarch; the three symphonies here were composed between 2003 and 2018, and receive their first recordings on this album.
Available Formats: CD, MP3, FLAC, Hi-Res FLAC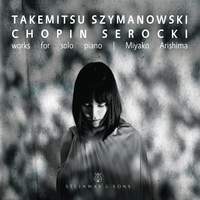 The young Japanese pianist, who trained in Warsaw for several years and was a finalist in the International Chopin Competition, prefaces works by three Polish composers (Chopin, Szymanowski and Kazmierz Serocki) with Takemitsu's Rain Tree Sketch on her debut album, which was awarded four stars in the latest edition of BBC Music Magazine thanks to her 'terrific, alert playing'.
Available Formats: CD, MP3, FLAC, Hi-Res FLAC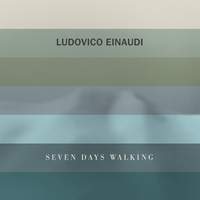 Seven Days Walking was inspired by the Italian composer's regular hikes along the same Alpine trail in the winter of 2018. Day One was released on CD in March of this year and topped the UK Classical Chart, with subsequent volumes appearing digitally at monthly intervals; the entire 'journey' is now available in hi-res.
Available Formats: MP3, FLAC, Hi-Res FLAC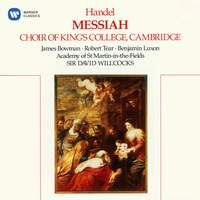 The Choir of King's College Cambridge, Academy of St. Martin in the Fields, David Willcocks
James Bowman, Robert Tear and Benjamin Luxon are the adult soloists on Willcocks's 1973 Messiah from Cambridge, with boy choristers taking the soprano recitatives and arias; reviewing an earlier remastering, Gramophone approved the 'reassuring, workmanlike baroque jauntiness which lived on the cusp of the rising phase of the authenticity movement proper.'
Available Formats: MP3, FLAC, Hi-Res FLAC, Hi-Res+ FLAC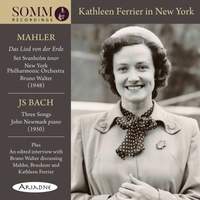 Kathleen Ferrier (contralto), Set Svanholm (tenor), New York Philharmonic Orchestra, Bruno Walter, John Newmark (piano)
Pre-dating the great English contralto's landmark Decca account of Das Lied with Walter, Julius Patzak and the Wiener Philharmoniker by four years, this live recording was made at Carnegie Hall in 1948 and has been newly remastered by Norman White and Adrian Tuddenham; the album also includes Bach's Vergiss mein nicht, Bist du bei mir and Ach, dass nicht die letzte Stunde with John Newmark.
Available Formats: CD, MP3, FLAC, Hi-Res FLAC