20th September 2019
 Recording of the Week

,

  Schumann from John Eliot Gardiner and the LSO
After their highly-acclaimed cycle of symphonic works by Mendelssohn (their performance of the incidental music from A Midsummer Night's Dream was one of our Top Ten Recordings of 2017), it seemed only logical for John Eliot Gardiner and the London Symphony Orchestra to turn their attention next to the music of Robert Schumann. The first volume in their survey, consisting of the Second and Fourth symphonies (the latter performed in its original, 1841 version), is released today.
When Schumann came to conduct the Fourth Symphony in Düsseldorf in the 1850s, he overhauled the orchestration quite a bit, as well as smoothing over transitions between sections and generally making the overall structure somewhat more conventional, in an attempt to increase the work's audience appeal. However, in doing so he arguably also watered down some of its bolder, more radical moments (as Gardiner says, the revised 1851 version is "very imposing, but it doesn't have the transparency or the elegance or the fire of the 1841 version").
In Gardiner's hands the brilliance of Schumann's original orchestration (frequently criticised and subject to centuries of meddling and "improvement" from conductors as esteemed as Gustav Mahler) shines through: his lean, taut approach makes for a highly persuasive case for Schumann's original conception (a preference shared by none other than Brahms, an ardent advocate of this 1841 edition, who, over the objections of Clara Schumann, managed eventually to secure its publication in 1891).
As he did throughout his Mendelssohn cycle, the way that Gardiner achieves crystal clarity of texture is most impressive, with all of the woodwind counterpoint coming across easily. Even with the rasp of the trombones in the last movement of the Fourth Symphony, you can still clearly hear all of the semiquavers from cellos and basses. This is achieved in part by Gardiner's insistence on not using vibrato, bringing a transparency and an openness to the string sound. This lack of vibrato need not translate to a lack of expression, though, and there are many instances that demonstrate this, such as the poignant oboe/cello duet in the second movement of the Fourth Symphony, or the searching violin melody that opens the slow movement of Symphony No. 2.
Another performance aspect that Gardiner has carried over from his Mendelssohn series is that the players actually perform standing up (apart from those whose large instruments would make it somewhat impractical, such as cellos, basses, and timpani). When asked why, Gardiner explained that "it encourages them to play more soloistically, to stand a bit closer to each other so that you can get a little more cohesion in the group. I think it gives a different aura to the performance; it gives their engagement a visual dimension". Obviously on disc this visual dimension is absent, but I think even just with the audio it makes quite a difference: there's a unanimity of phrasing that is quite discernible, especially faster passages such as the exhilarating final moments of the Fourth Symphony, which Gardiner takes at quite a pace. Similarly, there's some breathtakingly thrilling precision from the first violins in the notoriously fiendish semiquaver passages in the Second Symphony's Scherzo.
Having been such a fan of Gardiner's Mendelssohn recordings with the LSO, I had extremely high hopes for these Schumann symphonies, and so far my expectations have not just been met but easily surpassed. Every bar is alive with energy and purpose, and there really is never a dull moment. I understand that the remaining Spring and Rhenish symphonies are due to follow early next year, and I can't wait to hear what Gardiner does with them!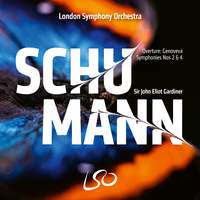 London Symphony Orchestra, Sir John Eliot Gardiner
Available Formats: SACD, MP3, FLAC, Hi-Res FLAC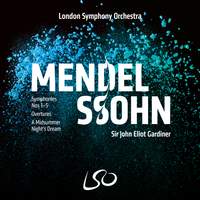 London Symphony Orchestra, The Monteverdi Choir, Sir John Eliot Gardiner
Available Formats: 4 SACDs + Blu-ray Audio, MP3, FLAC, Hi-Res FLAC