6th September 2019
 Recording of the Week

,

  Works by Richard Strauss from Riccardo Chailly and the Lucerne Festival Orchestra
Riccardo Chailly has been music director of the Lucerne Festival Orchestra since 2016, and their debut release in 2018 of music by Stravinsky was for me a real highlight of the year. Now they return with an even more extraordinary disc of works by Richard Strauss, including three tone poems and the Dance of the Seven Veils from Salome.
Right from the familiar opening of Also sprach Zarathustra, it's clear that this is going to be a performance of great detail and contrast, with the trumpets moving effortlessly from their portentous first phrase to a powerful blaze of searing energy. One of my favourite moments of the piece comes just after this, where Strauss writes a brief but extremely gorgeous passage for strings divided into many parts. It begins with two solo violas and three solo cellos (with some discreet organ accompaniment), and then gradually transitions into a soaring melody for the entire string section as more and more players enter. I think here more than any other recording I can remember, I really appreciated the difference between the sound of the solo strings and the eventual full section as the music almost imperceptibly melts from one to the other.
This impressive string playing is a constant virtue; the work is full of fiendish passages where the violins are running round all over the place, but here every note is beautifully present, and furthermore there's a charming lightness and delicate grace to the dance section (Das Tanzlied) that is very pleasing indeed. The beauty of tone from the violins in the closing B major section is most ravishing, with their tender melody sitting radiantly atop a lambent bed of horns. I must admit I usually dread hearing the end of this piece, as with very high woodwind chords that can all too easily be out of tune, it has the potential to be somewhat painful to listen to. I was relieved and delighted, therefore, to hear this performance, where the intonation of the flutes, piccolos, and solo violin is nothing short of ideal.
Equally full of intricate detail is Till Eulenspiegel, with an immaculately played horn solo at the beginning. Chailly is an expert at drawing out the varying colours of Strauss's score, particularly the Brahmsian interlude about three and a half minutes in, where he solicits glowing warmth from the violas and lower woodwind, which then moves seamlessly into raucous chaos (with some cheeky clarinet glissandos, marked in Strauss's score but which you don't often get to hear!).
As thrilling as all of these pieces are, however, for me the highlight of the disc actually comes from a somewhat unexpected place. Compared to the incredibly complex orchestration of the previous two works, Tod und Verklärung is, on the page at least, a much more straightforward piece. In practice I feel this makes it much harder to achieve a successful interpretation, as there is none of the fancy orchestration to hide behind, and it takes a conductor with absolute purpose, who knows how to pace long stretches where ostensibly not very much happens, to prevent the music from sagging, and to maintain the forward direction.
Right from the perfectly-judged faltering rhythm from muted violins and violas in the first bar, Chailly takes such care to shape each phrase, and there's a dark, sombre richness to the woodwind tone that is most evocative, even in the quietest of chords. The orchestral sound is magnificent, from shimmering strings, to majestic trumpets and biting trombones. The appearance of the Transfiguration theme feels like a well-earned moment of arrival, whilst the final serene chords are, after all the turbulence that has occurred, an exquisite way to end a quite superb performance.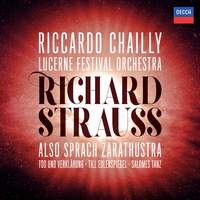 Lucerne Festival Orchestra, Riccardo Chailly
Available Formats: CD, MP3, FLAC, Hi-Res FLAC