18th June 2012
 Recording of the Week

,

  Two terrific Italian Renaissance reconstructions
Two reconstructions of religious services from the late Renaissance/early Baroque period this week, both overflowing with gems of Italian polyphony and exuding atmosphere (you can almost taste the incense!). Both come from outstanding British early-music ensembles: Paul McCreesh leads his Gabrieli Consort in a hypothetical re-creation of the investiture of the Doge of Venice in 1595, whilst Robert Hollingworth offers a complete service for the 'Second Vespers of the Feast of Our Lady' such as might have been heard in Northern Italy in the early seventeenth century.
Robert Hollingworth
After his Striggio disc last year including works for 40-plus voices, Hollingworth has scaled things back a little, numerically speaking, with this programme centring on Viadana and both Gabrielis (the disc commemorates both the 400th anniversary of Giovanni Gabrieli's death and the publication of Viadana's influential collection of music for Vespers). There are contributions from Palestrina and Monteverdi, too, but these two giants are very much in a supporting role here: Hollingworth mentions that he was under some friendly peer-pressure to commit a recording of the Monteverdi Vespers to disc, but decided on this slightly more left-field angle instead. I'm extremely glad that he did, as the great discovery for me here was the vital, hugely distinctive music of (Lodovico Grossi da) Viadana, a Franciscan friar writing in the latter half of the sixteenth century: leaving a substantial sacred choral legacy, he was a key figure in the development of the 'figured bass' system and was a notable influence upon Schütz and Praetorius as well as upon his compatriots.
The performances are as assured and alive as we've come to expect from this group. The clean but full-bodied voices thrive in the pleasingly dry acoustic, and there's some remarkable profundo singing from the young bass Jonathan Sells, dipping down to low D and beyond in the Ab aeterno.
Paul McCreesh
Over to 'La Serenissima' for Paul McCreesh's new 'Venetian Coronation': some readers may recall the first such disc which the Gabrieli Consort made back in 1989, and the programme has remained (and evolved) in the ensemble's repertoire ever since. As McCreesh explains in a fascinating and often very touching booklet-note, much has changed in the intervening twenty-odd years, both in the early-music world in general and in terms of his own ideas and research. Several items are performed at a different pitch to that used on the first recording; running-order has been modified, and sections originally given to full choir have been re-allocated to solo voices. If possible, it's even more atmospheric than the original, with additional pyrotechnics, and the Doge's jubilatory cornets and sackbuts are splendidly brazen and carnivalesque. What remains constant, however, is McCreesh's abiding passion for the works of his ensemble's namesakes – Andrea and Giovanni Gabrieli provide the lion's share of the programme, with instrumental contributions from Bendinelli, Hassler and Gussagno.
Unlike Hollingworth, who employs female sopranos and altos (both appropriately clear-toned without being remotely anaemic), McCreesh uses an all-male alto-tenor-bass line-up: collectively and individually, they're all superb. Although, as McCreesh points out, good cornet and sackbut players are now thicker on the ground than they were in the 1980s, quite a few of the original personnel have returned for this project, along with musicians of the younger generation whom they inspired: there's a lovely sense of the baton being passed.
Both these projects have clearly been underpinned by a formidable amount of academic research, not just in sourcing appropriate repertoire but in reconstructing incomplete sources (the booklet-notes for each disc acknowledge many individual contributors), but what makes them special is that they wear their scholarship so lightly. There's nothing dry or didactic here – just full-blooded, evocative music-making which oozes dedication and enthusiasm.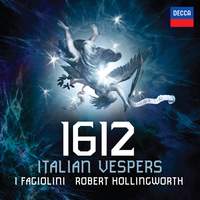 I Fagiolini, Robert Hollingworth
Available Formats: MP3, FLAC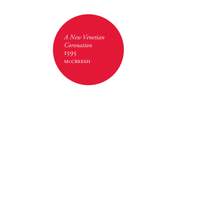 Gabrieli Consort & Players, Paul McCreesh
Available Formats: CD, MP3, FLAC, Hi-Res FLAC