28th June 2019
 Announcement

,

  Alexandre Kantorow wins at the 16th International Tchaikovsky Competition
The results of the piano category in the XVI International Tchaikovsky Competition were announced last night, with First Prize and Gold Medal going to the 22-year-old Frenchman Alexandre Kantorow, who opted for Brahms and Tchaikovsky's Second Piano Concertos for his final round with the State Academic Symphony Orchestra and Vasily Petrenko on Wednesday evening (all other finalists chose to perform Tchaikovsky's more popular First Concerto).
Born into a musical family in Clermont-Ferrand in 1997, Kantorow currently studies at the Conservatoire de Paris, and already has a substantial discography under his belt: he made his debut on BIS in 2015 with a recording of the Liszt Piano Concertos (conducted by his father Jean-Jacques) which prompted Fanfare to describe him as 'Liszt reincarnated', and BBC Music Magazine to note that 'Kantorow's approach rejects bombast in favour of an equable, mellow-toned artistry that's admirable in itself'. An equally impressive solo recital, à la Russe, followed two years later: featuring Rachmaninov's Piano Sonata No. 1, Guido Agosti's solo piano arrangement of Stravinsky's Firebird Suite and Balakirev's notoriously fiendish Islamey, the album was one of our Recordings of the Week, with Katherine observing that 'when bravura calls, Kantorow will leave you agog'. (You can read her full review of the recording here). He's currently partway through a series of the Saint-Saëns piano concertos (again with Jean-Jacques on the rostrum), with another solo album and a new concerto dedicated to him by the composer and conductor José Serebrier also in the pipeline.
Silver medals went to Japan's Mao Fujita and Russia's Dmitry Shishkin (who recorded a Chopin album on the Frederick Chopin Institute's own label in 2016), with a special award for 'Courage and Restraint' going to Chinese pianist An Tianxu after an administrative error resulted in the orchestra launching into Rachmaninov's Rhapsody on a Theme of Paganini rather than the Tchaikovsky concerto he was expecting.
Established in 1958, the International Tchaikovsky Competition takes place every four years in Moscow (and latterly St Petersburg), with former victors in the piano category including Van Cliburn, Grigory Sokolov, John Ogdon, Mikhail Pletnev, and Daniil Trifonov; the winner of the 1998 Gold Medal, Denis Matsuev, chaired this year's jury, which also included Nelson Freire, Barry Douglas, Menahem Pressler, and Freddy Kempf.
Thanks to medici.tv, you can watch Kantorow's semi-final recital (which includes the Stravinsky/Agosti transcription mentioned above) here and his performance in the concerto round here - and until Monday we're offering 20% off his three BIS recordings.
Recordings featuring Alexandre Kantorow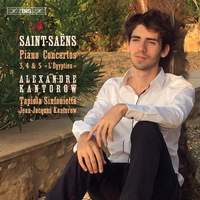 Alexandre Kantorow (piano), Tapiola Sinfonietta, Jean-Jacques Kantorow
Available Formats: SACD, MP3, FLAC, Hi-Res FLAC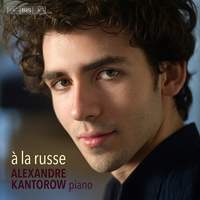 Alexandre Kantorow (piano)
Available Formats: SACD, MP3, FLAC, Hi-Res FLAC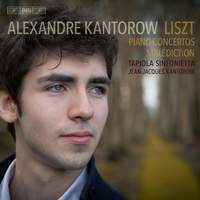 Alexandre Kantorow (piano), Tapiola Sinfonietta, Jean-Jacques Kantorow
Available Formats: SACD, MP3, FLAC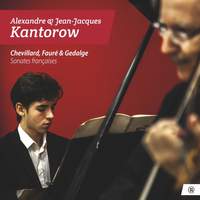 Chevillard, Fauré and Gedalge
Jean-Jacques Kantorow (violin), Alexandre Kantorow (piano)
Available Formats: MP3, FLAC