UPDATE: Royal Mail have now resumed shipments on ALL International services but delays should be expected, please choose FEDEX if your order is urgent.
28th June 2019
 Recording of the Week

,

  Offenbach's La Périchole from Marc Minkowski
Amid the deluge of new recordings and archive collections commemorating the 150th anniversary of Hector Berlioz's death, the bicentenary of Jacques Offenbach (born 21st June 1819) has been somewhat eclipsed – but the release of an only slightly belated birthday-present from one of his biggest champions today is certainly cause for celebration on several fronts. In some respects, Marc Minkowski is to Offenbach what John Eliot Gardiner is to Berlioz – around twenty years ago, he made the first period-instrument recordings of La Belle Hélène and La Grande-Duchesse de Gérolstein with Les Musiciens du Louvre (both starring Felicity Lott in the title-roles), and last October they convened at the Opéra National de Bordeaux to prepare for the composer's anniversary with concert-performances of his 1868 opéra-bouffe La Périchole.
From its boisterous opening bars, the resultant live recording is a joy, the period instruments painting Offenbach's depiction of a bustling Peruvian square in vivid primary colours whilst maintaining a certain je ne sais quoi that reminds us that we've still got one foot firmly in Paris. The balance between French and Hispanic elements is brilliantly judged throughout: the piece shares its librettists with Carmen, which would open seven years later, and like Bizet's opera it's peppered with Spanish dances such as the seguidilla and bolero as well as nods to French grand opera, though Offenbach's relationship with the latter is decidedly satirical. The plot burlesques that of an earlier Parisian operatic success, Donizetti's La favorite, in which the mistress of a powerful man is forced to marry (and, by implication, cuckold) the man she really loves as a smokescreen; Offenbach's star-crossed lovers Périchole and Piquillo are a pair of down-on-their-luck street-singers who lack the requisite funds for a marriage-licence, and prepare for their sham wedding at the end of Act One with buckets of Dutch (or rather Spanish) courage. (After singing the famous Tipsy Waltz 'Ah quel diner' – the opera's best-known number - Périchole is just sober enough to recognise her hastily-recruited bridegroom before heading down the aisle, whilst he is quite literally blind drunk and in no state to give 'informed, enthusiastic consent': there's some pretty dark stuff going on in the libretto if you scratch the surface, but Offenbach doesn't dig too deep there).
As with his earlier operetta recordings, Minkowski has a knack for casting luxury voices without overegging Offenbach's soufflé-light writing, and his two leading singers here combine adroit comic timing and lightness of touch with a richness of timbre that would grace La favorite proper: the beefy-toned young Frenchman Stanislas de Barbeyrac is fast becoming one of the most exciting tenors around right now, while Aude Extrémo is voluptuous, assertive and nicely acerbic in the title-role.
Previous Péricholes on record have included a late-career Régine Crespin (superbly faux-regal for Alain Lombard in the 1970s) and the ever-elegant Teresa Berganza, but Extrémo possess the true contralto timbre which much of the writing demands; her quiet sincerity as the heroine scribbles a Dear John letter for Piquillo after receiving an offer she can't refuse is genuinely touching, and she handles that tricky pie-eyed waltz with class, seemingly having heeded the old adage about emulating a drunk person acting sober rather than vice versa. She and de Barbeyrac are also brilliantly convincing in their early scenes as street-performers, literally stopping the show with their near-the-knuckle Seguidilla about a couple 'riding a mule' together – it takes some serious suspension of disbelief to accept that their collection-hat remains empty after such a tour de force. The small roles are all well taken, with a somewhat surprising but delightful cameo from the baritone Marc Mauillon (best known for rather more austere early music recordings) whooping it up as a Spanish courtier in the Act II trio 'Les femmes, il n'ya qu'ça!' (Offenbach's precursor to 'There Is Nothing Like A Dame').
The dialogue is given complete, and during the convoluted intrigues of Act One you can often go several minutes without hearing a note of music, but the Francophone cast (particularly Alexandre Duhamel in the verbose role of the viceroy Don Andrès) zip through it with élan. As 200th birthday-bashes go, Minkowski's celebration of Offenbach is one heck of a party.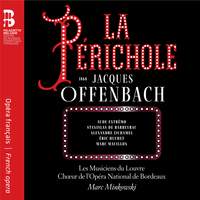 Aude Extrémo (La Périchole), Stanislas de Barbeyrac (Piquillo), Alexandre Duhamel (Don Andrès de Ribeira), Eric Huchet (Le comte de Panatellas), Marc Mauillon (Don Pedro de Hinoyosa)
Les Musiciens du Louvre, Chœur de l'Opéra National de Bordeaux, Marc Minkowski
Available Formats: 2 CDs + Book, MP3, FLAC, Hi-Res FLAC
Related recordings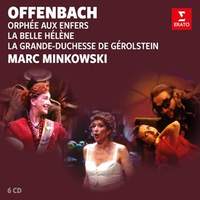 Natalie Dessay, Laurent Naouri, Felicity Lott, Yann Beuron, Patricia Petibon et al
Chœur et Musiciens du Louvre, Marc Minkowski
Available Format: 6 CDs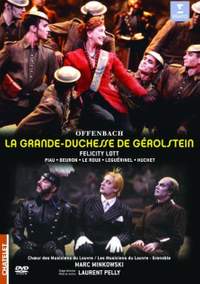 Dame Felicity Lott (La Grande Duchesse), Sandrine Piau (Wanda), Yann Beuron (Fritz), Franck Leguérinel (Le Baron Puck), Eric Huchet (Le Prince Paul), François Le Roux (Le Général Boum)
Chœur et Musiciens du Louvre, Marc Minkowski
Available Format: 2 DVD Videos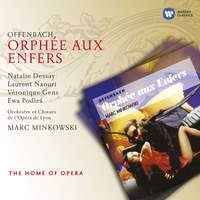 Yann Beuron (Orphée), Natalie Dessay (Euridice), Laurent Naouri (Jupiter), Jean-Paul Fouchecourt (Pluton-Aristée), Ewa Podles (L'Opinion Publique), Patricia Petibon (Cupidon), Jennifer Smith (Diane), Veronique Gens (Vénus), Steven Cole (John Styx), Virginie Pochon (Minerve), Etienne Lescroart (Mercure)
Chœur et Musiciens du Louvre, Marc Minkowski
Available Formats: 2 CDs, MP3, FLAC