UPDATE: Royal Mail have now resumed shipments on ALL International services but delays should be expected, please choose FEDEX if your order is urgent.
14th June 2019
Recording of the Week

,

Vox Luminis explore cantatas by the Bach family
Lionel Meunier and Vox Luminis continue their exploration of the immediate vicinity of JS Bach – not geographically, as with a previous album focusing on the links between him and Buxtehude, but genealogically. Through works from earlier members of the Bach clan – Heinrich, Johann Michael and Johann Christoph – they demonstrate the evolution of the 'geistliches Konzert' into the cantata that we recognise in JS Bach's output.
The first four works show a fairly unified style owing much to Schütz and his contemporaries. In the opening track, Johann Michael's Ach bleib bei uns, there's also a strong hint of Monteverdi; the rising scales and echo effects in the opening sinfonia are unmistakeably reminiscent of 'Possente Spirto' from L'Orfeo. A similar idiom, but less extroverted, is heard in Heinrich's Ich danke dir Gott, which blossoms in its closing bars into an unexpectedly majestic style, an understated hint at what is to come on the rest of the album.
Johann Christoph's Die Furcht des Herren is a curious work; unusually worldly and theatrical, despite a Biblical text. The scenario – reminiscent of some of Bach's jarringly parochial secular cantatas – is a prayer made by a city council (headed by four soloist councillors, with roles such as "Older Incumbent Burgomaster" named in the score) for the wisdom to rule well. At one point a disarmingly honest confession is made – "I am too lowly to understand justice and the law" – but thankfully Wisdom is on hand in the person of soprano Kristen Witmer, who imbues these pillars of local government with the necessary mental faculties to overcome their reservations about being fit for office.
A dramatic stylistic and psychological shift marks the second Johann Christoph work, Herr, wende dich und sei mir gnädig – reflective and profound, with a more recognisably Baroque-sounding violin obbligato. The text confronts the imminence of death, and again there's a dramatised element: instead of over-earnest council officials, here we see three penitent souls interacting with the comforting figure of Christ (bass soloist Sebastian Myrus, who excelled himself on the group's earlier Buxtehude album). Myrus's reassuring, often very low-lying aria 'Ich habe dich erhört' seems to prefigure JS Bach's 'Mache dich, mein Herze, rein' in the St Matthew Passion. A stridingly confident 3/2 chorale, iced with yet more virtuosity from the tirelessly energetic strings (chiefly violins Tuomo Suni and Jacek Kurzydło, whose touch never seems to get any lighter or show any audible signs of fatigue despite the huge quantities of filigree called for by the various composers on the album), brings the work to a close.
The two Johann Christoph works already mentioned have suggested a certain theatrical flair, and in the final track this really comes into its own as he gets his teeth into the vivid subject-matter of St Michael's battle with the dragon. Two antiphonal choirs paint a vibrant picture, with curiously remorseless repeated patterns from timpani and trumpets; after a solid minute of uninterrupted C major fanfare-like motifs I was reminded, of all things, of the inexorable march of Shostakovich's Seventh Symphony. There are stylish touches here, not just brazen militaristic noise; a sudden shift down a tone for the word 'verführet', referring to the dragon's 'leading astray' of the world, is particularly pleasing if, like me, you relish this era's ubiquitous word-painting.
There is a work by JS Bach himself too: his early cantata Christ lag in Todesbanden, which illustrates the endpoint of the evolutionary process that the other works outline. Naturally, it is performed with conviction and flair by Vox Luminis, but for me the focus is definitely on the other works, and the ways they explore that basic concept of 'sacred music with instruments'. Johann Sebastian referred to Johann Christoph as a 'profound' composer, and rightly so – this is not just an album of 'pre-Bach' groundwork, but great music to be enjoyed in its own right.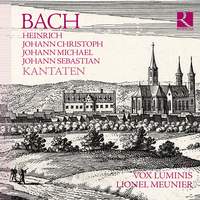 Vox Luminis, Lionel Meunier
Available Formats: CD, MP3, FLAC, Hi-Res FLAC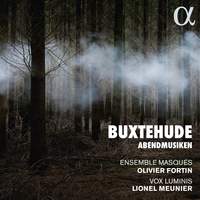 Vox Luminis & Ensemble Masques, Lionel Meunier
Abendmusiken was released in June 2018 on Alpha.
Available Formats: MP3, FLAC, Hi-Res FLAC